Part two of two parts; click here to read part one
A TIME TO SPEAK OUT: For adults, reconciliation is no less difficult than for children. In 1988, a group of evangelical leaders decided to make a public stand against sectarianism within their ranks.
"For too long, an evangelical constituency that did not agree with Dr. Ian Paisley has been silent, and it was time to say something," says ECONI's Porter. He says historically evangelicals have had two options. "You either became politicized like Paisley and believed that God and Ulster went together, or you were pietistic and orthodox." But Porter says many who chose the option of being pious and keeping silent were in reality sympathetic with sectarianism.
ECONI formed when a group of about 200 evangelical pastors and lay leaders signed a statement, For God and His Glory Alone, in 1988. Their 20-page document says, in part:
—Human sinfulness is the "root cause" of Ulster's problems.
—Evangelicals have been partly to blame for the alienation of Catholics.
—It is idolatrous to "equate God with any one culture or political ideal."
—Celebration of cultural and political tradition has been "triumphalistic" in manner.
—"Working for peace means working for justice."
Although the statement was widely ignored when released, ECONI Sundays were scheduled in local churches, and increasingly the group has gained public credibility as well as criticism.
Evangelical and fundamentalist critics of ECONI say the group is elitist and ecumenical and does not represent the majority of evangelicals.
But Porter defends the group's approach. "ECONI is not trying to get a popular mandate," he says. "We read Scripture and come to our best understanding and declare it.
"We stand foursquare in the center of evangelicalism," Porter says. "For Catholics, [the conflict] is primarily a political issue. The main dynamic of Protestant sectarianism is anti-Catholic."
BEYOND SECTARIANISM: While ECONI has defined itself by working among evangelicals, the Moving Beyond Sectarianism research project, headed by an American Mennonite missionary and a Catholic nun, aims to provide a forum in which Catholics and Protestants openly explore their prejudices in nonviolent encounters.
Joseph Liechty, a religious-history scholar, says most churches in Ireland have had a hand in sectarianism, which he calls "the functional equivalent of racism." He traces it historically to three doctrinal distortions:
—There is but one true church, which, when distorted, leads to "contempt for different Christian traditions."
—God's providential intervention, which, when distorted, results in a "God is on our side" orientation.
—"Error has no right," an idea from the Augustine controversy with the Donatists that the force of the state could be used against Christian heretics.
Liechty says that the Catholic reforms of Vatican II as well as shifts in Protestant thinking have resulted in repudiating these theological distortions, but they have not been fully purged from church leadership.
Liechty says the research project is finding that personal encounters among individuals do little to defeat the stereotyped views they may have of one another. "The only way to alter stereotypes is for people to encounter each other as groups."
The research project has designed encounters between neighboring Protestant and Catholic parishes. They meet for ten weeks, for three hours at a time.
One objective is to overcome mutual denial and responsibility for the conflicts. Liechty says, "The project's intention is to get churches to look at their active responsibility for sectarianism and their passive acquiescence. Catholics like to see it as a Protestant problem and Protestants as a Catholic problem."
UNWAVERING TRIBALISM? In Northern Ireland, many elements in society keep the fires of resentment burning.
There is no single organization or institution for the region's 1.5 million people that both sides recognize as genuinely neutral and nonsectarian. Even Belfast's taxis are divided into Protestant and Catholic taxis, and an unwary visitor with a southern Irish accent is directed to a sympathetic Catholic cabbie.
Although the great divide in Northern Irish culture and society is between Protestants and Catholics, there are many other fault lines, including disputes and divisions among Protestant denominations, between traditional and evangelical Catholics, antireligious secularists, and independent Christian churches.
"You get sectarianism in your mother's milk," says Harry Smith, a Christian Renewal Center member. "You grow up knowing what side you are on." The familiar phrase "For God and Ulster" has engendered a way of life, theological outlook, and political philosophy for the many Protestants who feel increasingly pushed to the margins in Northern Ireland. This mixture of piety and politics has driven many residents into a communal insularity that remains difficult for them to transcend or for outsiders to comprehend. "I suppose it's a kind of Irish stew of gospel and culture," observes Ken Clarke, rector of Saint Patrick's Coleraine, the island's largest Anglican Church of Ireland parish.
Fraternal organizations form an important backbone for the Protestant community. And although many of their activities are secret, their annual marches through Catholic areas have become the most volatile flash point in Protestant-Catholic relations.
The Orange Order, the Protestant Apprentice Boys, and the Royal Black Institution all trace their origins to conflicts in Northern Ireland's history.
But the Orange Order, the largest of the three, is moving away from its anti-Catholic reputation. In June, Brian Kennaway, head of the Orange Order's education committee, publicly called for "reaffirming the religious nature of the order" so that it would be more pro-Protestant than anti-Catholic.
REFORMING CHRISTIAN IDENTITY: No group of Irish Christians finds itself in as socially vulnerable a position as former Catholics who in small numbers are joining independent house churches.
Tina Cassidy, a former Catholic who is now a worship leader in an independent Christian fellowship in Londonderry, says the independent churches are accused of being cults because they reject both Protestant and Catholic labels. Many of these Christian fellowships have been planted by mission agencies, such as Greater Europe Mission, which has more than 30 missionaries on the island.
"When you talk about Christ in 'Derry, you get all sorts of reactions," Cassidy says. "Only Christ can meet all of your needs. Only one sacrifice is sufficient for salvation. People are sacrificing their lives for Mother Ireland. We worship the country, and the church has become tainted with it."
Maureen Slattery, while doing research at the University of Edinburgh, has studied the process of identity formation among Christians in Northern Ireland.
Of the Irish Christian leaders Slattery interviewed, she found that those leaders who served overseas often saw their stereotypes transformed, even though many found it painful.
Slattery says, "For all of them, there were moments of intense fear when faced with crossing over into forbidden territory and a strong sense of letting their side down and betraying their inherited identity."
She concludes, "Identity in Christ forms the central pivot around which true internal change will happen."
For Tina Cassidy, such change, though possible, is still far off for most Irish Christians. "There is a great hunger for God to touch this nation, this country, and the church," she says. "There is a desire for us to be one church, but not under one roof and all doing the exact same thing. Unity within a diversity—that will set people free from suspicion and territorialism."
CROSSING TO CORNELIUS: During his August meeting with Presbyterians, African Enterprise's Michael Cassidy used the narrative from Acts 10 concerning the apostle Peter and the Roman centurion Cornelius as an example of reconciliation. He said both Peter and Cornelius were conditioned by their upbringing to be prejudiced against each other.
"Peter didn't have the key to his own prison, but Cornelius had the key," says Cassidy, who challenged the Presbyterians to "cross to your Cornelius." About 2,000 took up that challenge and have been reporting fresh breakthroughs since then. "I feel very hopeful about Ireland in a funny sort of a way," says Cassidy, who is asking Christians worldwide to pray for Ireland. "The Lord is going to bring solutions. But it will be more through his people than through the political process."
Editor's note: For more on Northern Ireland, including interview transcripts, see the Christianity Today archives on America Online (keyword: CT) or at www.ChristianityToday.com/ct/archives.
Have something to add about this? See something we missed? Share your feedback here.
Our digital archives are a work in progress. Let us know if corrections need to be made.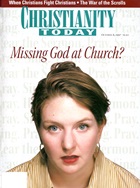 This article is from the October 6 1997 issue.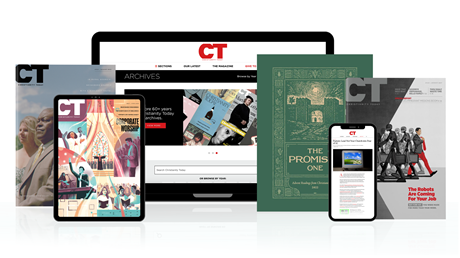 Subscribe to Christianity Today and get access to this article plus 65+ years of archives.
Home delivery of CT magazine
Complete access to articles on ChristianityToday.com
Over 120 years of magazine archives plus full access to all of CT's online archives
Subscribe Now
Northern Ireland: For God or Ulster? Part 2
Northern Ireland: For God or Ulster? Part 2