Part two of two parts; click here to read part one.
CLEARING THE ROADBLOCKS
Even while the Bible, history, and the example of Judaism stir up a yearning for Sabbath within us, we are aware that taking on a Sabbath rhythm would not be easy—and pressures to work and spend are only part of the problem. Some other obstacles also make it difficult to retrieve this practice.
One is figuring out how to make Sunday special when it is no longer protected by legislation and custom. The arrangement of time by society as a whole is political, of course: how time is structured makes someone's life easier and someone's harder. Sunday first received special governmental recognition in 321, when the emperor Constantine decreed it a day of rest throughout the Roman Empire. This spawned centuries of government-sponsored Sabbath keeping. In recent decades, however, the setting aside of Sunday as a special day has been losing force within American culture's politics of time. One reason is increasing sensitivity to religious diversity—a sensitivity pioneered by the Supreme Court in decisions that forced employers to respect the Sabbath practices of Jews and Adventists. Today, not only the laws but also the customs that once shielded Sunday from most commerce are disappearing, and Christians' day of worship and rest is not automatically "free" for church and family. Claiming its freedom will take effort and perhaps even sacrifice.
A second roadblock is the bad reputation many devout Christians have given to the day of rest and worship. In the centuries after Constantine, church attendance came to be required and profane activity to be banned on Sundays, though in fact these rules were often ignored. When religious reform swept through Europe in the sixteenth century, improving the people's use of their day of rest was a concern of Protestant and Catholic leaders alike. In the ensuing centuries, some Protestants worldwide not only required many hours of worship services each Sunday, but also made it virtually impossible for absentees to have any fun. Sabbath keepers were killjoys, it seemed. Little wonder that gloom still hangs over the Sunday memories of some from more stringent times.
Today, economic forces are also nibbling away at the freedom of the day. In a vicious circle, people who spend more hours at weekday jobs need the other days for shopping, which prompts businesses to hire more Sunday workers, who join the growing percentage of the workforce who toil long, irregular hours, some trying desperately to make ends meet, others for the sake of more shopping. For millions of workers, long Sunday hours for rest and worship may be impossible within the current system. People who know the Sabbath pattern of creation, liberation, and resurrection nurture a dissatisfaction with this system, however, and can work for change. Keeping Sabbath, we grow in our longing for a system where all people have work at a living wage, and time for rest and worship too.
Will it be possible for twenty-first-century Christians who need Sabbath but also respect diversity, who need Sabbath but also yearn for joy, who need Sabbath but also struggle to make ends meet to enter the practice of Sabbath keeping? Perhaps. But this can only happen as we help one another develop new forms rooted in the enduring truths of Creation, liberation, and Resurrection.
UNWRAPPING THE GIFT OF SABBATH
In our situation, Sabbath keeping will require a good deal of inventiveness. Tilden Edwards, an Episcopal priest who has explored this practice in real life and in a book, urges contemporary Christians to be flexible, embracing not a renewed Sabbatarianism as much as a pattern of "Sabbath time." He recommends a combination of Sunday worship and play with a regular rhythm of disciplined spiritual renewal during the week. Eugene Peterson, a Presbyterian minister, describes the "Sabbaths" he and his wife observed every Monday, after their busiest day was over: a drive to the country, a psalm, a silent hike for several hours, a quiet evening at home. Pastors are not the only ones who must work on Sundays; others, too, sometimes need to find ways of keeping Sabbath on other days. Yet none of us should think that we can sustain Sabbath keeping, whenever it happens, all by ourselves. We need mutuality in this practice, which resists our ordinary patterns in so many ways. We need to help one another discover this gift.
Most often, Sundays will make the best Sabbaths, and not only because our schedules are relatively open on that day. Joining the assembly of Christians for the celebration of Word and sacrament will remind us that Sabbath keeping is not about taking a day off but about being recalled to our knowledge of and gratitude for God's activity in creating the world, giving liberty to captives, and overcoming the powers of death. In addition, the friends with whom we worship can help us learn to rest and rejoice once the service is over.
What, besides churchgoing, is Christian Sabbath keeping? The answer must be tailored to specific circumstances and will vary considerably in different cultures and stages of life. It will be helpful in each circumstance to reflect on what is good and what is not. What is not good on Sabbath, or in Sabbath time? We would do well to heed three millennia of Jewish reflection on the Sabbath commandment. Not good are work and commerce and worry. To act as if the world cannot get along without our work for one day in seven is a startling display of pride that denies the sufficiency of our generous Maker. To refrain from working—not every day, but one in seven—opens the temporal space within which glad and grateful relationship with God and peaceful and appreciative relationship with nature and other people can grow. Refraining from work on a regular basis should also teach us not to demand excessive work from others.
What about commerce? Buying and spending are closely related to working too much; they depend on work, create the conditions for more work, and often are work. We could refrain from shopping on Sundays, making a choice that might complicate the weekly schedule at first but should soon become a refreshing habit. And worry? It may be difficult to banish cares from our minds altogether, but we can refrain from activities that we know will summon worry—activities like paying bills, preparing tax returns, and making lists of things to do in the coming week.
And what is good on a Christian Sabbath? Most important is joyful worship that restores us to communion with the risen Christ and our fellow members of his body, the church. For Christians, every Sunday is Easter Sunday, a time to gather together with song and prayer, to hear the Word proclaimed, and to recognize Christ in the breaking of the bread. It is a festival, a spring of souls, a day of freedom not only from work but also from condemnation. At times, worshiping communities lose sight of this: hymns drag, elders judge, children fidget, fancy clothes constrain, and the minutes tick slowly by. In other congregations, joyful prayer and song burst through the seams of the worship service, and hours pass before anyone is ready to leave. The contrast suggests that we all need to remember that Sunday worship is not just about "going to church"; it is about taking part in the activity by which God is shaping a new creation. It is a foretaste of the feast to come.
After worship, what many of us need most is time with loved ones—not useful time for planning next week's schedules—but time "wasted" on the pleasure of being together, perhaps while sharing our enjoyment of art, nature, or athletics. For others, and for all of us at certain points in our lives, hours of solitude beckon, hours for sleep, reading, reflection, walking, and prayer. In addition, we might explore the long tradition of visiting the homebound or inviting lonely ones to our table on the Christian Sabbath when the joy these occasions bring can be experienced apart from the pressures of other appointments.
Churches must be careful, however, not to devour Sabbath freedom with "religious" or charitable obligations. Filling Sunday afternoons with church committee meetings, for example, is a terrible violation of this freedom. And it is a violation that unfortunately seems to be increasing, precisely because of the pressures that Sabbath freedom specifically opposes. Of course, it is difficult to find time to meet during the week, but part of the point of Sabbath keeping is to cause shifts in weekday priorities. In many churches, it is the people on the committees who most need to be reminded to keep Sabbath! Resisting the temptation to meet on Sunday would help them to say to one another, "God intends rest and liberation for you during at least one seventh of your time." Eating, playing, and taking delight in nature and one another in the hours after worship would be wonderful ways for congregations or groups within them to keep Sabbath.
SABBATH FOR THE GOOD OF ALL
Puritan Sabbath keepers agreed that "good Sabbaths make good Christians." They meant that regular, disciplined attention to the spiritual life was the foundation of faithfulness. Another dimension of the saying opens up if we imagine a worshiping community helping one another to step off the treadmill of work-and-spend and into the circle of glad gratitude for the gifts of God. Taken this way, good Sabbaths make good Christians by regularly reminding us of God's creative, liberating, and redeeming presence, not only in words but also through a practice we do together in response to that presence. But even beyond this, there are other benefits of Sabbath keeping, and these could spill over to bless the whole world. With a change, the saying acquires an applicability that reaches beyond the spiritual life alone, and beyond the Sabbath practices of Jews or Christians. Imagine this: "Good Sabbaths make good societies."
The practice of keeping Sabbath bears much wisdom for people seeking ways through the crises of these times and the stresses of contemporary life. "The solution of mankind's most vexing problems will not be found in renouncing technical civilization, but in attaining some degree of independence from it," writes Heschel. Sabbath keeping teaches that independence. Refraining from work on a regular basis is a way of setting limits on behavior that is perilous for both human welfare and the welfare of Earth itself. Overworked Americans need rest, and they need to be reminded that they do not cause the grain to grow and that their greatest fulfillment does not come through the acquisition of material things. Moreover, the planet needs a rest from human plucking and burning and buying and selling. Perhaps, as Sabbath keepers, we will come to live and know these truths more fully, and thus to bring their wisdom to the common solution of humanity's problems.
A good Sabbath would also make a good society by balancing the claims of work and celebration, for workers and celebrants of all sorts. In prayers at the beginning and end of Shabbat, Jews thank God for the blessing of work. Not working on one day is tied to working on the other six; Sabbath affirms the value of work and interprets it as an important dimension of human identity. Sabbath keeping bears a longing that all human beings will have good work, as well as a longing that no one will be required to toil without respite.
Rest and worship. One day a week—not much, in a sense, but a good beginning. One day to resist the tyranny of too much or too little work and to celebrate with God and others, remembering thereby who we really are and what is really important. One day that, week after week, anchors a way of life that makes a difference every day.
Dorothy C. Bass directs the Project on the Education and Formation of People in Faith at Valparaiso (Ind.) University. This article is excerpted with permission from Practicing Our Faith, by Dorothy Bass, and published by Jossey-Bass Publishers, San Francisco; (800) 956-7739.
Have something to add about this? See something we missed? Share your feedback here.
Our digital archives are a work in progress. Let us know if corrections need to be made.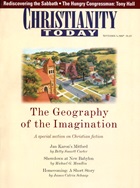 This article is from the September 1 1997 issue.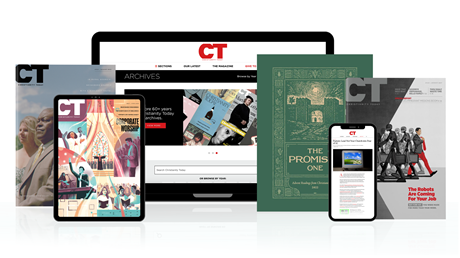 Subscribe to Christianity Today and get access to this article plus 65+ years of archives.
Home delivery of CT magazine
Complete access to articles on ChristianityToday.com
Over 120 years of magazine archives plus full access to all of CT's online archives
Subscribe Now
Rediscovering the Sabbath, Part 2
Rediscovering the Sabbath, Part 2