Industry naysayers have not dented the confidence of Lowell "Bud" Paxson in the television network he is birthing. Due to be launched in August, Pax Net will offer family-oriented programming that addresses issues of faith. And like its flagship offering—reruns of Touched by an Angel—Paxson plans to confound his critics.
"Sure there are skeptics out of Hollywood and the TV industry: no sex, no violence, no ratings," Paxson says. "But I have no doubt that mainstream media will recognize that talking about God is a good thing and can make you money. The success in any network start-up is counterprogramming."
That strategy—programming that targets an underserved audience—combined with Paxson's entrepreneurial savvy, has been successful before.
"Bud's track record is pretty impressive," says Jerry Rose, president of Christian Communications of Chicagoland, which recently sold WCFC TV-38 in Chicago to Paxson for $120 million in cash.
MIDAS TOUCH: Certainly Paxson has proved that he can make money. The West Palm Beach, Florida, resident apprenticed as an entrepreneur in the radio industry, founded the Home Shopping Network in 1982, and took his company public in 1986. He founded the Silver King Communications group of broadcast television stations, eventually amassing a dozen, eight of them in the top ten U.S. markets. Paxson sold both enterprises in 1990.
Since then he has bought and sold a number of properties, including the Travel Channel. Paxson Communications went public in 1994. The company owns, or is close to acquiring, 73 television stations for Pax Net, which, when combined, can reach 70 percent of U.S. households.
Paxson, 63-year-old chair and CEO of Paxson Communications, says Pax Net will project a "God flavor." Programming will raise the issue of faith, but not drive it home by pounding on a pulpit. "TV can only plant the seed about the Father and Jesus," Paxson says. "When Christian TV tries to be all things, it fails. As a whole … it's not doing much for the kingdom."
His goal is to craft excellent entertainment programming. "We forget what we were created for, which is to worship God and show him in all his glory," Paxson says. "God will be glorified by storytelling."
"He has a point worth listening to," says Brandt Gustavson, president of the National Religious Broadcasters. "I think there's room for all of us to do the thing God has called us to do."
Paxson began his journey of faith in 1986 following the breakup of his second marriage. He remarried in 1990 and now places his Christianity at the center of his personal life and business plans.
In 1992, he cofounded the nonprofit Christian Network (CT, Oct. 2, 1995, p. 98). The network produces worship and praise programming, which is aired overnight on Paxson stations and 100 other independent stations. Paxson also is planting a new church in West Palm Beach.
He credits his business success to such acts of Christian obedience to God. "If you take a piece of your capital, commerce, management time, and profit and devote it to something [God] directs, he will have your business grow," says Paxson.
TIMING IS EVERYTHING: But Paxson is also quick to seize an opportunity. He sees a hunger for quality family programming. Years ago, broadcaster Pat Robertson, founder of the Family Channel, had a similar vision. But that cable channel has been sold to Fox Network mogul Rupert Murdoch, who is shifting the programming focus toward children (CT, July 14, 1997, p. 60).
Andi Sporkin, vice president of communications for CBS, agrees. "Without question, there's an audience for that kind of programming. He has the potential to be enormously successful."
Pax Net hopes to build on the success of the CBS drama Touched by an Angel, which faced its own uphill battle when it first aired four seasons ago. "It had every factor to fail," says Sporkin. Now it is the second-highest-ranking drama on television.
Investors have been skittish about Paxson's plans. Pax Net stock dropped a couple of points following the announcement, but it recently has returned to former levels. Paxson is resolute that Americans are hungry for spiritual enrichment, pointing to the curiosity awakened by the end of the millennium.
Pax Net has spent more than $200 million to acquire reruns of Touched by an Angel, Promised Land, Dr. Quinn Medicine Woman, and Christy, all of which originally appeared on CBS. From Focus on the Family, Pax Net will broadcast The Last Chance Detective Series. The network will air at least one original show: Celebrities and Charities, which is like Lifestyles of the Rich and Famous with a charitable twist.
Implicit in the Pax Net strategy is positioning for the emergence of digital television. Rose sold TV-38 in anticipation of that. Conversion to meet government standards by 2000 will cost around $13 million per station, Rose says. Pax Net has deep pockets and is better able to comply than the typical independent station owner.
But there is humility and a self-deprecating sense of humor in Paxson's witness as evidenced in the title of his autobiography, Threading the Needle, to be published in August by HarperCollins. "I can see the head and shoulders of my camel popping through the needle," he says, referring to Mark 10:25. But Paxson is still pushing from behind to finish the job.
Have something to add about this? See something we missed? Share your feedback here.
Our digital archives are a work in progress. Let us know if corrections need to be made.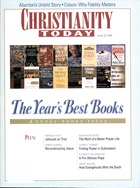 This article is from the April 27 1998 issue.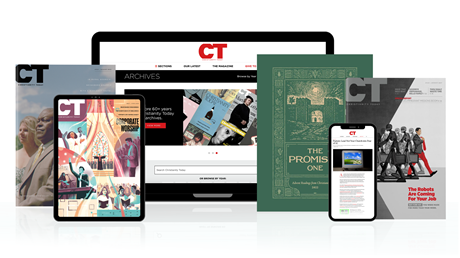 Subscribe to Christianity Today and get access to this article plus 65+ years of archives.
Home delivery of CT magazine
Complete access to articles on ChristianityToday.com
Over 120 years of magazine archives plus full access to all of CT's online archives
Subscribe Now
Will New Christian TV Network Beat the Odds?
Will New Christian TV Network Beat the Odds?