Our Power Center
We can choke God's word with a yawn; we can hinder the time that should be spent with God by remembering we have other things to do. "I haven't time!" Of course you have time! Take time, strangle some other interests and make time to realize that the centre of power in your life is the Lord Jesus Christ and His Atonement.
—Oswald Chambers in
Run Today's Race
The Soul's True Home
Prayer is not a strategem for occasional use, a refuge to resort to now and then. It is rather like an established residence for the innermost self. All things have a home; the bird has a nest, the fox has a hole, the bee has a hive. A soul without prayer is a soul without a home. Weary, sobbing, the soul, after roaming through a world festered with aimlessness, falsehoods, and absurdities, seeks a moment in which to gather up its scattered life, in which to divest itself of enforced pretensions and camouflage, in which to simplify complexities, in which to call for help without being a coward. Such a home is prayer.
—Abraham Joshua Heschel in
Moral Grandeur and Spiritual Audacity
We Need More of God
I want to simplify your lives. When others are telling you to read more, I want to tell you to read less; when others are telling you to do more, I want to tell you to do less. The world does not need more of you; it needs more of God. Your friends do not need more of you; they need more of God. And you don't need more of you; you need more of God.
—Eugene H. Peterson in
Subversive Spirituality
All Is Vanity
The world passes away with all its concupiscence and deceitful pleasure.
—Thomas a Kempis in
The Imitation of Christ
Road to Unbelief
What a man does not want to believe, he can find a way to deny.
—Michael Ignatieff in
The Needs of Strangers
No Four-Letter Words
I have a strong dislike for vulgar phrases and find that the terms "good grief" and "rats" will cover virtually anything that happens.
—Cartoonist Charles Schultz interviewed in
Vanity Fair (Oct. 1996)
God's Promise
God … is not in the business of granting wishes. God is in the business of raising the dead, not all of whom are willing. … There is nothing wrong with letting God know what we want, as long as we do not mistake our list for the covenant. The covenant has no conditions. The covenant is no deal. It is God's promise to be our God, which contains within it the promise that we shall be God's people—not by our consent but by our creation.
—Barbara Brown Taylor in
Gospel Medicine
The Anger Barrier
There is no greater obstacle to the presence of the Spirit in us than anger.
—John Climacus in
The Ladder of Divine Ascent
A Greater Harm
In the more virtuous days of the Roman empire the Roman citizens feared harm only from their enemies, but when those days had become degenerate, they had to endure greater misery from their fellow citizens.
—Saint Augustine in
The City of God
When New and Improved Isn't
What is so often missing from much of contemporary worship is a sense of the beauty, the blessing, and the being of God. … As long as the church continues to confuse the hunger for God, extant in every human heart, with the same yearnings that drive a market culture and a consumerist society, its worship will remain irrelevant at best, and an outright impediment at worst. As long as the church insists on serving up "Twinkies," even new and improved ones, many of those once-churched-now-unchurched will continue to seek their bread in the world at large, wherein a still-living, all-loving God continues to reveal self day by day in 10,000 marvelous ways.
—Craig Rice in
Circuit Rider, quoted in Context (July 1, 1997)
Real Wisdom
Seek wisdom, Scripture says—and wisdom includes sanctified "street smarts." Wisdom starts in heaven but works at street level, where we bump shoulders with others. It isn't satisfied with information retrieval: You can't access wisdom by the megabyte. Wisdom is concerned with how we relate to people, to the world, and to God.
—Edmund P. Clowney in
Tabletalk (March 1995)
Our Greatest Evil
The worst sins of men are spiritual.
—C. S. Lewis in
The Four Loves
Have something to add about this? See something we missed? Share your feedback here.
Our digital archives are a work in progress. Let us know if corrections need to be made.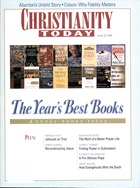 This article is from the April 27 1998 issue.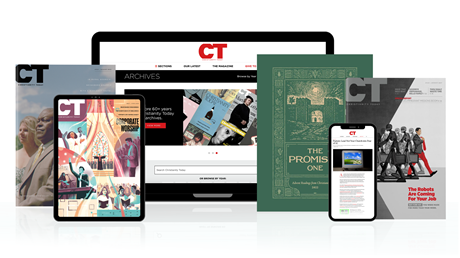 Subscribe to Christianity Today and get access to this article plus 65+ years of archives.
Home delivery of CT magazine
Complete access to articles on ChristianityToday.com
Over 120 years of magazine archives plus full access to all of CT's online archives
Subscribe Now
Classic & Contemporary Excerpts from April 27, 1998
Classic & Contemporary Excerpts from April 27, 1998