A Finite Elasticity
* Roger Olson's article "The Future of Evangelical Theology" [Feb. 9] provided a helpful summary of the multifaceted divisions among evangelicals, although I think Tom Oden's challenge of Olson's traditionalist/reformist paradigm was a needed corrective. Olson was almost successful in writing in a nonpejorative fashion, but his sympathies appeared in general to line up with the reformists' emphases.
Oden's use several times of the term heresy reminds us that biblical error should be taken seriously, lest we be guilty of "dances with wolves." There are, indeed, occasions in which the right thing to do is to call someone to recant.
Someone needs to ask the question: at what point does one cease to be an evangelical? The term itself, like other words, has only a finite elasticity.
Prof. Larry Dixon
Columbia International University
Columbia, S.C.

* I commend Roger Olson for his sincere desire for unity and peace in the evangelical movement, but despair at his statement that "the various positions in these evangelical debates do not themselves call into question our core commitments."
The core commitments of evangelicals have always included belief in God's omniscience, including his comprehensive knowledge of future events; we have always believed that, though it may be correct to say that God in some way responds to events in history, he is in not "in process" so as to be changed by them; we have always affirmed that the revelation of creation is not sufficient for the salvation of the lost and that they must hear the gospel of Christ in order to be saved. These and other core commitments are denied by some or all of those whom Olson terms reformist evangelicals.
I hope all evangelicals will realize that the long agreed-upon foundations of our faith are at stake in these matters and will respond with the uniquely Christian combination of kindness and firmness that is appropriate.
Pastor Ben Gildner
Wyoming Community Church
Wyoming, Minn.

Tom Oden is fond of describing modernity as "dying." That seems to be wishful thinking on his part. Oden benefits, as do we all, from the many gifts of a modern world-view which is thriving, not dying, as we enter the twenty-first century. It is the context in which Christians will seek to be faithful to Jesus, a context we should appreciate and not begrudge.
Also, he should resist using such shrill language as "teeming infestation of heresy," "waning theological liberals," "demonic temptation," and "bewitchment." It reveals a temperament at odds with his commending of "charity" and "love and dialogue." And, I think, it betrays a lack of confidence in his own position.
Wes Davis
Lincoln, Del.

* I will confine my remarks to a few observations concerning the fine section on evangelical theology: (1) There would be no traditionalists without reformers. Lutheranism is traditional. Luther was a reformer; (2) There can be no reformers without traditionalists. I'm not saying there must be a tradition in order to reform it—which is true nonetheless—but that there is a tradition of truth to reform those traditions that have strayed from it, which was established by God himself from the beginning; (3) God does not tell us everything. Our insistence that we know what God has not made clear is what divides us. We must be willing to admit that maybe we just don't know some things we think we know. (4) We all tend to delude ourselves to the effectiveness of our own theological ecclesiology. In a blind confession I requested of several confirmands in my church, only one would admit to faith in Jesus Christ; (5) Of my contact with members of other denominations, the doctrines that I find people know the best are the very ones that divide us. These last two items are pathetic. The only solution that demonstrates the unity between true believers is acknowledging the truth in the tension and how both sides are needed to complete the body of Christ.
Jim Pemberton
Statesville, N.C.

* I am so thankful for the presence of so many evangelicals that I do not worry as I once did about the future of the group. In our growth, we make mistakes and take side trips, but the Holy Spirit is still working to guide us as we seek to understand the fullness of the inspired Word. In the early forties, I could not find a Bible-believing seminary, but look at the many we have today. When I began teaching Bible and theology, it was difficult to find reliable textbooks. How it has changed. We need to examine ourselves, but we need also to learn from one another as we seek to know God and his Word more fully.
Kenneth E. Jones
Louisville, Ky.

Roger Olson Responds
Oden's and George's responses to my essay seem to me somewhat overblown in terms of defensiveness and at times even border on offensiveness. They certainly do not bode well for the future of mutual respect, dialogue, and understanding among evangelicals who feel called to somewhat differing tasks. There is room within the evangelical theological community for both staunch defense of the Great Tradition of the church universal and ongoing examination of its details in light of God's Word.
What I find ironic is that both Oden and George are adherents of theological traditions that began with very contro-versial reforming achievements. Oden's Methodism was considered fanatical, sectarian, and even heretical (semi-Pelagian) by defenders of tradition during its infancy under the Wesleys in the eighteenth century. Even today some traditionalists reject it as inherently heterodox because of its denial of irresistible grace and affirmation of Christian perfection. George's Bap-tist tradition was looked upon the same way by almost all other groups of Protestants when it was budding in the seventeenth century and flowering in the eighteenth century. Both Methodist and Baptist traditions are essentially reforms of the Reformation tradition.
To slam the evangelical theological door shut on any ongoing reform today is ironic and inconsistent—especially from within these reforming traditions. While every evangelical ought to respect the great heritage of the universal church—especially the landmarks of early church doctrinal achievements and basic principles of the Protestant Reformation—above all, every evangelical ought to hold firmly to the sole supreme authority of God's Word. I fear we are in danger of falling into the error of two equal sources of absolute authority—Scripture and tradition. Questioning the authority of some part of tradition in no way makes one a "freelance religious thinker" disconnected from the life of the church. Instead, it can be the mark of a true servant of the church in helping it rethink its doctrines and reform its life in the light of God's Word.
Prof. Roger E. Olson
Bethel College & Seminary
St. Paul, Minn.

Christians' Mental Health
* Congratulations on what is perhaps the best CT in recent years! I was particularly satisfied with Dwight Carlson's article ["Exposing the Myth That Christians Should Not Have Emotional Problems," Feb. 9]. My wife is a therapist with Meier-New Life Clinic here in Texas, and she and I have found it particularly challenging at times to convince well-meaning Christian people that it is ok to need the help of a Christian mental-health professional. The Carlson article and the Arterburn interview provide an articulate tool for educating church people who are suffering.
Pastor Charles W. Christian
North Dallas Church of the Nazarene
Dallas, Tex.

As a pastor and Christian, I could become depressed reading this article. It's plain to me that sin is the root of emotional disorders. If sin was not the problem and all is ok with the "patient," why is any kind of therapy necessary at all? Sin is the problem if we define sin biblically. One definition is that sin is "falling short of the glory of God" (Rom. 3:23). Certainly people having emotional problems are falling, to some degree, short of the glory of God, Christian or non-Christian.
A second definition of sin is "Whatsoever is not of faith" (Rom. 14:23). Such was the case of Martin Luther's depression—"the context of depression was always the same, the loss of faith that God is good and that he is good to me." God's remedy for depression or similar emotional problems is not counseling or therapy. It is to "put on the garment of praise for the spirit of heaviness" (Isa. 61:3).
I gather from Carlson's article that Luther confessed during one of his bouts with depression, "Christ was wholly lost." Therefore, would not Christ be his answer? Why then is either counseling or therapy necessary? Except possibly to point the "patient" to Christ, who is our sufficiency.
Pastor Van Gale, Sr.
Praise Fellowship Church
Carol Stream, Ill.

* Telling a Christian with severe depression to "snap out of it" through prayer, Bible reading, or repentance is like telling a Christian with cancer to "get over it." Because we live in a fallen world, people do get emotional problems in the same way they get cancer or heart disease. I agree with MacArthur that our sufficiency is in Christ. Yet as a faithful Wesleyan, I would have to say that our Great Physician is channeled through some "extraordinary means"—that is, a well-grounded therapist and medication. People are channels of grace, and medication can be too if God so chooses.
Bill Ivins
Odessa, Tex.

Carlson has written a fine article. He left out an important piece: the role of the demonic. The Gospels show it, Luke 8 or Mark 5, and there are emotional and psychological overlaps in the passages. The first three centuries of the Christian church affirm the same, as does contemporary experience.
Dean Hochstetler
Nappanee, Ind.

Truth Worse Than Our Fears
* L. Gregory Jones has given us a marvelous look at the possibilities of forgiveness in the Christian arena ["How Much Truth Can We Take?" Feb. 9]. I lived in South Africa from 1972-77 and 1985-93. I preached love and forgiveness. I taught Bible college students from every tribe. I saw the anger, fear, hatred, and horrors of apartheid up close and personal. I wept with my black colleagues and often argued with my white friends. I'm certain I could have and should have done much more. For the sake of a work visa I sometimes remained silent. Please forgive me.
I've been in and out of South Africa during the Truth and Reconciliation Commission's work. The truth is actually worse than our worst fears. That forgiveness from victims is being given is testimony to the cry for freedom that lives in every heart. The resistance to forgiveness in some is testimony that we are often bound by our sinful natures. That even one victim can forgive in South Africa's story of hate is proof that God's grace is still greater than all our sin.
Jim Grams
Springfield, Mo.

* I attend North Park Seminary and I have heard at least three people talk about the article in the last week up front in class and at a conference. It has a prophetic edge and is getting people talking.
Heidi Griepp
Chicago, Ill.

The Pensacola Revival
Casual readers of Steve Rabey's informative article on the Brownsville Revival may have mistakenly inferred that the Pensacola News Journal actually uncovered some financial irregularities occurring in the revival [News, Feb. 9]. Thankfully, no such irregularities have occurred and the impact and scope of the revival continues to increase, in spite of the charges raised by the Journal. (Those seeking a response to the most serious accusations can consult Brownsville's official Web site at brownsville-revival.org.) While we welcome constructive correction and reproof, we cannot be sidetracked by false allegations, and it remains our profound and sacred joy to give our attention instead to help wake up a slumbering church and touch a lost world.
Michael L. Brown, President
Brownsville Revival School of Ministry
Pensacola, Fla.

Prophecy in Advertising
For the last two months you have carried a full-page announcement of "Israel's Jubilee" to be held April 29-May 3, 1998, in Orlando, Florida. The ad states: "In May of 1948, after almost 2000 years of wandering, the modern state of Israel was born. Jesus said the generation that sees this will not pass away before His return … "
Jesus did not say this, and the statement is not found in Scripture. It is amazing to see the amenability of religious teachers in assuming things are true when they are not.
Harry J. Bowers
Asheville, N.C.
Jesus' statement about a generation that would "not pass away" can be found in Mark 13:30 and Matthew 24:34. Neither context mentions the re-establishment of the state of Israel, but instead focuses on the desecration of the temple and the intense persecution of God's people. —Eds.
Brief letters are welcome. They may be edited for space and clarity and must include the writer's name and address if intended for publication. Due to the volume of mail, we cannot respond personally to individual letters. Write to Eutychus, CHRISTIANITY TODAY, 465 Gundersen Drive, Carol Stream, IL 60188; fax: 630/260-0114. E-mail: cteditor@christianitytoday.com ( * ).
Have something to add about this? See something we missed? Share your feedback here.
Our digital archives are a work in progress. Let us know if corrections need to be made.
This article is from the April 6 1998 issue.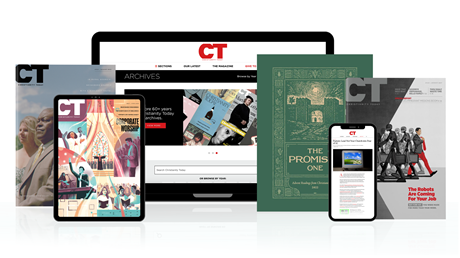 Subscribe to Christianity Today and get access to this article plus 65+ years of archives.
Home delivery of CT magazine
Complete access to articles on ChristianityToday.com
Over 120 years of magazine archives plus full access to all of CT's online archives
Subscribe Now
A Finite Elasticity
A Finite Elasticity