Easter Wings
Lord, Who createdst man in wealth and store,
Though foolishly he lost the same
Decaying more and more
Till he became
Most poor:
With Thee
O let me rise
As larks, harmoniously,
And sing this day Thy victories:
Then shall the fall further the flight in me.
My tender age in sorrow did begin;
And still with sicknesses and shame
Thou didst so punish sin,
That I became
Most thin.
With Thee
Let me combine
And feel this day Thy victory;
For, if I imp my wing on Thine,
Affliction shall advance the flight in me.
—George Herbert in
The Country of the Risen KingIt Was Called Resurrection
Whatever it was that occurred after Jesus' crucifixion, one thing is absolutely clear: It was called "resurrection." Of that there can be no doubt. All who were met by it called it the same thing. However unclear many things may be about alleged meetings with Jesus after his death, there was a consensus in the community that whatever it was that people were experiencing, the correct term for it was resurrection. This meant that they had experienced and tasted the first fruits of the expected event at the end time of judgment and redemption.
—Thomas C. Oden in
Agenda for Theology After Modernity … What?
Aslan's Resurrection
"Oh, you're real, you're real! Oh, Aslan!" cried Lucy and both girls flung themselves upon him and covered him with kisses.
"But what does it all mean?" asked Susan when they were somewhat calmer.
"It means," said Aslan, "that though the Witch knew the Deep Magic, there is a magic deeper still which she did not know. Her knowledge goes back only to the dawn of Time. But if she could have looked a little further back, into the stillness and the darkness before Time dawned, she would have read there a different incantation. She would have known that when a willing victim who had committed no treachery was killed in a traitor's stead, the Table would crack and Death itself would start working backwards.
—C. S. Lewis in
The Lion, the Witch, and the Wardrobe
The Only Road to Easter
Lord, I believe, but help thou my unbelief, because I still do not want to die. I believe Jesus has power to raise the dead, only I do not want him practicing on me. I want a God who will cut my losses and cushion my failures, a God who will grant me a life free from pain. I want a God who will rescue me from death, who will delete it from the human experience and find another way to operate.
What I, what all of us, have instead is a God who resurrects us from the dead, putting an end to it by working through it instead of around it—creating life in the midst of grief, creating love in the midst of loss, creating faith in the midst of despair—resurrecting us from our big and little deaths, showing us by his own example that the only road to Easter morning runs smack through Good Friday.
—Barbara Brown Taylor in
Christian Century (Mar. 13, 1996)
Death Destroyed
Our generation has never seen a man crucified except in sugary religious art; but it was not a sweet sight, and few of us would dare to have a real picture of a crucifixion on our bedroom walls. A crucified slave beside the Roman road screamed until his voice died and then hung, a filthy, festering clot of flies, sometimes for days—a living man whose hands and feet were swollen masses of gangrenous meat. That is what our Lord took upon himself, "that through death he might destroy him that had the power of death, that is, the devil; and deliver them, who through fear of death were all their lifetime subject to bondage."
—Joy Davidman in
Smoke on the Mountain
He Rose for Us
His resurrection was all for others. That miracle was wrought in him, not for him.
—George MacDonald in
The Miracles of Our Lord
Have something to add about this? See something we missed? Share your feedback here.
Our digital archives are a work in progress. Let us know if corrections need to be made.
This article is from the April 6 1998 issue.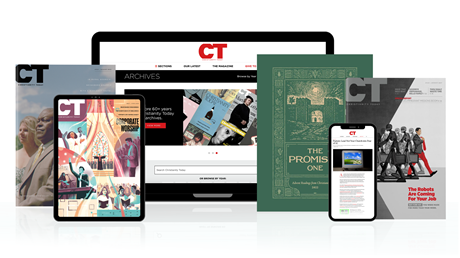 Subscribe to Christianity Today and get access to this article plus 65+ years of archives.
Home delivery of CT magazine
Complete access to articles on ChristianityToday.com
Over 120 years of magazine archives plus full access to all of CT's online archives
Subscribe Now
Classic & Contemporary Excerpts from April 06, 1998
Classic & Contemporary Excerpts from April 06, 1998