Santino Manut, a one-legged former southern Sudanese soldier, sits on a stool in a small room where artificial legs are manufactured. A health assistant washes what remains of his leg, amputated at the knee. Soon the 24-year-old Manut will be fitted with an artificial limb.
Manut is one of hundreds of war victims admitted to the International Red Cross hospital in Lokichoggio, the logistical center for humanitarian agencies working in southern Sudan.
Manut, a Christian, had to have his leg amputated after a gunshot wound became infected. Nevertheless, he is determined to see southern Sudan liberated. Although his church teaches peace and reconciliation, Manut believes he must fight to reclaim what has been stripped from his people. "I am not giving up until we get our rights." Manut realizes he cannot return to the battlefront, but he still longs to fight, which he has done for a decade—since age 14. "I wish God can perform a miracle and give me back my leg; I would go back to fight again."
According to head nurse Toril Perelius, there are 570 patients at Lokichoggio, nearly all Sudanese war victims. Many, such as Manut, have lost legs. Up to 80 new patients arrive from the interior each week, says Perelius during a tour of the eight wards. Some patients in the intensive care unit are still unconscious, having just emerged from surgery, fresh blood seeping through the dressings.
MUSLIM-CHRISTIAN CONFLICT: Sudan, the largest country in Africa, is divided between the predominantly Muslim north, including the capital, Khartoum, and the primarily Christian south. Civil war between the two regions has destabilized the country for the past 15 years (CT, April 4, 1994, p. 80) and led to the slavery of Christians (CT, April 29, 1996, p. 52). Southern rebels, the Sudan People's Liberation Army (SPLA), have waged guerrilla warfare against the Muslim government, which has been carrying out jihad, or holy war of forced Islamization of the animists and the 4 million Christians in southern Sudan. In June, for instance, government troops shot Episcopal deacon Abraham Yac Deng to death in the village of Ayien and burned 400 Bibles that had just been delivered by Voice of the Martyrs (VOM).
In addition to war, drought and famine have plagued the country since 1996. The government lifted a 14-month flight ban for humanitarian agencies in April. Now relief organizations such as World Vision are operating emergency food and distribution centers in Bahr-el-Ghazal, the province of southern Sudan with the most suffering.
On July 15, the SPLA declared a three-month cease-fire in Bahr-el-Ghazal to allow for emergency food to be delivered.
But the region is still dangerous. Two dozen aid workers had to flee the Upper Nile region east of Bahr-el-Ghazal June 29 due to clashes between government-supported factions and the SPLA. War and starvation have resulted in 1.5 million deaths in the past 15 years. Another 4 million people have been displaced, and nearly a million are depending on humanitarian food aid in order to survive.
FEEDING CAMP REFUGE: Despite bullets and bombs, starvation has become the chief threat to many civilians. In the community of Tonj, a crowd of about 600 people waits anxiously for food. Many are infected with skin and eye diseases. They look distraught, hungry, and gaunt.
Moses Adjuek Bec, a tall, lanky, devout Christian in his thirties, is a school teacher in Tonj and an Episcopal evangelist. He works side by side with evangelical Catholics, and the two denominations share a church building. "In our situation, only God can help us not preach denominations or traditions."
Bec has baptized 3,000 new believers in the past three years. However, the food shortage keeps many from attending church. "People spend the whole day searching for akuol leaves," Bec says. "Only during the feeding days do they come here and attend Scripture-reading services and worship." School attendance is also low. "Mothers fear their children may be attacked, and the children are weak from hunger," Bec says.
Fighting had been commonplace in Tonj until the SPLA triumphed in May 1997—a result, Bec believes, of persistent Christian prayers. Today many of the buildings—the ones not destroyed by shelling—have holes in the walls.
CELEBRATING SUSTENANCE: In another camp in Thiet, 900 people are camped out waiting for food in a decaying primary school that no longer has a roof. One tiny girl approaches and points to her dry mouth and sunken abdomen. A small boy displays his protruding ribs. Virtually all children under 15 are naked.
Garvase Yak, a Christian for 33 years, sits with a few other elderly men. His legs are infected by guinea worms, yet he is singing and dancing in gratitude to the Lord because of the food that will be distributed.
In the feeding center, a woman pacing around will occasionally scream. For months she has led a nomadic life, ever since her village was devastated by war. Residents explain that she had a mental breakdown after all her children and husband were killed.
Outside the camp, small groups of people sit under trees. They have fled from war zones and have walked up to 50 miles seeking shelter and food.
LIVING WITH TERROR: At Panacier, another 900 starving people, including many elderly disabled, wait at a food-distribution center. Morris Agany Wek explains that the area has endured sporadic raids by armed gangs who burn houses, kill men, rape women, and abduct children.
The current population consists of those who have dared to return or were too frail to flee in the first place. Danger is always lurking. Government planes dropped bombs only 220 yards from the feeding camp on June 10. All the churches in Panacier have burned down, and residents are too weak—and scared—to rebuild.
In the past, Bahr-el-Ghazal has produced some of the country's best leaders, including politicians, pastors, and academicians. But how can Christians keep the faith in the face of starvation, homelessness, and war? Ironically, more people are converting to Christianity now than in the more peaceful times before the Muslim government expelled missionaries from the country 35 years ago.
"Tremendous growth has taken place during the last ten years of war and severe suffering," says Mike Wall, executive director of ACROSS (Association of Christian Resource Organizations Serving Sudan), a consortium of evangelical missions agencies.
Abe Enosa of the New Sudan Council of Churches says Christianity is growing more rapidly in southern Sudan than anywhere else in Africa. Although they lack theological training, Enosa says, Christians in southern Sudan have gone forth with Bibles and a vision to evangelize their neighbors.
Omina Leo, an evangelical Catholic priest in the diocese of Torit, says that despite the church's limited resources, it can provide encouragement to those who are suffering. "People are firm in their beliefs," Leo says. "Even in hunger they hold on to faith and keep hoping."
"We in the church pray and work for peace daily," says Paride Taban, overseer in the diocese. "While we are waiting for this to come about, though, long-term development must still go ahead."
The fighting notwithstanding, the diocese has opened schools and health centers, dug holes for wells, and assisted in agricultural development. Recently, the diocese completed preparing its five-year strategic plan. And in spite of the physical hardships they face daily, they have put pastoring their community as their highest priority.
Have something to add about this? See something we missed? Share your feedback here.
Our digital archives are a work in progress. Let us know if corrections need to be made.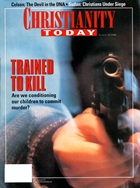 This article is from the August 10 1998 issue.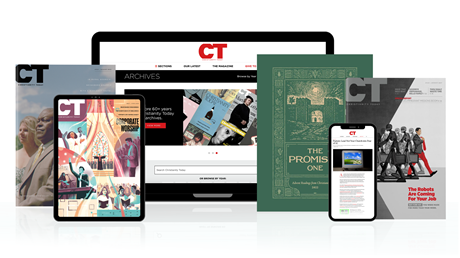 Annual & Monthly subscriptions available.
Print & Digital Issues of CT magazine
Complete access to every article on ChristianityToday.com
Unlimited access to 65+ years of CT's online archives
Member-only special issues
Subscribe
Sudan: Sudanese Christians Bloody, but Unbowed
Sudan: Sudanese Christians Bloody, but Unbowed