In 1952, when Dwight Eisenhower swung through Jackson, Michigan, on a campaign tour, a nine-year-old boy waited in the crowd at the railroad station, hoping to meet the general. When Ike finally walked by, the boy thrust his hand through the line and touched the coat of the man who would soon be President. It was Dan Coats's first brush with politics.
Today Coats is a seasoned U.S. senator from Indiana, a post he has held since 1988 when he fulfilled the term left vacant by the election of Dan Quayle to the vice presidency. A graduate of Wheaton College (where he met his wife, Marcia), Coats was first elected to the House in 1980. This followed a stint in the military and a law practice in Fort Wayne, Indiana. During this time, he heard a talk by Chuck Colson that changed the direction of his life. "It was as if the other people in the room melted away," Coats says of the effect of the talk. He went home and, with Marcia at his side, dedicated himself to serving God fully in his career.
During the two decades of public service that followed, Coats, a Republican, has supported such conservative goals as a balanced budget, low taxes, a robust military, and strong families. He also authored a set of bills called "The Project for American Renewal." These initiatives emphasize what Coats calls a compassionate "shifting of power, money, and influence out of Washington" back to private organizations and religious charities.
Coats surprised the political world last year when he announced he would not seek re-election when his term expires in January of 1999. Instead, he would seek to further his goals through nonprofit and faith-based organizations. Robert Schwarzwalder, a member of the senator's staff from 1991 to 1994, talked with Coats at his Capitol Hill office about his inside view on issues ranging from Clinton and China to evangelicals, abortion, and the Supreme Court.
How has your faith influenced your conduct in office?
Pretty dramatically. When you go into a situation where so much of what you do is critiqued by your political opponents and the press, it's important that you understand the role your faith is going to play. You have to have a solid foundation of faith, because this is a tough business. You're subject to so many pressures. The public and press are fickle. You can be liked or disliked from one day to the next. It's easy for people to misinterpret your votes. It makes you realize faith is the only real constant in your life.
You have been a pro-life leader in Congress. What lessons have you learned in the fight for unborn life?
All of my training and study—at Wheaton, in church, in my personal study of Scripture—has led me to an unshakable conviction that all of life is God's creation, and so the sanctity of life should be one of the unalienable truths of our system. Still, Christians have often confused principle with strategy. I have tried to express my convictions while developing an effective strategy to translate my convictions into reality.
Sometimes we have to use incremental approaches. Sometimes we have to recast the debate. In the early eighties, the entire debate was on the Human Life Amendment. It just simply was not possible to gain the necessary two-thirds majority in the House or Senate to pass the amendment. We then focused our strategy on taxpayer-funded abortion, which had some success. Now we are working on banning partial-birth abortion.
Some people would have said this was a compromise, that we should accept nothing but a constitutional amendment banning abortion. If we ban partial-birth abortion, will that eliminate abortions? No, it would only limit a tiny fraction of them, but this issue has helped us refocus the debate and has put the pro-choice people on the defensive.
Some Christians have concluded that I've not been true to the faith. That's been difficult, one of the greatest challenges I've had to face.
How do you respond to attacks from other Christians as well as from political opponents?
On occasion, I've had some sharp exchanges in the Senate with some of my colleagues. There is a temptation to label someone a personal, not just a political, enemy. My goal is to maintain my position, to state my convictions without personalizing my criticisms, to have a relation-ship with my opponent based on respect. Christ's teaching and his conduct set the example.
Sometimes it makes people uncomfortable when you raise the moral side of the issue. But I think we're not here just to always avoid the difficult issues.
How have you used moral arguments to advance legislation?
Scripture—God's Word—is the source of all truth. But approaching public policy from an explicitly Christian perspective is counterproductive. It is wiser to approach it from the standpoint of the moral foundation that undergirds our society—the moral framework found in the Declaration of Independence and the Constitution. The principles in these documents show how to relate moral truth to the issues at hand.
Not every issue has a moral foundation. But foreign policy, issues of war and peace, life and health—all have profound moral implications. On many issues there is less clarity. Consider Most Favored Nation [MFN] trade status for China. Persecution of Christians in China is real, and it is wrong. But I've received letters from Christians within China saying that if MFN is rescinded, they'll experience repression. If we stay engaged with China, we can promote democratization.
Recently, Focus on the Family's James Dobson has threatened, in his words, to take as many of his listeners away from the Republican party as he can unless there is greater progress on social issues. Other conservative Christian leaders, like Richard D. Land of the Southern Baptist Convention's Ethics and Religious Liberty Commission, echo these sentiments. How do you respond?
I understand a little of their frustration. They and the people they represent have invested a great amount of energy, finances, and other resources to address through the political process serious social and cultural issues they think are having an extraordinarily negative effect on the country. They are frustrated that the Congress hasn't been as responsive and successful as they would like.
But often that frustration has translated into criticizing and condemning the very people who share the same goals and who often are as frustrated as they are but, because of the nature of the political process, haven't been able to succeed in a way that those people want to succeed. This doesn't mean that they're not on the same team. It means that they're facing hurdles and obstacles I'm not sure people outside the system have an appreciation for. Bombastic rhetoric from people in elective office may please people outside, but it doesn't accomplish the goal and often makes achievement of our goals more difficult.
"Some Christians have
concluded that I've not
been true to the faith..
That's been difficult, one of
the greatest challenges
I've had to face."
—Dan Coats
The response of some Christian activists is, "We gave you a majority in 1994." No, they didn't. Even though we have a Republican Senate, there is not a majority of Republican senators who agree with every issue that the Christian Right advocates, and even if there were, in the Senate it takes 60 to pass laws, and we have only 55 Republican senators. The country re-elected Bill Clinton President, so it takes 67 votes to override the President's veto.
Social conservatives are frustrated we've been able to score only some first downs, but we haven't been able to score all the touchdowns we'd like. But that doesn't mean that we have walked off the field. We're out there sweating and bleeding. To capsulize the issue, it's a matter of rhetoric versus results. Just going to the floor doesn't translate into legislative success.
Though there are serious questions about the President's personal life, many voters seem to feel that if he fulfills his official duties well, his private conduct is secondary and should, perhaps, even be ignored.
Character counts, integrity matters, and personal responsibility is important. Leaders need to model these, but we're not getting any of those qualities out of this President. I think it sets a terrible example for the American people, particularly for future generations. It is a reflection of decades of relativism that defines truth as whatever the individual thinks it is. We're not paying an economic price right now, and that seems to be, unfortunately, dominating public opinion about the President's performance. But we're paying a terrible moral and spiritual price that is more destructive than any economic recession could impose on our nation. I'm very concerned about the implications for our society and the implications particularly for the next generation.
You're already president of Big Brothers/Big Sisters, a civic organization that is not explicitly Christian or religious. What message are you sending by filling this position?
Big Brothers/Big Sisters is an organization that helps children without fathers. It promotes mentoring and operates on volunteerism, one on one, bringing an adult into a child's life. We continue to see positive results from that approach.
But that's only one of the things I'm going to do. I intend to create a foundation for American renewal basically for the purpose of promoting nongovernmental, nonprofit, and primarily faith-based volunteer organizations that will address some of our most fundamental social issues. I'm doing so because I believe the root of the solution is spiritual. These institutions, as opposed to government, are constituted to bring the spiritual renewal I believe will transform society by transforming individuals from the inside out rather than from the outside in.
You've been in public service for more than two decades. What counsel do you have for evangelicals as they approach politics?
I encourage evangelicals to be involved in the political process, to be involved in community affairs, whether that be the PTA or neighborhood associations or city council. I think we can bring a perspective that's very important.
I'm concerned about individuals and organizations that, while they wouldn't profess this, behave as if our salvation lies in the election of a certain President, a certain Congress, or passage of a certain law. Their energies, efforts, and even their beliefs are directed more substantially to that rather than fulfilling Christ's commands to love God and love others as ourselves.
We should never lose sight of a higher calling that transcends politics and all human endeavors. That higher calling is a commitment to serve God and to share the good news of the gospel. That ought always to be our number-one priority.
Robert Schwarzwalder is communication director for a business association in Springfield, Virginia.
Have something to add about this? See something we missed? Share your feedback here.
Our digital archives are a work in progress. Let us know if corrections need to be made.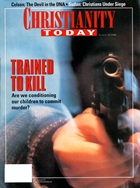 This article is from the August 10 1998 issue.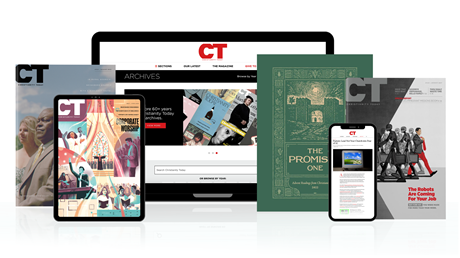 Annual & Monthly subscriptions available.
Print & Digital Issues of CT magazine
Complete access to every article on ChristianityToday.com
Unlimited access to 65+ years of CT's online archives
Member-only special issues
Subscribe
The Politics of Patience
The Politics of Patience