Nearly 2 million visitors have thronged to evening services at Brownsville Assembly of God in Pensacola, Florida, since revival erupted on Father's Day in 1995.
"It's just as fresh to me today as it was two and a half years ago," says evangelist Steve Hill, who has been guest preaching at the church since then. During that span, 122,000 have signed "decision cards" indicating conversion or rededication.
A year ago, the Brownsville Revival School of Ministry opened with 120 full-time students, split evenly between revival converts and those who experienced renewal, according to Michael L. Brown, the school's dean. Brown says that by the fall 1997 semester, the school, which offers a two-year theology degree emphasizing missions and evangelism, had 511 students from 46 states.
Revival leaders also have taken their message on the road, leading two-night rallies in Dallas, Saint Louis, Toledo, Memphis, Birmingham, and Anaheim. "Our goal is to bring this revival to key cities in the U.S.," says Hill, "and these meetings are a divine opportunity for people who have been revived to bring their unsaved family members to church without going inside a church."
In the 2.4 million-member Assemblies of God (AG), revival has broken out in dozens of congregations around the country. "The impact has been powerful," says Thomas Trask, the denomination's general superintendent. "Many, many of our pastors have gone [to Brownsville] searching, looking, and believing, and they have witnessed the power of God. It has done something for their own hearts and lives."
The treks are not limited to AG churches. In fact, the Brownsville revival's duration, the number of people it is attracting, and the ripple effect it is having in churches in the United States and around the world, are leading some to draw comparisons with historic Pentecostal revivals in the early years of the century. And in recent months, Pensacola has replaced Toronto (CT, Sept. 11, 1995, p. 23) as the hot spot for revival-seekers. "This is probably the most important revival to come out of a local church since Azusa Street," says Pentecostal historian Vinson Synan.
VOICES OF OPPOSITION: Not everyone is singing hallelujahs. As it has proceeded, the revival has been the subject of intense media scrutiny, some of it negative. Meanwhile, there is a heated theological debate in many circles about what is happening in Pensacola and whether it is of divine, human, or even satanic origins.
"I don't really see it as a revival at all," says Christian Research Institute's Hank Hanegraaff, who has become the most visible of Brownsville's many critics, calling it a "counterfeit revival" (CT, Aug. 11, 1997, p. 54). Hanegraaff did not mention Brownsville in his book Counterfeit Revival (Word, 1997), but he has hammered the revival in his national Bible Answer Man radio broadcasts, as well as in the November-December 1997 issue of Christian Research Journal, in which he criticized the church for "serious distortions of biblical Christianity … an overemphasis on subjective experience … nonbiblical spiritual practices, Scripture twisting, and false and exaggerated claims."
In November, the Salem Radio Network invited Hanegraaff to debate school dean Brown, whose own book, Let No One Deceive You: Confronting the Critics of Revival (Destiny Image, 1997), calls Counterfeit Revival "an unscholarly, often inaccurate, highly judgmental, and at times, even slanderous work."
STEPS TOWARD RECONCILIATION: Following the often heated debate, the two men met privately for nearly three hours. The meeting resulted in forgiveness and fellowship instead of fisticuffs, along with a commitment to continue the dialogue.
Although Hanegraaff says he had been to Brownsville four times, his December 3 visit was different. He met with Brown, Hill, and Brownsville pastor John Kilpatrick, and he even spoke to students at Brown's school, where he received a warm reception and a standing ovation. Kilpatrick has also invited Hanegraaff to preach at one of Brownsville's Sunday services, an offer Hanegraaff says he is considering.
The dialogue has not changed anyone's mind, but it has cooled some of the rhetoric. "One of the things we wanted to model was that we could discuss these things in a manner that would honor Christ instead of in a way that would drag his name through the mud," says Hanegraaff, who left Brownsville with warmer feelings toward revival leaders and at least a few reservations about his earlier denunciations. "I don't know," he told CT. "It's a difficult thing for me to try to assess on a lot of levels."
Brown says he and Hanegraaff emerged from their talks sharing common views on at least three points: "We are brothers who are going to spend eternity together; we are passionate for the fundamentals of the faith; and we want to see disciples, not just converts."
MONEY QUESTIONS: In November, the Pensacola News Journal, which had previously published dozens of mostly positive articles about the revival, ran a five-day series of 30-plus stories entitled "Brownsville Revival: The Money and the Myths." The Journal called revival-related businesses "a multimillion-dollar retail industry conducted within the walls of the church." The series raised important questions about nearly every aspect of the revival and questioned the integrity of Hill and Kilpatrick. It accused Kilpatrick of orchestrating the revival and firmly disciplining dissenters and alleged that Hill fabricated parts of his dramatic testimony.
Revival leaders say the series contained "misquotes, serious misrepresentation of facts, and misleading misquotes." They responded by issuing a six-page, 47-item rebuttal of some of the paper's charges and paying for two advertisements.
The most disturbing charges in the articles (available at the paper's Web site at: www.pensacolanewsjournal.com) involved leaders growing wealthy from millions of dollars spent by revivalgoers on books, manuals, audiotapes, videotapes, and other products. The paper reported that only Brown had appropriately paid state sales tax on his books and cassettes sold at tables inside the church, a situation revival leaders say was caused by their inability to get a definitive determination from state tax officials about what they owed. (In a December 21 article, the paper reported that the remaining three ministries had made lump-sum 1997 tax payments.)
Still, questions remain about hundreds of thousands of dollars spent on personal residences, offices, vehicles, and other expenses. The paper says that during its investigation, Hill submitted incomplete financial reports, and that Kilpatrick refused to divulge any financial data for either the church or his Feast of Fire Ministries.
AG superintendent Trask says decisions about financial disclosure are up to each congregation but adds, "My philosophy has always been openness, and I've encouraged John [Kilpatrick] to be open." Trask says finances will be a topic of discussion with Kilpatrick and Hill at an imminent meeting of a "covering committee" established to offer guidance to revival leaders.
The 43-year-old Hill claims the revival's money problems are a result of honest mistakes. "I admit that I am na•ve in some areas of ministry," he says. "I'm young. I've never been thrust into an arena like this."
None of four revival-related ministries is a member of the Evangelical Council for Financial Accountability. ecfa president Paul D. Nelson, who calls the Pensacola newspaper's charges "serious," confirms that Hill's Together in the Harvest Ministries has begun the application process. Kilpatrick says his Feast of Fire Ministries will apply for membership as soon as its first audit is completed. Nelson says he has not received applications from the ministries headed by Brown and music minister Lindell Cooley.
No state or federal investigations related to finances at the church have been implemented.
REVIVAL IN THE AIR: Nothing is slowing down revival leaders in Pensacola. "This has been the greatest year of my life," Hill says.
Brown says criticism of revival naturally accompanies works of God. "We tend to sanitize past revivals and demonize present revivals," he says. "When a baby is being born, things are a little bloody and messy, there's a whole lot of noise, and there are a lot of doctors running around. But that doesn't mean the child isn't going to be healthy in a few days."
For Trask, the revival—with all its controversy and challenges—is a welcome alternative to the AG's plateaued membership of the late 1980s and early 1990s. "The Assemblies of God was raised up as a revival movement, but we had moved away from that," he says. "We had become content. We had become careless." In the past two years, the AG has reported significant increases in the number of conversions, water baptisms, and Spirit baptisms. Giving to foreign missions is also at an all-time annual high of $117 million.
Still, Trask's main concern is that revival leaders "don't try to perpetuate something that God wants to put a stop to," a possibility that grows with each new revival-related venture.
Have something to add about this? See something we missed? Share your feedback here.
Our digital archives are a work in progress. Let us know if corrections need to be made.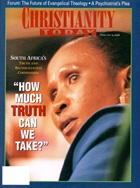 This article is from the February 9 1998 issue.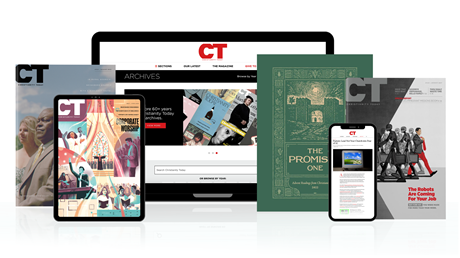 Subscribe to Christianity Today and get access to this article plus 65+ years of archives.
Home delivery of CT magazine
Complete access to articles on ChristianityToday.com
Over 120 years of magazine archives plus full access to all of CT's online archives
Subscribe Now
Revival: Brownsville Revival Rolls Onward
Revival: Brownsville Revival Rolls Onward