We Look for Better Things
Remember—Christianity proposes not to extinguish our natural desires. It promises to bring the desires under just control and direct them to their true object. In the case of both riches and of honor, it maintains the consistency of its character. But Christianity commands us not to set our hearts on earthly treasures. It reminds us that "we have in heaven a better and more enduring substance" than this world can bestow (Heb. 10:34).
—William Wilberforce in
Real Christianity
Learning to Pray
Prayer is a form of communication between God and man and man and God. It is of the essence of communication between persons that they should talk with each other from the same basic agenda. Wherever this is not done, communication tends to break down. If, however, an atmosphere of trust can be maintained, then one learns how to wait and be still. It is instructive to examine the prayer life of the Master from this point of view. I am always impressed by the fact that it is recorded that the only thing that the disciples asked Jesus to teach them how to do was to pray.
—Howard Thurman in
A Strange Freedom
Mirror Needed
The human race is inquisitive about other people's lives, but negligent to correct their own.
—Saint Augustine of Hippo in
Confessions
Uneasy Partner
Non-Christians will insist that we should keep our religion out of the way of their politics. But the reason for that is not that Jesus has nothing to do with the public realm; it is that they want nothing to do with Jesus as Lord.
—John Howard Yoder in
The Death Penalty Debate
Whose Worship?
The reform that the church needs most is for each worshiper to approach the service (of whatever style) with the proper mindset: worship. No one should enter with the attitude, "Amuse me, since if you're not up to snuff, I'm not coming back." … When we design a service to worship the Lord, the most important, and the most difficult, thing to accomplish is to be sure that we are, in fact, worshipping the Creator and not ourselves.
—Jean Harmon, quoted in
Context (Feb. 1, 1999)
To the Master Musician
Tune me, O Lord,
into one harmony
With thee, one full
responsive vibrant chord;
Unto thy praise, all love
and melody,
Tune me, O Lord.
—Christina Rosetti in
Music Is Your Forte
Channels Only
You are not the oil, you are not the air—merely the point of combustion, the flash-point where the light is born. You are merely the lens in the beam. You can only receive, give, and possess the light as a lens does.
—Dag Hammerskjold in
Markings
Blessed Are the Merciful
Those who live by mercy will always be disposed to practise mercy, especially to a human being which is so dependent on the mercy of others as the unborn child.
—Karl Barth in
Church Dogmatics: The Doctrine of Creation (III:4)
When Sight Is Gone
Remember it is the very time for faith to work when sight ceases. The greater the difficulties, the easier for faith; as long as there remain certain natural prospects, faith does not get on even as easily as where natural prospects fail.
—George Mueller, quoted in
Streams in the Desert
Three Medicines
By contrition we are made clean, by compassion we are made ready, and by true longing we are made worthy. By these three medicines it behooveth that every soul should be healed.
—Juliana of Norwich in
Heirlooms
The Great "Ought"
Congregations are not just places to be reminded of what one ought to do. They are spaces where "ought" is put in cosmic perspective.
—Nancy Tatom Ammerman in
Congregation & Community
Have something to add about this? See something we missed? Share your feedback here.
Our digital archives are a work in progress. Let us know if corrections need to be made.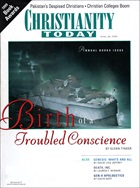 This article is from the April 26 1999 issue.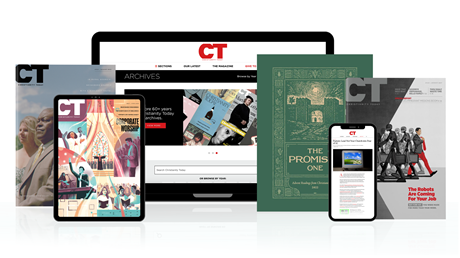 Subscribe to Christianity Today and get access to this article plus 65+ years of archives.
Home delivery of CT magazine
Complete access to articles on ChristianityToday.com
Over 120 years of magazine archives plus full access to all of CT's online archives
Subscribe Now
Classic & Contemporary Excerpts from April 26, 1999
Classic & Contemporary Excerpts from April 26, 1999