One of the church's earliest and best Christmas sermons was preached by Gregory of Nazianzus (A.D. 329-389) in Constantinople's Church of the Resurrection on December 25, A.D. 380. A well-educated man from Cappadocia, Gregory's life alternated between monasticism and pressure into public ministry—eventually into the bishopric of Constantinople (which he resigned shortly after his appointment). A defender of orthodoxy against the Arians (who believed Jesus was not fully God), Gregory also condemned the emperor Julian, a pagan, for attempting to exclude Christians from higher learning. But in his love for learning, Gregory also believed that belief in God's incomprehensibility was a necessary element of orthodox theology. For his rhetorical skill, especially against the Arians, he was given the title "the theologian."

Christ is born, glorify ye Him. Christ from heaven, go ye out to meet Him. Christ on earth; be ye exalted. Christ in the flesh, rejoice with trembling and with joy; with trembling because of your sins, with joy because of your hope. Christ of a Virgin, without Mother, becomes without Father (without Mother of His former state, without Father of His second). He Who is not carnal is Incarnate; the Son of God becomes the Son of Man.
The Festival is the Theophany or Birthday, for it is called both, two titles being given to the one thing. For God was manifested to many by birth. On the one hand Being, and eternally Being, of the Eternal Being, above cause and word, for there was no word before The Word; and on the other hand for our sakes also Becoming, that He Who gives us our being might also give us our Well-being, or rather might restore us by His Incarnation, when we had by wickedness fallen from well-being. The name Theophany is given to it in reference to the Manifestation, and that of Birthday in respect of His Birth.
Therefore let us keep the Feast, not after the manner of a heathen festival, but after a godly sort; not after the way of the world, but in a fashion above the world; not as our own, but as belonging to Him Who is ours, or rather as our Master's; not as of weakness, but as of healing; not as of creation, but of recreation.
Now then I pray you accept His Conception, and leap before Him; if not like John from the womb, yet like David, because of the resting of the Ark. Revere the enrollment on account of which thou wast written in heaven, and adore the Birth by which thou wast loosed from the chains of thy birth, and honor little Bethlehem, which hath led thee back to Paradise; and worship the manger through which thou, being without sense, wast fed by the Word. Know as Isaiah bids thee, thine Owner, like the ox, and like the ass thy Master's crib; if thou art one of those who are pure and lawful food, and who chew the cud of the Word and are fit for sacrifice. Or if thout art one of those who are as yet unclean and uneatable and unfit for sacrifice, and of the Gentile portion, run with the Star, and bear thy gifts with the Magi, gold and frankincense and myrrh, as to a King, and to God, and to One Who is dead for thee. With shepherds glorify Him; with angels join in the chorus; with archangels sing hymns. Let this Festival be common to the powers in heaven and to the powers upon earth. For I am persuaded that the Heavenly Hosts join in our exultation and keep high Festival with us today ... because they love men, and they love God. ...
Look at and be looked at by the Great God, Who in Trinity is worshiped and glorified, and Whom we declare to be now set forth as clearly before you as the chains of our flesh allow, in Jesus Christ our Lord, to Whom be the glory for ever. Amen.
This edited sermon was originally published in the December 12, 1980 issue of Christianity Today.
Related Elsewhere
For the full text of this homily, Oration XXXVIII: 'On the Theophany, or Birthday of Christ,' see the Christian Classics Ethereal Library, which has other Gregory of Nazianzus sermons and letters.
See a seventeenth-century Greek fresco of Gregory of Nazianzus at the Hellenic Ministry of Culture site.
Read Gregory's biography in the Catholic Encyclopedia.
Christian History featured Gregory Nazinazus and other early church leaders in its issue, "The First Bible Teachers"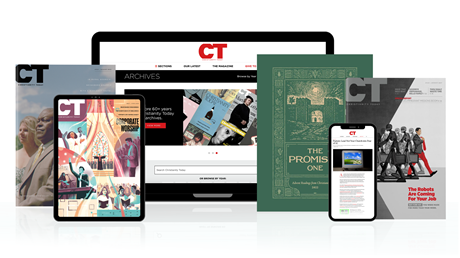 Subscribe to Christianity Today and get access to this article plus 65+ years of archives.
Home delivery of CT magazine
Complete access to articles on ChristianityToday.com
Over 120 years of magazine archives plus full access to all of CT's online archives
Subscribe Now
Christ Is Born Let Us Keep the Feast and Leap Before Him
Christ Is Born Let Us Keep the Feast and Leap Before Him