Helping hands:
The Jobs Partnership program
helps welfare
dependents get
a new start—
after opening
their sessions
with prayer.
In 1996 Inez Fleming considered welfare reform a good idea, but she worried that it might be a case of weaning the baby off the bottle a little too quickly. Fleming, the 52-year-old Community Ministry Coordinator at Strategies to Elevate People (STEP) in inner-city Richmond, Virginia, has been a mom, an exhorter, and a friend to women on welfare in Gilpin Court, Richmond's
largest public housing project, since 1994. "Some of these women had great-grandmothers, grandmothers, and mothers never working, and the government was saying they had one year to go to work. I just thought it was too fast." Fleming, however, has been pleasantly surprised by the results she's witnessed firsthand. "Even though the women were forced to go to work, it gave them a sense of 'Wow! Me? I can do that?' I've had girls tell me, 'I wouldn't have gotten up and [done] it on my own.' "
It appears that not only has welfare reform nudged the unemployed to work, it has also pushed churches to step up their involvement in community ministry among the poor. Since federal reforms were passed in the summer of 1996, a few thousand churches have begun welfare-to-work mentoring programs. Over 800 congregations have been trained to mentor welfare recipients through South Carolina's "Putting Families First" program; over 400 are mentoring the poor in Texas's "Family Pathfinders" program; and in Mississippi, which boasts the nation's first state wide effort to mobilize churches to "adopt" welfare recipients, over 850 congregations are at work.
Mentoring programs involving from 5 to 50 churches each are also under way in Michigan, Virginia, Mary land, California, Washington, Indiana, and North Carolina. But the initiative Inez Fleming is the most excited about is the mentoring program housed at her own congregation, Sharon Baptist. The 800-member, primarily middle-class African-American church sits within two blocks of Gilpin.
Two years ago, Fleming and then-STEP executive director Linda Tracey met with Sharon's senior pastor, Paul Coles, and described STEP's work in Gilpin. They had run children's programs and aged course in the community for several years but switched to an emphasis on job-readiness training. Imitating a successful initiative from Raleigh, North Carolina, STEP launched its "Jobs Partnership" program in 1997.
Jobs Partnership has three components: a 15-week, biblically based life-skills course, mentoring by church volunteers, and job counseling and placement services. STEP had been receiving strong support for years from one African-American Pentecostal congregation in Gilpin, Victory Life Fellowship, but was hoping Sharon Baptist would also join the effort.
Says Pastor Coles: "They made me realize that I am right on the back door of Gilpin. Awareness is the key. Sometimes we get so accustomed to a condition that we get 'turned off' from it, like living near the airport and you don't notice the sound of the planes anymore. That's what happened to Sharon. We were right in the middle of poverty, but we were overlooking it."
Inez Fleming was astonished at the rapidity of Coles's response. "When Linda and I talked with him, he said, 'I like what I'm hearing.' And the next thing I know, he was teaching in the class, joining the board of directors, and swinging wide Sharon's doors."
"I just caught the fire," he responds. "I knew Christ was in it. I watched the interaction between the church volunteers [from] STEP and the people from Gilpin. It was a true expression of love that looked beyond the racial and economic standing of the people. The love really impressed me, and I knew STEP was for real.
"I guess it also brought a guilt feeling over me," he says. "I've been in the neighborhood all these years and not done anything for the people. And here were these white people from the West End [suburbs] working hard in my community through STEP."
Under Coles's leadership, Sharon Baptist has provided 13 mentors and three teachers for the "Jobs Partnership" program; lent its choir for STEP events; given the ministry use of its kitchen; made support for STEP a line item in its budget; and designed and hosted the first ever men-only Jobs Partnership class.
"Our pastor is leading us to put the teaching about loving our fellow man into practice—and beyond the four walls of the church," explains Narkita Lewis, a lifelong Sharon Baptist member who has mentored two STEP students. Lewis grew up near Gilpin and says her mentoring experience helps her not to forget where she came from. "There's a stigma attached to living in Gilpin and you've got to not believe it," she says. "You've got to get to know the people."
Lewis's initial mentoring assignment was with Djuana Coleman, a 30-year-old mother of four who had lived in Gilpin several years. She became a Christian through Inez Fleming's discipleship and had joined Sharon Baptist. Having sung together in the church choir, Lewis and Coleman were already friends. "Djuana was hungry and thirsty for the Lord, and I knew that if there were anything to be attained through the classes that would help her reach her goals, she would grasp for it and apply it," Lewis says. "I knew she would succeed with whatever Jobs Partnership could help her with."
Lewis's second assignment, a single mother with four kids and a history of drug use, was far tougher. Helen (not her real name) was very strong-willed. "As far as being outspoken, well, sometimes you wished she wasn't! At the beginning of the program, I believe she and everybody else didn't think she'd make it past the second or third class. But she surprised us all and made it through the course." Lewis saw fewer outbursts, consistency in at tending a literacy program, and a spiritual openness in Helen throughout the course. But shortly after graduation, Helen slipped back into using drugs. "I became discouraged," Lewis admits. "I want her to know I'm still here for her, but I want her to help herself, too."
Djuana graduated and took a job in nursing the elderly, but Helen gave up after a short job search.
Not counting the 19 students who just graduated, STEP has achieved a 70 percent job-placement rate. It is even higher if graduates with "barriers to entry"—substance abuse, pregnancy, and disabilities—are not counted. Graduates are working in the school system, at daycare centers, and at local factories and universities. Salaries range from $5.15/hour to over $11.00/hour. Only three graduates whom program administrator Tim Coles considers employable are unemployed. "They've just refused the opportunities we've presented them," he shrugs.
At the most recent Jobs Partnership graduation, students and mentors processed in pairs down the carpeted center aisle of Northminster Baptist Church. They held lighted candles to signify the students' new hopes. Students were given an opportunity to speak prior to receiving their graduation certificates, and all praised their mentors. Thomas Whitaker was matched with two men whom he called "the big brothers I never had." Zelda Mason said that it was knowing her mentor would be there for her each week that made her want to attend the classes. "My mentor called me 'most every day," reported Phyllis Oliver. "She inspired me a lot." Tammy Pryor said her mentor from Sharon had provided transportation to and from every class.
Fleming says the emotional support and encouragement mentors offer are critical. Often the students have been abused. Some have struggled with drugs. Others have poor reading skills and no high-school diploma. Completing the 15-week class is a major accomplishment for them, and it produces remarkable attitudinal change. "Take Tammy Pryor," she says. "She's had a rough time. She's a single mom, and she and her son were involved in a very bad accident recently. She was working at Wal-Mart when she joined the program. She's ready now to look for another job. That's something she wasn't ready for before going through Jobs Partnership. She was ready to settle for anything. But now she's got that support and encouragement behind her, and she's saying, 'Let's give it a try.' She's very confident."
The students are not the only ones changed by the program. Mentors are, too. Ruth Smith is a Sharon Baptist member who signed up to be a mentor partly because of trials of her own. "I wanted to reach out to somebody else and to take my mind off of myself and [focus] on what I could give to somebody else." Narkita Lewis adds, "Mentoring is a re warding experience. You get good students, like Djuana, and then you get students like Helen and you say, 'What am I doing in this situation?' But at the end, they both come through and they're both changed, and you are, too.
"They have challenges. You think about yourself in their shoes and know you'd say, 'Let's just quit.' But they keep going. It's your duty to help them reach for [success] because you know that they can. You can see it in them," she says. "They have survival in their hearts. If they can survive in Gilpin, they can make it anywhere."
A casual observer might assume that the mentors from Sharon Baptist, being African-American, could build a more trusting relationship with their students than could white mentors from wealthy suburban churches. Inez Fleming explains that more often it's just the opposite. She says the white mentors feel they have less to risk. "For them, it's 'You don't know me and you don't have to see me again. So I can come in and be who I am, and if you don't like it, I can just go back on the other side of town and you don't have to see me again.' " The African Americans, she says, sometimes feel as though they have to tread more carefully. They are in the neighborhood, she explains, and they feel, "If I step on your toe, I'm going to have to run into you again." Consequently, the black-on-black relationships seem to take longer to develop.
On top of everything else, the program is also fostering reconciliation among diverse groups. Pastor Coles says, "There are a lot of walls that are erected in ministry—racial walls, denominational walls, social walls. I've come to realize that STEP is a vehicle for tearing down these walls and making bridges where we have had gulfs between peoples and denominations for so many years. Our congregation is not only helping the community," he sums up, "we're crossing those barriers."
Amy L. Sherman is an adjunct fellow of the Manhattan Institute and director of Urban Ministries at Trinity Presbyterian Church in Charlottesville, Virginia. Her handbook, Establishing a Church-based Welfare-to-Work Mentoring Ministry: A Practical 'How-To' Guide, is available by calling 212-599-7000.
Have something to add about this? See something we missed? Share your feedback here.
Our digital archives are a work in progress. Let us know if corrections need to be made.
This article is from the June 14 1999 issue.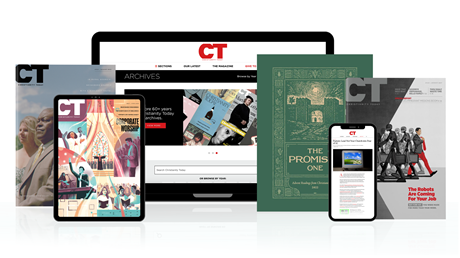 Subscribe to Christianity Today and get access to this article plus 65+ years of archives.
Home delivery of CT magazine
Complete access to articles on ChristianityToday.com
Over 120 years of magazine archives plus full access to all of CT's online archives
Subscribe Now
Sharon Baptist Discovered Welfare Ministry
Sharon Baptist Discovered Welfare Ministry