As bombs exploded around Pristina, Kosovo, in NATO's largest military action since its inception, Anton Krasniqi, who pastors the first Albanian Pentecostal church in Pristina, his wife, and two children spent five harrowing nights hiding in their home.
"We could see Serbian policemen breaking into shops and houses around our home in the center, looting and destroying," Krasniqi told CT. "We could not sleep for fear that they would come to get us as well."
NATO's air campaign against Serbia began March 24 after Serbia rejected peace initiatives that would have stationed NATO troops in the Kosovo province to deter the ethnic cleansing of its 1.8 million people who are mostly ethnic Albanians and Muslim. But after the bombing started, Serbian police and soldiers forced more than 500,000 people from the country. An estimated additional 400,000 have fled their Kosovo homes but remain within the province's borders in an area that long has been deeply divided by religion and nationalism (CT, Feb. 8, 1999, p. 60).
"I do not think that we will ever be able to live together with the Serbs again," Krasniqi says. "NATO must finish the job now. My people do not flee because of NATO bombs, but because of the Serbian forces killing and looting."
In Kosovo, there are fewer than 300 evangelicals in about seven churches, the largest of which has 60 members. The Krasniqi family escaped to an evangelical church in Skopje, Macedonia, before Easter. A neighbor who is a Pristina customs officer drove them to safety through Serbian checkpoints. Kraniqi hopes his family will be allowed to travel to Germany, where his sister lives. But for the moment, he says, "We are in shock. The five nights we stayed in Pristina after the bombing started were like hell to us."
CUSHION OF LOVE: During the 1990s, a missions success story has been unfolding in neighboring Albania, a country emerging from communist rule, atheism, and most recently, in 1997, a nationwide investment scam that crippled the economy. Prior to 1991, Albania had no missions personnel from any overseas Christian organization, and all religious practices were illegal. Today, there are more than 130 Protestant missions staff in the country. And the number of Trinitarian churches nationwide has grown to about 900 today.
As the NATO air campaign began, 350,000 Kosovo refugees were forced from their homes and across the Albanian border, overwhelming the Albanian government, churches, and their overseas partners.
In Lushnje, a city of 40,000 south of Tirane, the Albanian capital, believers from six churches gather in a morning prayer circle every day. Mornings, they assess needs. Afternoons, they deliver goods and services. Evenings, they search shortwave radio for the latest news or post e-mail updates on the Internet. At first, the refugees were housed with Albanian families, but now many are in tent camps.
In addition to distributing food, blankets, and medical care, Albanian Christians have distributed 20,000 copies of When Your Whole World Changes, a Scripture-based booklet on coping with disaster, produced by the International Bible Society.
Classes were suspended at the Albanian Bible Institute, founded by several evangelical missions, in the coastal city of Durres. They converted a warehouse into a refugee center for hot meals, shelter, and sanitary facilities.
In Tirane itself, Albanian Christians are manning a refugee transit center at an indoor sports stadium. Other churches are focusing on ministering at Tirane's tent cities. "The Albanian government is stunned by what the churches are able to do," says Clive Calver, president of World Relief. "We've got to get behind the church now so they can build a hope, build a future for these people."
Peter Kuzmic, head of the Evan gel i cal Seminary in Osijek, Croatia, and perhaps the best-known evangelical in the Balkans, has formed, in partnership with other Balkan churches and Agape International, the Cushion of Love campaign to assist refugees throughout the region.
Kuzmic told CT, "We are uniquely equipped by the Lord to be instrumental in reconciliation, and we must develop a neutrality of engagement. We will not have fulfilled our mission if we just send money, food, and clothing."
Kuzmic has met with Serbian President Slobodan Milosovic twice and believes churches internationally need to speak out with "more prophetic courage."
"We need to point the finger and say there is an aggressor and there are victims." Kuzmic agrees that there are guilty parties on both sides of the Kosovo conflict. But he notes, "All are sinful, but not all are guilty of the same crimes."
SERBIAN CHURCH RESPONSE: Serbian evangelicals face the difficulty of speaking out against the NATO bombing while seeking a peaceful means to minister during the crisis.
Lazar Stojsic, president of the Serbian Evangelical Alliance, says Belgrade evangelicals gather nightly in homes for prayer. Fearing for the safety of its relief workers, Belgrade's Bread of Life outreach program has suspended aid deliveries.
Serbian Orthodox bishop Ireney said, "The difficulties in Kosovo are a thousand times greater after the NATO intervention." Serbian Bishop Artemije of Ras-Prizren is a member of a democracy movement within Serbia that favors human rights for all peoples in the Balkans. He said that movement has been gravely set back. In an open letter to NATO leaders, Artemije said, "Our hopes in you, your democracy, your love of justice, your humanitarianism, are now buried deep in craters produced by your bombs."
From Leskovac, Serbia, Miodrag Stankovic, a Pentecostal pastor, says his church opened its bomb shelter to believers and nonbelievers alike. "We Christians see it as our duty to stand up in the gap between the nations of our land." Church members are fasting and praying around the clock. Stankovic says that the bombing brought to mind a Serbian saying, "Work as if you would live a hundred years; pray as if you would die tonight."
Have something to add about this? See something we missed? Share your feedback here.
Our digital archives are a work in progress. Let us know if corrections need to be made.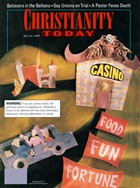 This article is from the May 24 1999 issue.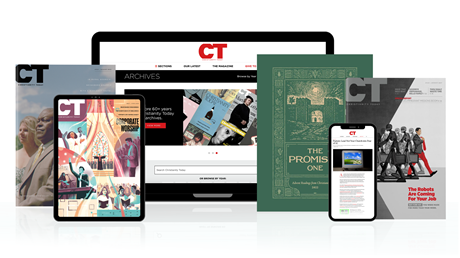 Subscribe to Christianity Today and get access to this article plus 65+ years of archives.
Home delivery of CT magazine
Complete access to articles on ChristianityToday.com
Over 120 years of magazine archives plus full access to all of CT's online archives
Subscribe Now
Firebombs Threaten Messianic Jews
Firebombs Threaten Messianic Jews