Streams of Living Water: Celebrating the Great Traditions of Christian Faith
by Richard J. Foster, forword by Martin Marty, Harper SanFrancisco; 424 pp.; $20
A famous cover illustration from the heyday of the New Yorker showed a map of the United States, most of which was taken up by New York City. Evangelicals have been guilty of a similar kind of parochialism. In the mostly Baptist congregations where I grew up, we heard a lot about the first-century church. Then there was a huge historical blank until the Reformation; we heard a little—very little—about Martin Luther (not John Calvin) and a lot about Catholics, who had departed from Scripture. Oddly, there was almost nothing about how the Baptists started, how they related to the Reformation, and so on; we took another history-defying leap right into the twentieth century. Tradition? That was something Catholics bowed down to, a human creation usurping divine authority. We didn't need tradition; we just read the Bible, plain and simple.
But of course we were kidding ourselves. We were a tradition: the Evangelical Tradition. In the typology proposed in Richard Foster's new book, Streams of Living Water, this is one of six "great traditions" or "streams" that together constitute the rich heritage of Christian belief and practice. These include the Contemplative Tradition, focused on "a life of loving attention to God"; the Holiness Tradition, through which "we are enabled to live whole, functional lives in a dysfunctional world"; the Charismatic Tradition, focused on "a life immersed in, empowered by, and under the direction of the Spirit of God"; the Social Justice Tradition, calling us to "a life committed to compassion and justice for all peoples"; and the Incarnational Tradition, calling us to "a life that makes present and visible the realm of the invisible spirit."
Together with the Evangelical Tradition, which mandates "a life founded upon the living Word of God, the written Word of God, the proclaimed Word of God," these streams of faith offer a path to spiritual renewal. Each tradition has its distinctive strengths and weaknesses; none is sufficient by itself. All must be judged by the extent to which they en courage believers to imitate Christ; all must be judged by their faithfulness to the whole message of Scripture.
Foster presents each tradition with great immediacy, showing each as a "way of life" enacted by particular people in particular times and places. Never have I seen the full dimensions of our faith portrayed so clearly and persuasively. And following these chapters, Foster and his colleague Lynda Graybeal offer two appendices that make up a "book within a book": first an overview of "Critical Turning Points in Church History," and then an alphabetical annotated list of "Notable Figures and Significant Movements in Church History." These added features enhance the already considerable appeal of the book for use in Sunday-school classes, small groups, and other such settings.
Foster's introduction begins with a striking image that underlies the entire book:
Today a mighty river of the Spirit is bursting forth from the hearts of women and men, boys and girls. It is a deep river of divine intimacy, a powerful river of holy living, a dancing river of jubilation in the Spirit, and a broad river of unconditional love for all peoples. As Jesus says, "Out of the believer's heart shall flow rivers of living water" (John 7:38).
Given the winsomeness of that vision, explored in depth in the chapters that follow, who could argue with Foster's prescription for spiritual renewal? It seems so obvious, once he has laid it out for us. Of course we need all of these traditions.
But Foster's book—and the outlook it represents—will not be universally welcomed. Far from it. Why not? Perhaps an example will clarify the problem.
Last night I read a booklet called Saint Raphael Kalinowski: An Introduction to His Life and Spirituality, by Szczepan T. Praskiewicz (ICS Publications, 1998). Here is brief account of the man:
Little known outside his native Poland, Joseph Kalinowski (Raphael of St. Joseph, ocd) was born in 1835 and became, by turns, an engineer, a military officer, a leader in the 1863 insurrection against Russian domination, an exile in Siberia, a tutor, and eventually a Discalced Carmelite priest. He died in 1907 at the Carmelite mo nastery he had found ed in Wado wice, the city where Karol Wojtyla—the future Pope John Paul II—was born only 13 years later. Today Raphael Kalinowski is remembered especially as a man of boundless charity in the Siberian prison camps, a restorer of Carmel in Poland, a skilled confessor and spiritual director, and a tireless promoter of Marian devotion and of unity between the Eastern and Western Churches. In 1991, he became the first Discalced Carmelite friar canonized since St. John of the Cross.
In this booklet, one can sense the currents of that "mighty river of the Spirit" to which Foster directs our eyes. And yet there are also troubling undercurrents. We read that when the Congregation of the Causes of Saints met in 1980 to discuss Raphael Kalinowski, the first person to speak on his behalf referred to Raphael's maxim, "Mary always and in everything." And while Foster rightly observes that we can see in Mary "the Incarnational Tradition in its fullness and utter beauty," here—in the story of one of John Paul II's "favorite saints"—is a potent instance of the way that tradition can go awry. Is this merely evidence of the way in which any tradition, uncorrected by the others, will surely wander, or does it suggest that the streams have yet to meet?
A Christian from one of the strongly sacramental churches might well ask the same question after witnessing the celebration of the Lord's Supper in a typical evangelical fellowship. Are we really talking about the same God?
Richard Foster does not belittle such questions, but he asks us to put the emphasis elsewhere. He writes in conclusion,
I see a people … even though it feels as if I am peering through a glass darkly.
I see a country pastor from Indiana embracing an urban priest from New Jersey and together praying for the peace of the world. I see a people.
I see a Catholic monk from the hills of Kentucky standing alongside a Baptist evangelist from the streets of Los Angeles and together offering up a sacrifice of praise. I see a people.
I see social activists from the urban centers of Hong Kong joining with Pentecostal preachers from the barrios of Sao Paulo and together weeping over the spiritually lost and the plight of the poor. I see a people.
I see laborers from Soweto and landowners from Pretoria honoring and serving each other out of reverence for Christ. I see a people.
I see Hutu and Tutsi, Serb and Croat, Mongol and Han Chinese, African-American and Anglo, Latino and Native American all sharing and caring and loving one another. I see a people.
The kingdom Jesus proclaimed has room for us all, even for lovers of reggae and pitiless grammarians and gym teachers. Our God is a mighty fortress, a fallout shelter, and a house made of brick. Episcopalians and Nazarenes will meet at the rummage sale. And all will be well.
Have something to add about this? See something we missed? Share your feedback here.
Our digital archives are a work in progress. Let us know if corrections need to be made.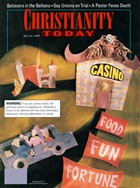 This article is from the May 24 1999 issue.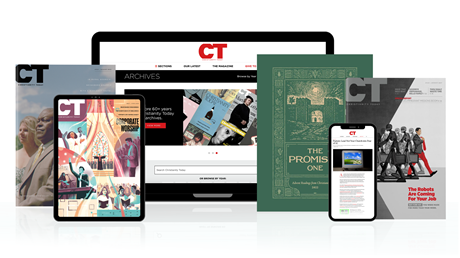 Annual & Monthly subscriptions available.
Print & Digital Issues of CT magazine
Complete access to every article on ChristianityToday.com
Unlimited access to 65+ years of CT's online archives
Member-only special issues
Subscribe
Celebration of Traditions
Celebration of Traditions