I knew I was in trouble when I turned into Target's parking lot for the third time that week. At home, I could hardly get much work done for thinking about a pair of sandals I had eyed on an earlier trip. (They were perfect—comfort able but with a little chunky heel that gave me some height.) I left the house with nothing more on my mind than whether they would have a bright red sale sticker on their tag.
The world is too much with us;
late and soon,
Getting and spending,
we lay waste our powers:
Little we see in Nature that is ours;
We have given our hearts away,
a sordid boon!
—William Wordsworth, 1806
Like the Sirens' song, the sandals lured me down the highway and in front of the shoe rack. No luck. They were still full price, $14.99, which under our current family budget may as well have been a hundred.
But instead of heading directly home, I spent an hour there, lifting the colorful, trendy trinkets over my head to peer underneath at the prohibitive price tags. By the time I got back into the car empty-handed, maybe two o'clock in the afternoon, I was exhausted and disappointed. On the way home, pictures of myself—aimless, shuffling through Target—played in my mind like a sad, silent movie.
That day it had been Target, but it could have been any number of retail haunts or thrift shops where my search takes me. At home, I often get overtaken by a feeling that something is missing, so I usually get in the car to go find it. I might be looking for a way to express my innermost self and think picking out a doodad at the Dollar Tree may do that. Or, like a junkie, I roam the streets, trying to escape some kind of inner emptiness by getting an instant fix at Home Depot. Why do I first seek an outlet for my angst at the outlets?
But in this period of my life, where discretionary income means the nickels, dimes, and an occasional quarter I find at the bottom of the washing machine, I am extremely vulnerable to the tactics of the evil twins of Consumerism and Advertising. Although they promise me a mass- produced personal style, what I really want from them is the comfort of their overwhelming conformity. As a Christian, I know that I am not to be conformed to this world, but I just never realized that the alternative—being transformed from within—would cut into my buying habits.
We took the fork in the road
One explanation for my heightened preoccupation with goods, not to mention the more heady world of services, could be a decision our family made about four years ago. My husband Fritz—a highly creative, exuberant person with a large soul, as a friend put it—grew less and less tolerant of his status being so quo. For ten years he had been in financial sales, a world where every month one's production and, consequently, one's apparent worth was measured in numbers, ranked in descending order, and publicly posted. He fared well in that world, but he tried to ignore a growing voice inside that was calling him to something new.
While Fritz struggled, he encouraged me to pursue my long dormant love of art. Still in my twenties, with three sons under the age of five, I needed some mental relief. I bought a bag of clay. In that confining era of young children, to slam lumps of clay on the table (and only rarely against the wall) did me great psychological good. Then forming it into teapots and figures and ultimately starting a basement-run business renewed a sense of control over my circumstances. More importantly, it somehow made me feel like myself again. My creativity and energy levels soared. But as Fritz watched me come back to life, I think it made him feel even more dead.
When his outer life had finally rubbed a little too long against his inner self, Fritz's heart exploded, then caught on fire. We decided to give up the demands and perceived security of the corporate ladder and jumped off. He quit his job. Since then we have been nursing along projects close to our individual talents and hearts, and working on jobs instead of "pursuing careers." What we did not take into account was the price tag such a choice can carry.
It has cost us a sense of control over our immediate future, an ease in "getting and spending," and a bigger pile of consumer goods. This calling has also cost us an easy answer to the most dreaded of all party questions, "So, what do you do for a living?"
At any given time during this four-year odyssey, Fritz's answer could have been one or more of the following: "I drive an auto-parts delivery truck for my brother-in-law." "I teach science at a Christian school." "I work for a private water company reading meters and yanking some out of the ground of delinquent customers while their angry dogs show me their nice sharp teeth." "I write articles for a start-up magazine about kids and sports." "I help produce and market my wife's artwork." "I am researching and writing a book about sports."
While much of the time has been rewarding for my bespectacled, former stockbroker, college-graduate husband, some of his jobs have gone beyond humbling into humiliating, but only from a college-graduate point of view. One day a former broker colleague, a very preppy, bow-tied gentleman, came to his water company to inform the workers of their pension plan's status. No doubt he was surprised to see Fritz in the back row among the other men, all in their literal blue-collared shirts with embroidered name patches.
But by then Fritz had, like he has done in all of his jobs, made friends. One day—in answer to my wifely "How was your day?"—he told me of his big accomplishment at work. Unlike the answers I had gotten in years past, this one had nothing to do with numbers. After months of trying, he had gotten Snowball, a slender black coworker with huge working man's hands, to say more than just "hey." Finally that day he had said, "Hi, Fritz." Snowball had even offered Fritz, and only one other guy, some of the venison from the deer he had bagged that weekend.
Continued on next page | Jesus and the GDP
Have something to add about this? See something we missed? Share your feedback here.
Our digital archives are a work in progress. Let us know if corrections need to be made.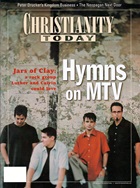 This article is from the November 15 1999 issue.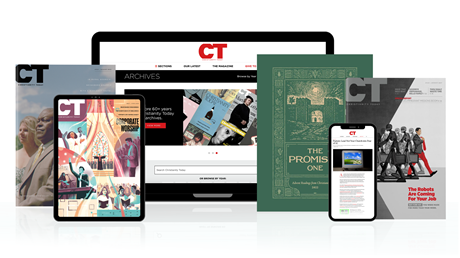 Annual & Monthly subscriptions available.
Print & Digital Issues of CT magazine
Complete access to every article on ChristianityToday.com
Unlimited access to 65+ years of CT's online archives
Member-only special issues
Subscribe
Shopping for the Real Me, Part 1 of 3
Shopping for the Real Me, Part 1 of 3