Last week we took a first look at the September 19 issue of the New York Times Magazine to see the peculiar spin given there to the history of Christianity's relations with Islam. That issue is the fourth of six special "Millennium Issues" to be published this year. Introducing the issue, the editors remark,
much of what the world knows about the last 1,000 years it has learned from artists. Visual artists have always been intentional chroniclers. They have also been unintentional historians, showing us through their art the intimate details of life long ago. The goal of this special issue ... is to give history back to artists. We asked an array of recognized artists from around the world to reimagine milestone moments of the past millennium. Taken together, their works form a modern time line, a way of seeing distant history through new eyes.
The subject is history, then, but a revisionist history—seen "through new eyes." And so the subject is also ourselves, our culture, our sense of where we are at this juncture.
This isn't just another magazine. It is an elaborately—and expensively—prepared manifesto from the nation's most influential newspaper. What is it that the people at the New York Times are telling us?
To get the answer, you don't need to read between the lines. Each work of art contributed by the assembled "array of recognized artists from around the world" is accompanied by a text that explains the image on the page. Imagine an excruciatingly intrusive museum guide who takes it upon himself to "explain" every painting, every sculpture to you. Bad enough that he won't shut up, but on top of that it's clear that he fears you are none too bright. (Here we see the logical extension of the practice now widespread in ...
1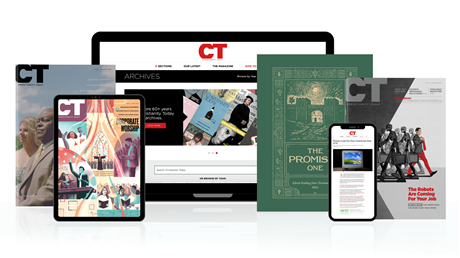 Find hope and historical insight. For a limited time, explore 60+ years of CT archives for free!
Daily devotions from Timothy Dalrymple during this pandemic.
Hundreds of theology and spiritual formation classics from Philip Yancey, Elisabeth Elliot, John Stott, and more.
Thought journalism that inspires you to think more deeply about your faith.
Join now and get print issues access to archive PDFs.
Cockroaches for Jesus
Cockroaches for Jesus