Amy in CCM: Yep, I'm Divorced
Amy Grant makes the cover of CCM (Contemporary Christian Music) magazine this month for the jillionth time. Yes, she's hawking an album ("A Christmas to Remember" "after a year to forget?" CCM's cover adds to the title), but she's also on a damage control mission after her divorce earlier this year. (The mission seems to be working: a later CCM Update article notes her album is the top CCM title in the country.) The article, cutely titled "Judging Amy," is not as soft as the October 9 (Nashville) Tennessean article where she announced she is now dating country singer Vince Gill. CCM Managing Editor Gregory Rumberg actually asks her to address widespread rumors that the two were dating long before she and Gary Chapman (who will be interviewed in an upcoming issue of CCM) were divorced, and that Grant and Gill may be secretly married already (she denies both). It also makes very clear that she, not Gary, pressed for the separation. But ultimately, the article boils down to Grant saying, "Yep. I'm divorced. It happens."
CCM ignores its own question
November's CCM also takes a look at "The Latest Craze": praise and worship music. (The article is not available online.) The deck of the article asks, "Is it a trend that's resulting from record labels' clever marketing, or from a genuine movement from God?" The fifth paragraph of the three-page article answers it: "Make no mistake: The recent praise & worship boom isn't just marketing hype." Unfortunately, the article never truly examines the question. Instead, it trots out some standard criticisms of the genre: "There's too much use of the words 'I, I, I," rather than 'You' as it refers to God," says one source. Others note the trend to overemotionalize. That praise music "pales beside classic church hymns" is almost acknowledged as a given. But what's not discussed is how many of the worship labels seem to promote the act of buying and listening to their albums as an act of worship. "[Teenagers] want to have a true spiritual experience," says one record exec quoted in the article. "They want to get deep. They want to know God." That's great, but does an act of material consumption give them a true spiritual experience? The question isn't answered because it isn't asked.
Brill's Content Lionizes Jack T. Chick
In the world of tract evangelism, no other name is better known than that of Jack T. Chick. In the November issue of media watchdog magazine Brill's Content, the king of Christian comics is portrayed as a maverick protagonist, a cartoonist so unhip that he's a king of hipness. "To some, Chick tracts are American folk art, or even a form of religious pornography, titillating and somewhat dangerous. Chick is the ultimate underground artist: single-minded and self-published, passionately committed to his message without regard for external social forces." Like any good hero, Chick is given his flaws: "Though Chick professes to preach love, his tracts promote homophobia and anti-Catholicism." And Christianity Today's 1979 exposure of his "Father Rivera" anti-Catholic series as a fraud is dutifully noted. But ultimately, Chick's eccentricities work for him: "Chick may not care if he offends the mainstream Christian community, or if people within his own fundamentalist school ignore him. They're not his target audience." (Chick Publications has a very thorough web site, but The Unofficial Jack Chick Archive, a now defunct and critical almost scholarly look at the tracts, was one of the earliest and best sites anywhere.)
Bauer thanks critical World
"Thank you for standing with my family. Thank you for standing with me," writes presidential candidate Gary Bauer in a paid full-page advertisement in the November 6 issue of World. He's referring to the aftermath of rumors that he was having an extramarital affair with a young campaign aide. It later turned out that the rumors began when campaign staffers left, upset that he was meeting behind closed doors for hours at a time with the aide no affair was alleged by the staffers, just "impropriety." (The World ad also addresses the former staff members: "I have heard you and I regret the time of turmoil and misconceptions. Now, it's time to move forward ") The controversy flashed for a day in the mainstream press, and most Christian talking heads didn't even find it worth mentioning. So why take out a thank-you ad in World, who not only ran articles on the controversy for three straight weeks, but was critical from the get-go? "No fire, but how thick the smoke?" asked the October 9 issue. "Maybe I'm not supposed to be president," it quoted Bauer in week two, portraying him as timid and bungling. A major story in the October 16 issue ended this way: "Judging from the disarray within his campaign, if voters start weighing Mr. Bauer's management skills in the balance, he'll be found wanting. Until he can get his office in Springfield together, he may not be ready to move across the Potomac." If this is "standing with me," one wonders what Bauer considers negative coverage.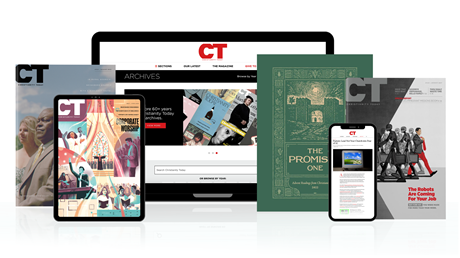 Annual & Monthly subscriptions available.
Print & Digital Issues of CT magazine
Complete access to every article on ChristianityToday.com
Unlimited access to 65+ years of CT's online archives
Member-only special issues
Subscribe
Amassed Media: Amy Speaks but Doesn't Have Much to Say
Amassed Media: Amy Speaks but Doesn't Have Much to Say