Russia's Constitutional Court has handed down a liberal interpretation of a much-disputed law from 1997 that governs religious activity in the country.
The ruling from Russia's highest legal authority will make it easier for some religious groups to operate in Russia. However, the court also upheld the principles of the 1997 law, which is intended to restrict the activities of sects and foreign religious groups.
The ruling was made November 23, following a complaint made in October 1998 by a congregation of Jehovah's Witnesses in Yaroslavl, Central Russia, and a Pentecostal group in Abakan, Western Siberia. In Yaroslavl the local prosecutor had tried to close down the local branch of the Jehovah's Witnesses on the grounds that the group did not have papers to prove it had been there for at least 15 years, as the 1997 law requires. Under the new ruling, they will be able to continue operating.
"To some degree, it is a victory for the Jehovah's Witnesses and other religious organizations," Albert Polanski, a spokesman for the complainants, told Reuters news agency. But he added that smaller religious organizations would still have difficulties.
When the new law was enacted in 1997, it was criticized by many religious groups, human rights advocates and Western governments as discriminatory.
The law, backed by Russia's biggest religious organization, the Orthodox Church, created two classes of religious associations. The first category was that of "religious organizations" with full rights, such as the Orthodox, Muslim, and Jewish faiths; organizations in the second category—that of "religious groups"—are those that have been in Russia for less than 15 years. These "religious groups" are not allowed to own property, organize worship in public places, distribute literature or invite clergy to Russia from abroad.
Originally, the law was retroactive, requiring all organizations registered under a liberal 1991 law on religion to re-register every year.
In its judgment last month, the court ruled that local religious organizations registered before the new law was passed in September 1997 would retain their status and not be required to register again.
Nor will local branches of "centralized" religious organizations that are registered in Moscow and represented in at least three of Russia's 89 regions have to prove that they have been in Russia for 15 years.
"Essentially, this is what we have been fighting for," Anatoly Pchelintsev, director of the Institute of Law and Religion and one of the lawyers who contested the case in court, told ENI. He had received many complaints from Russia's provinces where local authorities had demanded proof from religious groups that they were more than 15 years old.
"It is a substantial victory," Pchelintsev said.
At the same time the court upheld the constitutional validity of the law as a whole, including the distinction between types of religious associations.
"The government has the right to erect certain barriers so as not to automatically grant the status of a religious organization, to prevent the legalization of sects that violate human rights and commit unlawful and criminal deeds," according to the ruling, which added that in some cases, the government had the right "to obstruct missionary activities, in particular in connection with the problem of proselytizing" when such activities "are accompanied by offers of material or social benefits … [to obstruct] the unlawful influence on people in need or distress, psychological pressure or threat of force".
High-level representatives of several religious communities welcomed the Constitutional Court's decision, although they emphasized different aspects of the ruling.
Metropolitan Kirill of Smolensk and Kaliningrad, who leads the Russian Orthodox Church's department of external church relations and took an active role in drafting the law, said the court's decision "was a confirmation that the law was constitutionally legitimate".
"The state does not want to take the rights of a legal entity from those religious groups that already have it, and that is understandable," Metropolitan Kirill told ENI.
Archbishop Tadeusz Kondrusiewicz, the leader of European Russia's Roman Catholics, told ENI that as his church was already registered as a "centralized religious organization", he had had no problem registering Roman Catholic parishes in the regions. But he "welcomed" the judicial body's decision as a "restoration of justice" because it deleted the law's retroactive force. "Laws that work retroactively are a violation of the principles of justice," he said.
Arri Kugappi, Bishop of the Evangelical Lutheran Church of Ingria—Russia's Finnish-background Lutheran church—told ENI that the court's decision was "positive from a democratic viewpoint".
"Our church supports democracy," he said.
Lawrence Uzzell, director of the Keston Institute, based in Oxford, England, and one of the leading campaigners against the 1997 law, said the court's decision was "a step in the right direction, but it is not enough". Groups such as the Independent Baptists who because of their religious principles refused to register would still be deprived of the rights to publish and distribute literature.
Copyright © 1999 Ecumenical News International
Related Elsewhere
See our earlier coverage of the Russian law:
Stepping Back from Freedom | The new law restricting religion is part of Russia'sstruggle to redefine itself. By Anita Deyneka (Nov. 17, 1997)
New Religion Law Fraught with Potential for Abuses | By Beverly Nickles (Nov. 17, 1997)
Jehovah's Witness Verdict Stalled | By Beverly Nickles (April 26, 1999)
The U.S. Department of State Annual Report on International Religious Freedom examines Russia's religious freedom from political and societal perspectives, and remarks on what the U.S. government has done in response to human rights infringements in the country.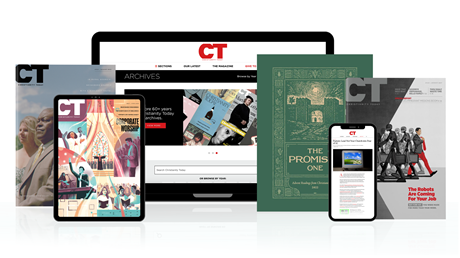 Annual & Monthly subscriptions available.
Print & Digital Issues of CT magazine
Complete access to every article on ChristianityToday.com
Unlimited access to 65+ years of CT's online archives
Member-only special issues
Subscribe
Russia's Minority Churches Welcome Liberal Ruling on Religion Law
Russia's Minority Churches Welcome Liberal Ruling on Religion Law