The widow of an Australian missionary who was burned alive in India has pledged to remain in the country "to continue my husband's work."
Graham Stuart Staines and the couple's two sons, Philip, aged 10, and eight-year-old Timothy were burned to death January 23 as they slept in a jeep in a remote village in Orissa state. The vehicle was reportedly parked outside a small makeshift church in the village of Manaharpur, about 1000 kilometers southeast of New Delhi.
An official report rejected claims that Staines and his sons were murdered by members of a Hindu fundamentalist organization. But many people here disagree with the official report. Staines, a 57 year-old Australian Baptist missionary, had been working among lepers in Baripada, Orissa since he first came to India in 1965.
In an exclusive interview on November 20, 48-year-old Gladys Staines told Ecumenical News International (ENI): "Baripada is my home. I just cannot walk away from the leprosy patients."
Mrs. Staines was in Delhi last week to discuss with officials of the Leprosy Mission (TLM) plans to establish a 40-bed referral hospital for leprosy patients at Baripada as a memorial to her husband.
She told ENI that many people in Australia, including her relatives, had urged her "to return home" with her 13-year-old daughter Esther who is studying in a boarding school in southern India.
"But, I told them: 'Why should I'?" Mrs. Staines said. "Graham would not have wanted me to pack up and walk away from the leprosy home."
She said the 60 patients at the leprosy home run formerly by her husband, and now by herself, included some who had arrived "even before" Graham Staines came to the center, 34 years ago. Established in 1897, the leprosy home in Baripada had been managed by the Evangelical Missionary Society to which Graham belonged.
"I cannot just leave those people who love and trust us," she said.
During her interview with ENI she simply referred to the murder of her husband and sons as "that incident." But she said it had "not at all" changed her impression of India.
"I have high regard for the people of India and their tolerance," Gladys Staines said, adding that the public reaction to "the incident" had been "amazing." She had received thousands of letters from abroad and from Indians of all walks of life - most of them Hindus - "apologizing" for what had happened. Many Hindus had written to her saying that "this [murder] is not Hinduism. This is not what our country is. We are very sorry for what happened" and similar sentiments.
One man who had recognized Gladys Staines at Calcutta airport, approached her, and said: "Madam, we are ashamed. This has nothing to do with Hinduism."
"This really amazes me," she told ENI. She described the killings as a "well planned" act by "radical" groups, but she was quick to add, "It happens not only to Christians." In Bihar State, in eastern India, clashes between upper-caste and low-caste Hindus often lead to "needless killing of people for no fault of theirs," she said.
Describing her prompt forgiveness of the killers as a "spontaneous act," she said, "it took away the bitterness" that would have otherwise remained in her heart.
Asked whether she had faced any threats after the incident, she said: "To this day, I have never felt threatened, and I face no problems at all."
After the murders, in fact, there had been an outpouring of sympathy and "positive response" from all, including government officials, she said.
She told ENI that she first came to India in 1981 when a training organization sent her from Brisbane, Australia, to Orissa. At the time she had "no idea of even where Orissa was." She met her future husband at the leprosy center and they were married two years later.
Over the years, Orissa had become "home. … I am comfortable with the people, customs and their language," said Mrs. Staines, who was wearing an Indian sari.
"The people of Baripada have accepted us among them and as part of the community. Most of our friends are Hindus. I speak Santhali [a local language] and feel I am more an Indian than an Australian," she said, adding that she was considering applying for Indian citizenship.
She said that her "immediate task" was to fulfill her husband's dream of building a leprosy hospital in Baripada.
Though the incidence of leprosy had begun to decline in Orissa, Gladys Staines said, those with deformities needed reconstructive surgery to correct their deformities. At present, such a facility was not available in the region.
"So their stigma remains though they are fully cured," she said.
When asked whether there was any truth in the allegations by Hindu extremists that missionaries, including her husband, were converting India's "gullible poor" under the disguise of social service, Staines replied: "I don't understand why people make such baseless allegations. If you look at the history of India, the Christian presence remains more or less static. If we were converting the people we were serving, it could not be so."
She said that her husband had "sent reports to Australia regularly, but these were not on conversion as alleged by [Hindu groups]."
The Christian commitment to social service, she said, was "rooted in Christ's message of love."
Copyright © 1999 Ecumenical News International
Related Elsewhere
Our March 1 Special News Report, "The Fiery Rise of Hindu Fundamentalism," looked at the Staines murders and the current situation in the country.
See our earlier coverage at ChristianityToday.com:
"Hindu Radical Fingered in Staines Killing" (Sept. 6, 1999)
"Hindus Protest Papal Visit to India | Fundamentalists accuse Christians of 'forced conversions' " (Nov. 16, 1999)
The U.S. Department of State Annual Report on International Religious Freedom examines India's religious freedom from political and societal perspectives, and remarks on what the U.S. government has done in response to human rights infringements in the country.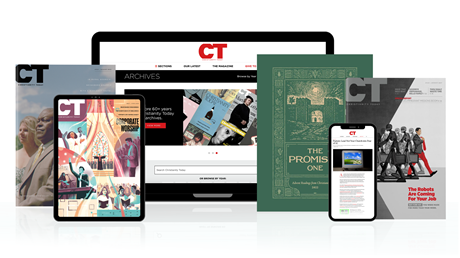 Subscribe to Christianity Today and get access to this article plus 65+ years of archives.
Home delivery of CT magazine
Complete access to articles on ChristianityToday.com
Over 120 years of magazine archives plus full access to all of CT's online archives
Subscribe Now
Murdered Missionary's Widow Will Continue His Work with India's Lepers
Murdered Missionary's Widow Will Continue His Work ...