"I would rather see some good old-fashioned manners re-established in the workplace."—Sarah E. Hinlicky.
"Being alone in an office with one's co-worker is so commonplace that it no longer constitutes the appearance of evil."—Lauren F. Winner
In late September, several members of the Gary Bauer presidential campaign left over charges of an "improper" relationship with a young staffer. They didn't charge him with having an affair—they were just upset that the 53-year-old candidate was spending time alone with the 27-year-old deputy campaign manager behind closed doors.

"As a pro-family and pro-life leader, Gary is held to a higher standard," Charles Jarvis, Bauer's former campaign chairman, told the Washington Post. "Meeting hour after hour alone [with the deputy manager], as a married man, candidate and as a pro-family, pro-life leader, he has no business creating that kind of appearance of impropriety."
At a press conference Bauer called to dismiss rumors that he was engaged in an extramarital affair, he expressed shock at such attitudes. "I can't imagine that anybody in a campaign would object to me having a meeting behind closed doors with a professional woman," he said. "Such meetings take place all over Washington D.C. every day," he said. He sneered at those who might not agree: "This is 1999, not 1899."
But even in 1999, many Christians disagree with the candidate. World Magazine, for instance, commented at the end of its first of three articles covering the controversy, "Some evangelicals, however, expressed concerns about Mr. Bauer's judgment and the way that appearances could create suspicion of the kind helpful to the basic Clinton defense during the impeachment debate and thereafter: 'They all do it.' Nor was it clear that the moral standards of 1999 are necessarily superior to those of 1899."
Bauer has since attempted to remedy the situation, installing a glass door for his office and apologizing, in last week's World, for "the time of turmoil and misconceptions."
But the issue still sits there. Is it inappropriate to meet behind closed doors with a coworker of the opposite sex? As the Washington Post reported, many evangelical leaders, including Billy Graham and Congressman Steve Largent, have refused to close their doors when meeting with women. Wendy Wright of Concerned Women for America told Salon.com the day after the Post story broke, "Don't let there be an appearance of evil—that's our guiding principle ... We have to acknowledge that temptation is real and available to all people, even the strongest among us. There are what I would call prudent measures that can be taken."
Salon, for its part, suggested that such an attitude is inherently sexist:
For plenty of female Christian conservatives, it's a bit disheartening to know that women are still viewed as bewitching apple-bearing Eves and men as easy-prey Adams who crumble at the slightest provocation. ... Will politicians not hire a woman—not to mention an attractive woman—just to avoid the mess it may cause down the road? This would amount to a particularly insidious kind of discrimination, one that often goes undetected. Lately, nerves are so raw about workplace relations, who knows how many qualified women have been turned down for jobs just because men are afraid they can't trust themselves around them?
To examine this unique "open door policy," ChristianityToday.com has asked two young writers to discuss the issues raised by the Bauer controversy. Sarah E. Hinlicky is a former editorial assistant for First Things, and is now pursuing a Master of Divinity degree at Princeton Theological Seminary. Her work regularly appears in Boundless, a Focus on the Family Web-based publication aimed at college students. Up the coast from her is Lauren F. Winner, who, is pursuing a Ph.D. in American History at Columbia University, and is senior writer for Christianity Today and Writer in Residence for Books and Culture.
From: Sarah E. Hinlicky
To: Lauren Winner
Date: November 8, 1999, 5:41:53 PM EST
Dear Lauren,
Gender in the workplace is indeed a timely issue, but I suspect that the Gary Bauer business has very little to do with gender at all. It sounds to me like a subtly disguised instance of first-class political jealousy and in-house character assassination.
Theoretically, though, it makes for a useful test case. Should Mr. Bauer have been alone with his attractive young aide? This strikes me as an absurd question for anyone to ask. Why on earth shouldn't he be alone with her? Unless he is going to discriminate against her on the basis of her combined age, sex, and good looks, there is no reason he shouldn't spend time consulting with her, since he found her to be a wise adviser and trusted confidante. It was simultaneously silly and unjust for his other employees to make an issue out of it.
I think, in short, that gender in the workplace is one of those things that has to be acknowledged, but not too much. Sheer biology will prevent it from being ignored, but hypersensitivity is just begging for utterly meaningless scandals like this to take place. Raising awareness about potentially troublesome situations is fine and good, but at some point you have to trust adults to be adults and deal with temptation as it comes, not flee at the slightest hint of it.
I'm also a little skeptical of this business about being "above reproach." It smacks of shallow concern for appearances, especially given the way the principle played itself out in the Bauer case. Better politicians focus their efforts on being genuinely good and upright instead of worrying about looking that way. One's zealous opponents will deconstruct the best of actions, so why waste time and energy anticipating a groundless attack?
Best,
Sarah
From: Lauren Winner
To: Sarah E. Hinlicky
Date: November 8, 1999, 8:13:53 PM EST
S,
I agree completely that one has to trust adults to be adults. If we conclude that Bauer and his aide should not be permitted to have confidential meetings alone together—and if we generalize that Christian men and women should not be alone together—it will almost always be the junior-level women who wind up at a disadvantage, excluded from important meetings, not the senior-level men. (Of course, the modestly-clad angel that sits above my left shoulder from my Orthodox Jewish days says, "What about yichud?" Yichud refers to the Jewish laws that forbid a man and a woman who aren't related to one another to be alone in a room together, lest temptation creep in. Does the rabbis' concern mean they don't trust folks to be "grown-ups"? Maybe so.)
I do think, however, that simply "trusting adults to ... deal with temptation as it comes" is not a sufficient response. Christians have a habit of just trusting people to deal with sex on their own, because we don't want to talk about it. To my mind, the entire Bauer debacle highlights evangelicals' failure to talk about sex in a fruitful way. We know we aren't supposed to commit adultery. We also know that we spend more waking hours with our coworkers than our spouses (occasionally in more alluring, dimly lit, alcohol-saturated environments). But we don't have any tools for getting from "I know I shouldn't flirt with this colleague, or make a pass at this colleague, or whatever" to "These are the steps I'm going to take to avoid doing it." Billy Graham has been the most outspoken Christian on the subject, and the only tool we seem to have in our toolbox is his—never let a man meet alone with a woman. Perhaps that was easier to stick to in 1950, when there were simply fewer professional women to meet with.
We know, after all, that Christians aren't saints, and that temptation and sin are both rampant. We know that kisses are exchanged by Christians in the office. I was surprised when, as a college student using the library of a nearby seminary, a married seminary professor with whom I was acquainted propositioned me in the stacks, but I shouldn't have been surprised. And I wasn't surprised the second time it happened (different library, different prof). What disappoints me about the Bauer-inspired debate is less that it happened at all, but that Christians haven't seized the opportunity to talk meaningfully about sex in the workplace. Any thoughts?
—L.
From: Sarah E. Hinlicky
To: Lauren Winner
Date: November 9, 1999, 3:12:29 PM EST
Lauren,
Actually, I tend to think that Christians talk about sex way too much. Or we get too worked up about it. Or rather evangelicals get too worked up about it. (I am a "mainliner," and as a rule whenever my church tries to say something about sex, all the people all disagree with it - probably just as well - and that is the end of it.) Christians can say what sexuality is for; we can say what is right and wrong; we can encourage people toward marriage or celibacy. But we can hardly issue a dogmatic statement on gender in the workplace or solve the problem of unrequited love or make the heart obey the mind. Furthermore, we can't expect anymore that all office colleagues are going to be Christians, or even if they are, that they will buy into the Christian moral worldview. I would rather see some good old-fashioned manners re-established in the workplace. Nothing like good old-fashioned social pressure to contain immoral behavior, though this goes entirely against the boundary-breaking grain of the American national character.
If we could develop a stronger sense of propriety and order to the way in which we conduct personal and professional relationships, I think we could then afford to be a little more relaxed about sexual tension in the office. Yes, sometimes colleagues will have a crush on one another inappropriately - and the crush can, and will, go away in time. Not every emotion or affection that surges up inside needs to be resolved, after all (though that too goes against the grain of our psychobabble society).
I suppose I ought to propose some way to reinstate mannerly propriety, though I honestly have no idea how to go about doing it. But at the least I would rather see a whole social shift than more religion-specific fragmentation.
Sarah
From: Lauren Winner
To: Sarah E. Hinlicky
Date: November 9, 1999, 5:03:05 PM EST
Sarah,
To my mind, it is not enough to simply call for manners. What the Christian Right is reacting to, after all, is that no one has confidence in a culture of manners—even Christians. If we're going to talk about restoring good old-fashioned manners, we need to ask how we might reinstate them. Liberals, in their groping toward a way to reinstate propriety, have turned to the state—as in sexual harassment law. I think that the state can usefully lay down some guidelines—indeed, we know that law has a hegemonic function, and that just the law's being there serves to impose a kind of cultural control. But we need to ask if laws are sufficient: has the state failed? Do women feel any more protected in the workplace then they did before the proliferation of sexual harassment suits? (It is, of course, worth noting that this is not a simple equation of men harassing women. It is a case of the powerful harassing the less powerful, and as women increasingly have power in the workplace, they will increasingly be the harassers.) At any rate, a number of commentators have observed that we don't have communal support for manners anymore, or "reticence," as Rochelle Gurstein puts it. The most recent of these is Wendy Shalit, who decries the absence of any cultural support for modesty and chastity. Manners have been destroyed by the market, or, in Shalit's view, the sexual revolution. But if we accept this view, as you seem to, it is incumbent upon us to suggest how we might revive manners. Christopher Lasch gestured toward some sort of classical Republicanism, Robert Bellah to a Republicanism coupled with his denatured godless "civil" religion. What do these manners you're yearning for look like in an age of workplace equality? And what can Christianity contribute to the project of their restoration? Doesn't Christianity offer a unique perspective on this larger conversation? It is true that many Christians work in environments filled with non-Christians, and we cannot go to the broader society, pronounce "Thou shalt not commit adultery," and sit back down. Indeed, if Christians are seen in the public light as the Bauer campaign writ large, then we have nothing to contribute to society. Frankly, we could do with a Christian Miss Manners, who is quite good on what the ramifications of social change, such as workplace equality, are on behavior and etiquette.
We can't be paralyzed by the notion that we "can't expect anymore that all office colleagues are going to be Christians, or even if they are, that they will buy into the Christian moral worldview." We need to start in our own communities, that are all-Christian, and be conscious of constructing a city set upon a hill. We are going to be scrutinized for pathetic failures such as Gary Bauer's—we are going to be written off as "the Christians." So why not start by saying, hey everybody is looking at us. We claim to be taking these commandments as commandments. Lets start there and work out the Judith Martin-like details as we go. Let's take note of concrete situations, ask fellow workers,"What happens in a Christian community when these issues come up?" Then we can start to develop the language we clearly need to articulate how manners might look in a new social setting of sexual equality, where we are surrounded and bombarded by greedy, indulgent, consumerist/therapeutic ethical ideas about sex. It is not enough to say Bauer's people are pathetically unimaginative, indeed aping the very ham-handed attempts of the liberal nanny state (which is, true to form, aping the very outdated traditional morality it claims to have transcended and progressed beyond). We need to do some work.
The fact is social change has affected cultural standards of behavior in America. So, take Charles Jarvis's feelings that the long, closed-door meetings gave the appearance of evil, and were thus inappropriate, whether or not Bauer was actually having an affair with his aide. I must say that, given the ways social mores have changed in the last 40 years, I think this is absurd. Not because Christians are no longer bound by the biblical command to avoid the appearance of evil, but because being alone in an office with one's co-worker is so commonplace that it no longer constitutes the appearance of evil. It does not suggest that something untoward is afoot. This question of the appearance of evil comes up in a variety of circumstances, not just the workplace, and not just matters sexual—though perhaps sexuality is the arena where they most frequently come up. We need to recognize that while the scriptural instruction to avoid giving the appearance of evil is not culturally relative, and that while evil itself is not culturally relative, that which appears evil certainly is culturally relative.
—L.
See Day Two of this conversation.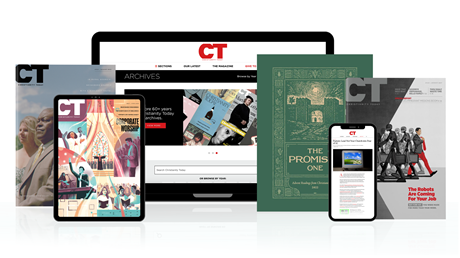 Subscribe to Christianity Today and get access to this article plus 65+ years of archives.
Home delivery of CT magazine
Complete access to articles on ChristianityToday.com
Over 120 years of magazine archives plus full access to all of CT's online archives
Subscribe Now
An Open-Door Policy
An Open-Door Policy