When are you doing your Columbine story?" several people from Colorado asked me. The shootings had sliced open suburban life and caused America to pay attention to teens, video games, dangerous Web pages, rock music, parenting—and church life. The Littleton tragedy was an irreducibly religious story, with church funeral services, youth groups, and pastors playing prominent roles. So people expected we would cover it.
But what was CT's story? Newspapers and newsmagazines had already reported the gruesome events. But could we sort out what they mean? It was here that we handed the assignment to associate editor Wendy Murray Zoba. Wendy, the mother of three teenage boys, has become the staff editor informally assigned to the adolescence beat. She has recently expanded her February 1997 cover story on youth ministry into a book, Generation 2K (InterVarsity). In that article, Wendy cited William Strauss and Neil Howe's prediction that the age cohort called Generation Y (or the Millennials) would be heroic.
"What was speculation in that article has come true in this one," says Wendy. " 'Normal' teens like Joshua Lapp protected a friend in the library while staring the killers in the eye; and Craig Scott, Rachel's brother, helped carry the injured Kacey Ruegsegger from the library not knowing when their gunmen-classmates might return; and then there are Cassie Bernall and Val Schnurr, who confessed their faith in God at gunpoint."
Wendy's reporting also revealed the critical role youth pastors play. "The youth pastors are holding the community together," she says. Kevin Parker, director of Young Life for south Jefferson County, who was meeting a student at Columbine the day of the shooting, has had students showing up at his home every night since. Laurie Johnson, Rachel Scott's youth minister at Orchard Road Christian Center, has seen the 30-plus kids in her cell group become transformed. "It's the kids—more than the adults—who are saying, 'It's time to take a stand.' " Shy, introverted kids have become bold evangelists, she says.
This has also played out in Wendy's home, where the two boys still living there have been attending nightly Bible studies, reading the Scriptures aloud, and spending a lot of time praying (though she worries about how all this cuts into their schoolwork). The Columbine tragedy, they told her, "has made us want to focus more on evangelism. Our non-Christian friends might die tomorrow and go to hell."
We cannot fathom all that God will accomplish through this encounter with evil, but as Wendy writes in this issue's cover story, he was there in Littleton when the bullets were flying.
Our digital archives are a work in progress. Let us know if corrections need to be made.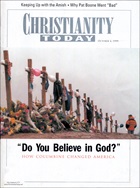 This article is from the October 4 1999 issue.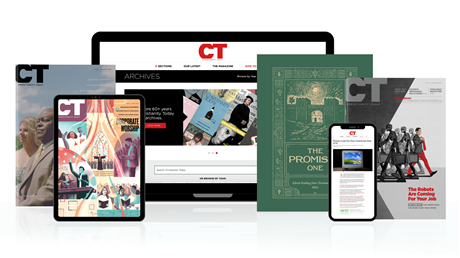 Find hope and historical insight. For a limited time, explore 60+ years of CT archives for free!
Daily devotions from Timothy Dalrymple during this pandemic.
Hundreds of theology and spiritual formation classics from Philip Yancey, Elisabeth Elliot, John Stott, and more.
Home delivery of new issues in print with access to all past issues online.
Join now and get print issues access to archive PDFs.
Teen Heroes
Teen Heroes