In her book She Said Yes (Plough), Misty Bernall calls her slain daughter, Cassie, an "unlikely martyr." That is because to her and her husband, Brad, Cassie was first and foremost a teen. Like most blossoming adolescents, Cassie struggled with heady issues of faith and witness while wishing she could shed a few pounds and that the boys in her youth group would notice her. Her silken blond hair turned heads, while her wardrobe preferences included oversized jeans, a camouflage tank top, and "her beloved black velvet Doc Martens, which she wore rain or shine, even with dresses," notes her mother in the book.
Cassie's earlier detour to the dark side is well documented. For a brief but excruciating season of rebellion, according to a friend cited in Misty's book, " 'She told me that she had like given her soul to Satan. … She said, "There's no way I can love God." ' " What is less known, however, are the struggles Cassie encountered after she had been delivered from these dark forces and walked in new life in Christ.
Brad Bernall is employed at Lockheed Martin, and Misty is on leave from Lock heed Martin's Titan finance group. On April 20, 1999, they and their son, Chris, 15, woke up to a normal world; by lunchtime, their world had shattered. There were moments they wondered what would have happened if Cassie had said no when her killers asked, "Do you believe in God?" But with the muzzle of a gun pressed against her head, Cassie paused, then answered with a decisive yes. According to her mom, Cassie said yes to God every postconversion day of her short life.
When did you learn that Cassie's killer asked her if she believed in God before he shot her?
Brad: Misty heard that first when she was still between the library and the school looking for Cassie on one of those buses. Somebody had told Dave [Mc Pher son, the youth pastor], and I think Dave may have told us.
Misty: When Dave was standing there waiting for the youth group to help us find Cassie, some girl ran by him and said, 'Oh my God, they asked her if she believed in God, and when she said yes, they shot her.' Dave instantly thought, Who else would that be but Cassie?
Did learning about her confession of faith offer any consolation?
Misty: When we went on the Oprah show, doing a tribute to all the kids, the first thing she asked me was, 'Do you wish she would have said no?' After knowing that a girl begged for her life and was released, as a mom, you think, What if she would have begged? But I can't think of a more honorable way to die than to profess your faith in God. We were very proud of her before this happened in her stand for Christ. She said yes to Christ every day of her walk. It wasn't always easy for her.
What did Cassie struggle with, personally or spiritually, after her conversion?
Brad: She was growing by leaps and bounds in the Lord. We found this out after the fact, when we started going through her drawers, reading notes that were passed between her and her friends, and reading her journals. She was a very mature Christian. The depth of the letters that were passed between the girls was phenomenal.
Still, even though she was trying hard, she was pretty unhappy. Aside from church, all she did was school. She hated the hours that she spent on homework. Three to five hours in a night was not unheard of.
Because she was so unhappy she sometimes felt distant from God. She felt like—"Gee, I must still be doing something wrong. I shouldn't be so miserable."
Misty: She would take hard classes, like chemistry and trig. I'd say, "Cass, you could back off." And she'd say, "No, I know I can do it." But it was hard for her. And she struggled with her self-confidence.
When she was taken away from her old friends and turned her life to Christ, even though she had youth group, she was still a new person. And she had to find out who that new person was. She wasn't very sure of herself a lot of times. She struggled socially.
We told her when she was 16 she could date. I used to say, "If you'll just flirt with them they'll come around." And she'd say, "That just isn't what I want to do." She was very particular about the type of person that she wanted to date. She never had a first date.
So it was not, by any means, an easy walk. I admired her steadfastness in the Lord, even though her life wasn't perfect.
You mentioned that she "was taken away" from her old friends. How did you determine that her behavior during her season of rebellion required major intervention?
Misty: In December [1996], midninth grade, I decided to take some time off to be with Cassie a little bit more. I remember trying to figure out why her friends didn't like us. I went into Cassie's room to snoop around to find her teen Bible, looking for insights to help me figure out if this was normal. I came across a drawer full of letters from Cassie's friend. The essence of them was that Cassie should kill her parents, and all her problems would be over with. They had drawings about how they should do this. They talked about sniffing glue and smoking pot and drinking during lunch and the occult and having this other boy help kill us so that Cassie could do what she wanted to do.
Brad: We never recovered any of Cassie's letters that she passed on to Mona [the friend; not her real name]. But they were very similar.
Did you confront Cassie with the letters?
Misty: We photocopied the letters and turned in one set to the sheriff's department and made one set for this girl's parents and one for us. When Cassie got home from school, we confronted her. The first thing she said was, "We didn't mean anything. Why are you taking this so seriously?" She got very, very angry with us. As the weeks continued, her hostility grew.
It was suggested by the sheriff's de partment that we have a meeting with this girl and her parents. When we first walked in, Brad went to the father to shake his hand. He said, "Don't bother." When we sat down, Cassie sat with this girl and her parents. The sheriff said that the letters were some of the worst things that he had seen in his ten years or more of juvenile work, and that these parents should take this seriously. The only thing the father said was that this was our way of breaking up a five-year friendship. We completely broke off Cassie's ties with her friends.
How can a parent successfully do that?
Brad: We enrolled her in a Christian school. We answered the phone whenever we were home. We took away all privileges. She could go to youth group, but that was all she could do. We put a phone monitor on the lines so that when we weren't there we could find out what she was doing.
We told her that because she lost all trust we had invested in her, she had to earn it back. And the only way she could do that was to start being obedient. And it was very hard at first, because we'd catch her, and we'd call her on it. Some times we would walk around the block and take the cordless phone with us. When we were back behind the house across the street, we would turn it on and catch her on the phone. She finally saw that we were going to be as relentless as she was.
Misty: I made the decision not to go back to work, so we stayed with her constantly. We wouldn't let her go anywhere. We would go through her backpack, through her bedroom, we monitored her calls. She was watched at youth group and at school. Life was not fun for Cassie. During that time she was so angry with us, she was threatening suicide. She would go through bouts where she would scream and yell at us. I remember an incident where she was sitting on her bed, screaming and yelling at me, and I was sitting on the floor. I put my hand on her knee and started to pray for her until her anger subsided. We knew it was a battle of wills, but it was also a spiritual battle.
So you support the notion of parents snooping around if they feel there is reason to do so?
Brad: Even if they don't think there is reason to do so, do it occasionally. It's a right that a parent has. It's a very valuable tool. Kids can be pretty sneaky, and they maintain a real good front.
Misty: Chris [Cassie's brother] knows that his room is fair game. Absolutely.
Did you ever wonder what you could have been doing better as parents?
Brad: No. I always felt like we were pretty good parents. We raised her well. She just started making some bad decisions. She started trading our rules, morals, and values for those of the girls she was seeing.
Misty: I remember feeling a sense of betrayal—that we loved her so much and that she totally rejected our love; and that she agreed with this girl that her parents were bad and they wanted to do away with them. Brad and I raised our kids in the church and toughed it out through some rough times in our marriage because we felt it was important for kids to have both parents. Although we worked, I would get the kids out in the morning and Brad was there for the kids in the afternoon. We were there for them.
You described, Misty, how the Lord gave you a certain understanding about Cassie's death.
Misty: A couple of days after Cassie died, I was blow-drying my hair; and all of a sudden I heard him say that it had to be big, because if it wasn't big, no one would listen. And that he had been grooming Cassie all along for something like this, and that he would take care of her. I remember having to stop what I was doing and sit down. I knew it wasn't from me, because you're so numb—I used to wake up in the mornings and cry and walk and wonder why? How could they do this? So it wasn't from me.
Have you been in touch with the families of the two killers?
Brad: We received a letter from the Klebolds. It was very nice. It was good to hear from them.
Misty: When we received that letter, [we saw] that these are people dealing with the same loss that we're dealing with, only at a different level because their boy had done this. We felt that we were more fortunate in that respect, because so much good has come out of all this. They don't really have a whole lot to hold onto. I think it was a very courageous thing for them to do, and we appreciated hearing from them.
We've not heard anything from the other boy's family. [Editor's note: The Harrises wrote letters to all the families of slain and wounded victims on May 28. The letters were mailed to the Jefferson County school district and then forwarded to the sheriff's office. A few of the letters to the wounded have been delivered. As of this writing, letters to the families of the murdered have been misplaced and remain undelivered.]
Have you been able to forgive the killers?
Brad: Neither of us have felt anger over this. We just miss Cassie.
Misty: Just because we're not angry doesn't mean we don't wonder how they could do this with such a lack of conscience. After the first shot was fired or the first child was killed, wouldn't you wake up and say, What are we doing? But they continued shooting and making their comments.
I stand on the fact that it was the forces of good and evil in that library, and that these boys were so controlled by evil that they had no conscience. And I think God allowed so much of it and then said, "That's enough." So many more of our kids could have died—there were bombs all over the place. These boys had deteriorated so far, and no one stepped in and said, "You can't do this."
Do you think there might have been a part of them that wanted somebody to intervene?
Brad: I don't think so. I think they thought that this stuff was cool, and that's why they decided to do what they did.
Misty: There were signs that we, as a society, or a school district, should have taken seriously. Brad and I had taken that kind of thing seriously. But in [Eric Harris's suicide] letter he blamed society, parents, teachers, and said nobody accepted them. I had a hard time with that. Cassie didn't feel accepted either, and yet she was very accepting of everyone. She would tell me, "Mom, those kids may look bad, but you can't judge them by looking at them."
What about the jock culture that they said tormented them over the years?
Misty: If they had been after the jocks, they would have gone to the gymnasium. Most of the kids they killed—if not all of them—were Christian kids. These were good kids. Kids that are in the library are serious about their studies.
It was spiritual warfare. It's still happening. At Cassie's memorial there was a happy-face balloon, and our son discovered someone had drawn a bullet going into it. And there was a young man walking in the mall wearing a black trench coat with a T-shirt that said, "We're still ahead 13 to 2."
What lies ahead for you as you rebuild your lives?
Misty: We don't know where God is leading us. But we're willing vessels. We know that he chose Cassie, and we want to maintain the integrity of her life. When Cassie turned her life back to Christ two years ago, I thought: Lord, I know you're going to use this. Because her self-esteem was still on shaky ground, Cassie sometimes felt bad when she told people her story. She thought, They are going to look at me differently now.
So I envisioned, as she became an adult, she and I talking to groups and addressing parent awareness. I prayed for God to give us some way to witness for him and help parents out. I never imagined that he would answer my prayer this way.
Cassie's death signaled that we need to be ready. Even if you're in a school library, you've got to be ready to meet the Lord.
Have something to add about this? See something we missed? Share your feedback here.
Our digital archives are a work in progress. Let us know if corrections need to be made.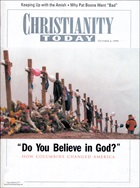 This article is from the October 4 1999 issue.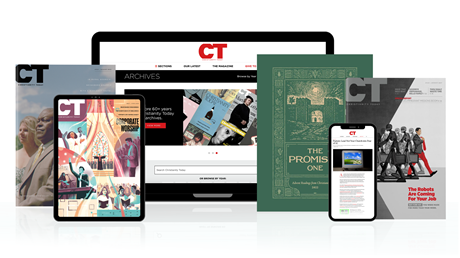 Annual & Monthly subscriptions available.
Print & Digital Issues of CT magazine
Complete access to every article on ChristianityToday.com
Unlimited access to 65+ years of CT's online archives
Member-only special issues
Subscribe
Tough Love Saved Cassie
Tough Love Saved Cassie