Blinded by Might: Can the Religious Save America? Cal Thomas and Ed Dobson, Zondervan, 282 pp., $19.99
Paul Weyrich, as well as Cal Thomas and Ed Dobson in their recent book Blinded by Might: Can the Religious Right Save America? have done the Christian world a service in pointing out what the wider society discovered years ago—the limits of politics in confronting deep moral and spiritual conditions. Where Weyrich, Thomas, and Ed Dobson are wrong is in assuming that what was done politically over the past several decades was tantamount to seriously engaging the culture, which is where the real crisis is located. Politics hasn't failed: attempts to reform culture through politics have failed.
To be fair, neither Thomas nor Dobson nor Weyrich is calling for a complete retreat. But each has presented an argument that will have that effect when heard by frustrated citizens. Thomas and Dobson essentially present the choice as politics versus pietism; Weyrich presents the choice as politics versus separatism. Weyrich is not calling for a healthy, robust counterculture. When he urges moral and religious conservatives to "quarantine" themselves and to "bypass" cultural institutions, he is recommending a subculture rooted in a self-conscious separatism. Both pietism and separatism represent familiar historical patterns in America, and both come very easily for evangelical believers.
Neither retreat nor the status quo is acceptable. The debate should not focus on methods of retreat, but on new models for engagement and new strategies that focus more on culture than on politics in the decades to come. The issue is not that politics is unimportant. It is that even if one succeeds in building working majorities, the lawmaking process can at best suppress the symptoms of cultural disorder; it can do very little about the underlying causes. The most one can hope for in politics is to ensure that government "do no harm," an objective that will keep many good people busy in politics for a long time to come, to be sure.
But politics cannot begin to put the connecting tissue back in society. It is ill-equipped to reconstruct traditional moral beliefs. The best policies cannot recover courtship or marriage, make fathers responsible for their children, restore shock or shame where it once existed, or recover legitimate social authority to institutions that have been hollowed out by a pervasive ideology of individual autonomy. The vast majority of moral problems that trouble us cannot be eradicated by law.
Some imagine the nation in a state of political crisis and long for a Churchill figure to set things right. But our crisis is cultural. Even in the unlikely event that such a figure were to emerge, politics cannot confront a debauched culture in the same fashion that it can offer bold action in the midst of war or depression. In a disordered society, a heavy reliance on political authority to renew the nonauthoritative sector of culture can quickly become more disease than cure.
In fact, the most promising possibility in the debate that Weyrich and Thom as/Dobson have triggered is the emergence of a new politics of prudence, a politics that will be both more realistic in its expectations and more sustainable. The problem has not been expecting too little of politics, but far too much.
True conservatism brings a natural skepticism to the reforming possibilities of politics. It sees as its first job the long-term cultivation of character, culture, and community. It views politics as "downstream" from culture, more reflecting it than shaping it. Conservatism avoids excessively politicizing religion or religionizing politics because genuine religious faith stirs allegiances that transcend nation and ideology. The Scriptures would counsel even more skepticism about both the possibilities of politics and the form in which it should be practiced.
Jesus and the early church existed within one of the most politically and culturally corrupt societies in history and offered few specific political prescriptions outside of "giving to Caesar that which is Caesar's." The Bible recognizes many evils, but does not supply a specific mandate for outlawing all that believers consider immoral or improper. As the late theologian John Courtney Murray put it, "The law, mindful of its nature, is required to be tolerant of many evils that morality condemns." Christians should not adopt the habit of their secular brethren in turning to the law to right every wrong, especially on issues where only a genuinely restored moral authority in the culture will get the job done.
Before very recently, the mainstream of evangelical opinion looked askance at the now common practice of conflating biblical faith with American ideologies of the Left or Right. The greatest fallacy that has emerged in recent years is the expectation that national politicians and other civil authorities should take the lead in restoring biblical righteousness or, worse, using political power to create a "Christian America." This smacks of the idolatry of Constantinianism and is guaranteed to fail on the American scene, as even seventeenth-century Puritans discovered.
Public statesmen today should imagine themselves as called to serve, not in a predominantly Christian nation, but one that more resembles the conditions Paul encountered in Athens, where he invoked the literature and philosophy of the times to make his point without imagining a large sympathetic majority standing behind him.
The appeal to "Christian America" represents a misreading of our times, American history, and, I would argue, the Scripture itself. The late English historian Christopher Dawson said that the idea "that the spiritual life of the society should be ruled by a political party would have appeared to our ancestors as a monstrous absurdity."
Politics hasn't failed: attempts to reform culture through politics have failed.
This perspective is not only theologically sound, it is where the people are. The American people have registered stratospheric levels of concern about moral values, but they don't see moral renewal coming predominantly from politics. In fact, when moral renewal be comes completely synonymous with political takeovers and legislative agendas, it awakens an intense fear of state intervention in people's private lives. One can either see this as more evidence of America's moral corruption, or one can see it as an im pulse as old as America itself, illustrated best historically by the rush to repeal the brief experiment with Prohibition.
Religious conservatives, in other words, have put their stock in a model for moral renewal that awakens a deep, native resistance. Strategies that invest heavily in prohibitionist logic will almost always fail. If individual behavior is to be regulated, it should be regulated through the re-establishment of real social and moral norms in communities. There are many exceptions to this, of course, as opponents of this argument will quickly point out—for example, the current battle over legalized gambling.
Christians are understandably dismayed that the culture has become unhitched from its Judeo-Christian roots. What many refuse to acknowledge is that, in a thousand ways, this unhitching was produced by a massive retreat by Christians from the intellectual, cultural, and philanthropic life of the nation. While evangelicals count millions of members among their grassroots political groups and are now, if anything, overrepresented in the legislative arena, the number of evangelicals at the top of America's powerful culture-shaping institutions could be seated in a single school bus! The watching world is understandably chagrined by the interest evangelicals have shown in power while simultaneously showing so little interest in the noncoercive arenas of society where one's only weapon is persuasion.
More than anything, Christians need a model for engagement that combines the above principles. Perhaps the most helpful historical model is that of the British statesman William Wilberforce, a politician who ultimately succeeded in outlawing the slave trade, but who did so by first acknowledging the limits of the law absent the reform of manners and morals. Over the course of 40-plus years, Wilberforce created 67 councils and commissions to bring about social and moral reform, some religious, some secular. His model had all of the above ingredients in perspective, especially the subordinate relationship of politics to the culture. Wilberforce organized grassroots as well as "gatekeeper" reform movements operating in elite professions and fields. He saw the need to transcend ideology—anyone who was useful on a particular issue was enlisted, whatever his religious or political creed.
This approach happens also to be deeply American. Any American movement that starts with the law, not culture, will fail. In the past, when citizens have reacted to the general disregard for social standards and obligations, they organized society-wide social movements that effectively moved people toward restraint and social obligation. At various times in history, America witnessed an explosion of new voluntary aid and moral-reform movements aimed at improving cultural conditions.
Finally, what is needed within the Christian community right now is a debate, deep and wide, regarding cultural and policy matters, and we can thank Paul Weyrich and Cal Thomas and Ed Dobson for getting that long-overdue conversation started. Too many have behaved as though politics is on a par with the church in the life of the Christian, placing matters that are filled with practical considerations on a par with biblical doctrine. The Christian community cannot avoid this debate, and it will have to be accompanied by a profound outpouring of grace in order to be fruitful.
Have something to add about this? See something we missed? Share your feedback here.
Our digital archives are a work in progress. Let us know if corrections need to be made.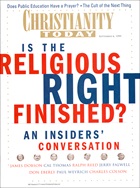 This article is from the September 6 1999 issue.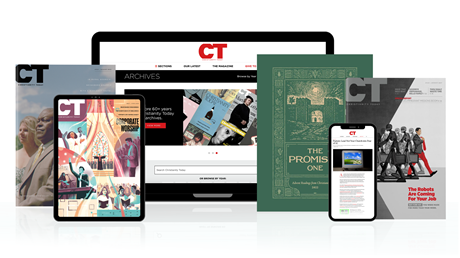 Subscribe to Christianity Today and get access to this article plus 65+ years of archives.
Home delivery of CT magazine
Complete access to articles on ChristianityToday.com
Over 120 years of magazine archives plus full access to all of CT's online archives
Subscribe Now
Fighting the Wrong Battle
Fighting the Wrong Battle