Ecumenical leaders who took part in efforts to reunite 6-year-old Elián González with his Cuban father have criticized the use of force to remove the boy from his Miami relatives. But they expressed relief that Elián had finally been reunited with his father.Robert Edgar, general secretary of the US National Council of Churches (NCC), said that he lamented "that it had come to that." Edgar was referring to the early-morning raid April 22 by armed federal personnel at the home of Elián's Miami relatives. A photo of a US official in the home holding a gun has added to the long-standing controversy over the boy's future.But Edgar added in an interview with Ecumenical News International (ENI) that he was pleased that the boy was finally in the custody of his father, Juan Miguel González, and away from what he described as "a circus atmosphere" in Miami. "I hope that they can finally become a family again," Edgar said of the Easter weekend reunion between Elián and his father. "This is a time for Juan Miguel and Elián to be alone. My hope is that now he'll be able to deal with the death of his mother."Elián was rescued off the coast of the US state of Florida last November. He, his mother—who had divorced Elián's father—and other Cubans were fleeing to the US, but Elián was the only survivor. Since then, the boy had been at the center of a bitter battle as his Miami relatives argued that he would be better off in the US than in communist Cuba. But the US government determined that, under US immigration law, the boy belonged with his father.Joan Brown Campbell, Edgar's predecessor at the NCC and an unofficial adviser to Juan Miguel González, spent two hours with the González family shortly after Elián was reunited with his father at a government airbase near Washington DC.In a nationally televised interview the day after the raid, Dr Campbell described the time "as a happy scene." She said the boy "had his arms around his father, there was real affection there that cannot be manufactured. It was affection born of many, many years of caring."Referring to a series of bitter accusations from the Miami relatives, Campbell said there was no way the scene could have been staged. She called such allegations "a tragedy.""This is a very content, happy, mischievous, normal little boy, and I can't quite understand why the relatives in Miami and the rest of America are not very, very happy this day that this reunion is going well," Campbell said. "We don't need for this little boy to be tearful and sad. It's a wonderful thing to see him smiling."The raid—ordered by US Attorney General Janet Reno and supported by President Bill Clinton—enraged the Cuban-American community in Miami, as well as some Republicans in the US Congress, who said too much force had been used.Opinion polls indicated the American public was split on whether the raid had been necessary, but polls indicated overwhelming public support for the reunification of the boy with his father.Edgar said he felt that, if anything, federal authorities had been too patient in the case. The Miami relatives "had a history of giving mixed signals" and changing their mind in negotiations with the US justice department and the immigration and naturalization service, he said.Juan Miguel González, his new wife and their son, Elián's half-brother, have been in the US since early April. González has said the family intends to return to Cuba, but will stay in the US while court appeals over Elián continue. The Miami relatives have vowed to continue their court battle to keep Elián in the US.Dr Campbell said she believed Juan Miguel González would honor his commitment to stay in the US. "He's been an honorable young man throughout this," she said. "I think actually he's been quite patient in waiting to see his own son."Dr Campbell, who retired from her post with the NCC, the nation's biggest ecumenical agency, in December, has remained involved in the issue of Elián González as a "concerned citizen" and friend and adviser to Juan Miguel González. But she is not acting as a representative of the NCC.The former NCC general secretary also helped to secure the services of Washington attorney Gregory Craig, who is representing Juan Miguel González. The lawyer's fees are being paid by a fund established—though not funded—by the board of church and society of the United Methodist Church, one of the biggest member denominations of the NCC.Earlier this year the NCC sponsored a visit by Elián's Cuban grandmothers to the US. While the NCC has not been actively involved in the Elián controversy since then, it has been sharply criticized, both by Miami's Cuban-American community, and by some conservative Christians. Critics say the NCC has given de facto support to the government of Fidel Castro.Three days before the raid that resulted in the reunion, Reinerio Arce, the new general secretary of the Cuban Council of Churches, said at a public forum at the Interchurch Center in New York that Cuba's churches would do "anything we could … to help bring this boy back to his family in Cuba."Cubans, including those of differing political views, were united in the belief that Elián must be with his father. "It's not a political problem, it's a human problem," Arce said.Copyright © 2000 Ecumenical News International. Used with permission.
Related Elsewhere
See today's related Elián González coverage at ChristianityToday.com, " Family Over Freedom | With Elián returned to his father, Cuban Christians say he should come home. Are they being honest, or fearful of reprisals?" and " After Elián, Cuba's Churches Will Play Leading Role in Time of Transition | Left-leaning ecumenical groups already working together"For continuing coverage of the Elián González dispute, including links to news stories, opinion pieces, and related Web sites, see Yahoo!'s full coverage area on the subject.Our earlier coverage of evangelicalism in Cuba includes:The War for Elián | Miami churches protest NCC efforts to return Elián González to Cuba (Feb. 25, 2000) Cuba's Next Revolution | How Christians are reshaping Castro's communist stronghold (cover story, Jan. 12, 1998) Cuban Catholics Make Gains, but Protestant Rights Limited (Feb. 8, 1999) Cuba's Evangelicals Come Up for Air (June 14, 1999)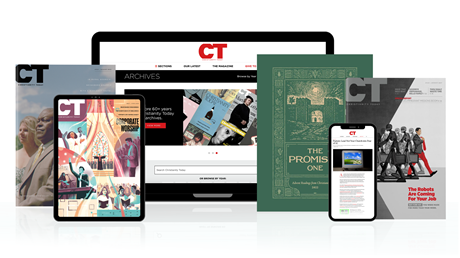 Subscribe to Christianity Today and get access to this article plus 65+ years of archives.
Home delivery of CT magazine
Complete access to articles on ChristianityToday.com
Over 120 years of magazine archives plus full access to all of CT's online archives
Subscribe Now
National Council of Churches Welcomes End to 'Miami Circus' Over Eli n
National Council of Churches Welcomes End to ...