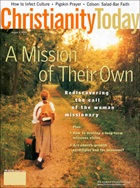 This article is from the August 7 2000 issue. Subscribers can read all of CT's digital archives.
The supreme court decision in June striking down Nebraska's partial-birth abortion law has left many partial-birth critics wondering what to do next. As an attorney who has been in the trenches of the partial-birth abortion legal battle from its inception, I would give this advice to those well-intentioned state legislators who seek to draft new laws designed to survive Supreme Court scrutiny. At least until the composition of the Court changes, any redrafted law would be futile and meaningless at best, distracting and destructive at worst. Like every one of the 30 partial-birth abortion bans nationwide, the Nebraska law contained an exception for the woman's life. However, the Court struck down the Nebraska law because it did not have an exception for the woman's "health." In her concurring opinion that provided the necessary fifth vote, Justice O'Connor states that a ban "that only proscribed the D&X method of abortion and that included an exception to preserve the life and health of the mother would be constitutional in my view."This seems like a reasonable invitation for states to give it another try. In reality, this is an invitation for the states to enact a hollow partial-birth abortion ban in which the exception would swallow the rule. That's because in the abortion context, health has come to mean abortion on demand through all nine months of pregnancy, and now even through the process of birth itself. In common parlance, health usually means physical well-being. Yet for 27 years the Supreme Court has defined health in the abortion context as "all factors—physical, emotional, psychological, familial, and the woman's age—relevant to the well-being of the patient." The Court articulated this boundless definition of ...
1
Partial Birth: What Next?
Partial Birth: What Next?