"Pop culture [is] the language of our society and especially our generation," says Josh Spencer, a Gen-Xer and editor in chief of Stranger Things magazine. "I often view life as a film with myself as an actor in it and God as the producer/director. It allows me to see even the smallest event in my life as integral to the greater storyline." His monthly online publication uses this integration of life, faith, and pop culture to encourage those "excited about seeking truth and God outside the proverbial box."Brian Heflin, coproducer and writer for the site, says he has a passion "to communicate the principles of God in the language of today." Many of his friends "were raised in or exposed to 'churchianity' and they would immediately close down as soon as you would mention any of the standard Christian catchphrases: sin, sanctification, atonement, born again, saved, sinner. My personal challenge has been to start over and ask what do I really know about any of these most basic words that describe the dynamics of a relationship with God. If I understood it I could say it in my own words. … So that has been my prayer to God for the last five or six years: 'Help me understand you and your principles and the world I live in clearly enough to express them new, fresh, and relevant.' … I believe every individual and every generation has their own unique way of naming the world and expressing God-to-me. It is still the God of my fathers, the same, immutable Creator, but there is a way that he is specifically known to me and this generation."Movies are one tool Spencer and Heflin use to communicate their understanding of God to readers. In one of Heflin's editorials, he calls the Incarnation "the ultimate demonstration of His willingness ...
1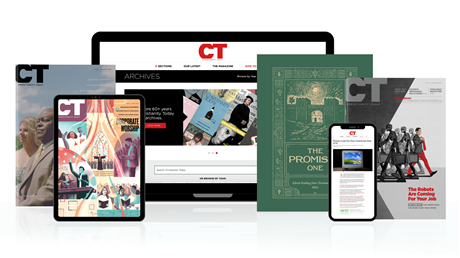 Find hope and historical insight. For a limited time, explore 60+ years of CT archives for free!
Daily devotions from Timothy Dalrymple during this pandemic.
Hundreds of theology and spiritual formation classics from Philip Yancey, Elisabeth Elliot, John Stott, and more.
Home delivery of new issues in print with access to all past issues online.
Join now and get print issues access to archive PDFs.
The Kingdom of God Is Like that Scene from Aliens
The Kingdom of God Is Like that Scene from Aliens