When Sagen Woolery first heard a divine call to help others, she was only in the second grade. It took two years to get things rolling in her town of Warner Robins, Georgia, but after two summers she and 130 child volunteers had served 3,600 meals. "I had been wondering what happens to the children during the summer when the free-lunch program ends at the close of the school year—what did they eat?" says Sagen, now 12. "If they couldn't afford lunch for nine months of the year, what did they do for the other three months?"
These were heavy questions for an 8-year-old to ask, her parents thought. But Sagen wasn't just asking questions; she wanted solutions. When Sagen decided the community needed a summer feeding program for children, her parents said, "Great; now you need to find a way to do it," recalls her mother, Pam Woolery.
"We gave her some guidance and pointed her in the direction of where to look for support in Warner Robins, but we stressed that it was her responsibility to make it work."
Gentle Army mess sergeant
Sagen's parents suggested she go to Sam Guimond, a member of the family's church, Sacred Heart Catholic. The elderly Guimond, who oversaw a soup kitchen for many years, was polite but didn't take the child seriously.
"I kept asking him so many questions that he eventually started ignoring me at church, but I just kept after him for a year," Sagen says with a shy smile.
Eventually Guimond saw her level of commitment and began to mentor her, teaching her how to organize a feeding kitchen and planting ideas about how to bring her vision to reality.
What her parents thought would be a short-term preoccupation soon became a burning passion. Before long, third-grader Sagen was on the Warner Robins speaking circuit, making visits to a variety of civic groups and churches to share her passion for hungry children.
Some adults politely shrugged her off. Whenever she faced indifference or opposition, Guimond would prompt her with one question: What would Jesus do? "There were a lot of people who didn't take me seriously," she says, "but God took me seriously, and that's all that mattered."
By the summer of 1998, Sagen had obtained the support of 10 churches for the community's first "Kids' Kitchen" at First United Methodist Church. With Guimond in the background, Sagen, then a fourth-grader, supervised the ministry like a gentle Army mess sergeant—polite but always in charge. Only child volunteers would do the work, she decided. Adults could keep their eyes on the clocks to ensure the work progressed on time, but they were not allowed to lift a fork or wash a plate.
Concerned with safety, Sagen prohibited using sharp objects such as knives in food preparation, and she avoided using stoves or micro wave ovens. She set up an assembly line of peers to assemble sack lunches with food donated or purchased through cash gifts. Others placed bags of chips, a few cookies, fruits, and soft drinks in the paper sacks.
Sagen refined the process as the first summer continued, setting up a database of 35 children, ages 8 through 12, who would volunteer for specific days. The Wednes day feeding might happen only four times a month, but choreographing the schedule took hours. At times she was overrun with volunteers, with as many as 18 peers showing up when she needed only 10.
The team served 600 lunches on a typical Wednesday, and recipients could take leftovers home to share with their families at dinner.
Won't hear no
Taking her faith seriously is nothing new to the soft-spoken seventh-grader at Bonaire Middle School. It's something she does, she says, because the Bible says to do it.
"The Scripture which is read frequently [in church] focuses on how God calls people into his service," Sagen says. "I began to focus in on those verses and began to sense that God was wanting me to do this for him. I felt like he was calling me to help the children because I was the right person to do it—that I was his choice for this assignment."
Originally she had asked her parents if she could start a shelter in their back yard for sick or wounded animals. Denied, she came back within 48 hours with the idea for the soup kitchen.
"Sagen is not the kind of person you can say no to," says her father, Alan Woolery. "She'll find a way to make that become a yes—not by demanding or being aggressive or having a fit, but she will find a way."
Father Mike Lubinski, associate pastor at Sacred Heart, says Sagen's sensitive, inquisitive spirit is sharpened by an awareness that her Christian calling requires taking action.
"If there is one quality that impresses me most about Sagen, it's her single-mindedness," Lubinski says. "She knew she would need a unique partnership between God, her peer volunteers, and the community. She simply heard the call and responded, driven by that divine mission to help feed the children."
Having won local, state, and national awards—including the 2000 Prudential Spirit of Community Award presented to her in the nation's capital—Sagen has branched out to other ministries. The award came with a promise of $25,000 in merchandise for her to distribute to children in need.
Additionally, the Lands' End clothing company named her one of three "Born Heroes" in August and donated $5,000 in her name to Christmas for Kids, a nonprofit organization serving the needs of low-income children throughout central Georgia.
"The reason I like to volunteer and help others is I feel a need to do something for this world," she says. "That's what I hear on Sunday at church, and I want to do something during the week that will carry that message to the community."
After two highly successful summers, though, Sagen had to put the Kids' Kitchen on hold; she needed to be on standby to be fitted for a body brace. Battling aggressive adolescent scoliosis, which results in a painful curvature of the spine, she must wear a body brace for 20 hours each day for four years.
Networking kindness
Sagen usually begins advance planning in January for the upcoming summer Kids' Kitchen, but the brace is clearly slowing her down. She cannot stretch to reach boxes on high shelves or do any bending or stooping.
Sagen's spirit remains strong, however, as she looks to summer 2001. "I'm hoping and praying that I'll be able to get everyone together, because I just love helping other kids," she says. "Last summer Mr. Sam [Guimond] told me that a lot of people came to the feeding site on Wednesdays to look for the Kids' Kitchen. He had to turn them away, and they were sad, so that made me feel bad that I wasn't there to help them."
Sagen's spirit will not allow her to accept the possibility of not supervising a volunteer staff next summer. Pressed for a backup plan, though, she reluctantly admits she might call on her younger brother, Kamen, who has been by her side the entire time.
"He's 9 now and has helped shoulder some of the responsibility for the first two summers, so I think he will be able to take over for me," she says. "But I don't want to think about not being there myself."
Sagen boils the philosophy behind her work to two words: networking kindness. "I believe that the world would be a much better place if others spent some time networking kindness," she says. "I believe that a lot of people out there want to help, but they don't know how or don't have an outlet to help. If you inspire them or help them to catch your vision, they will join your team and become a part of your network."
Sagen hopes the vision will extend beyond her own network, though. She would like to see a national movement of volunteers her age catching the vision to do something unique in their own communities.
"When I tell someone about Kids' Kitchen, I hope it will inspire them to do something in their town," she says. "Then they can serve as an inspiration to others when their story is told, and those new hearers will then be inspired to do something to help others."
The ministry need not be big or flashy, she says.
"If you have a dream," Sagen says, "just pursue it, and if you want it bad enough you can change your world by helping someone else."
Joe Westbury is associate editor of The Christian Index in Atlanta.
Photography by Ralf-Finn Hestoft/Lands End
Related Elsewhere
Read more about Sagen Woolery in the Kids Hall of Fame.
Read Woolery's commendation from the Georgia Senate.
Visit the Web site for Sacred Heart Catholic Church of Warner Robins, or visit Scared Heart's school site.
Learn more about Warner Robins, Georgia, at its homepage.
Have something to add about this? See something we missed? Share your feedback here.
Our digital archives are a work in progress. Let us know if corrections need to be made.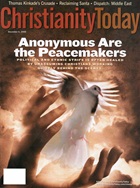 This article is from the December 4 2000 issue.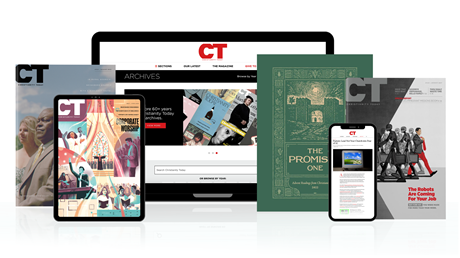 Subscribe to Christianity Today and get access to this article plus 65+ years of archives.
Home delivery of CT magazine
Complete access to articles on ChristianityToday.com
Over 120 years of magazine archives plus full access to all of CT's online archives
Subscribe Now
Kingdom Prodigy
Kingdom Prodigy