Two more Turkmen Christian families were forcibly evicted from their Ashgabad homes by secret police agents, just 10 days after their pastor's home was also confiscated.
Batir Nurov, who turned 24 yesterday, was thrown out of his home Tuesday with his wife, Hasanowa Enejan, and their four-month-old son, Daniel.
Nurov was reportedly given a one-hour ultimatum to evacuate his home when he was picked up by the officers of the National Security Committee (KNB) yesterday afternoon.
The police stood by while he packed and removed his things and then sealed the door. Nurov was told by officials that after his propiska (residence permit) in Ashgabad was canceled, his passport would be returned, and he would then be given copies of the formal confiscation documents.
Nurov was questioned yesterday by KNB officials as to the whereabouts of Pastor Shokhrat Piriyev and his family, who were evicted from their private home in Bagyr village near Ashgabad on December 9.
Last night a KNB agent from the Ahal district visited the home of Umit Koshkarov, ordering him and his family to be prepared to move out this morning at 8 a.m. To ensure they followed his orders, the policeman locked the house from the outside to prevent their escape and pocketed the keys.
At 11 o'clock this morning, Koshkarov's wife Germezy confirmed by telephone that their possessions were at that moment being removed from the house. Although the flat was registered in her name, she said, the officials had never obtained her written agreement to surrender the house to the government.
According to Piriyev, the last two police evictions are a direct contradiction of Turkmen law, which requires the signature of both husband and wife for such a resolution to be validated.
Before Piriyev and his wife were evicted, she was forced to put her signature on the document her husband had already signed while under interrogation, deeding over their property to the government. Compass has obtained copies of the formal confiscation documents issued and signed by Ashgabad officials and later presented to Piriyev.
The Koshkarovs were still repaying a loan they obtained two years ago to buy the apartment, a friend of the family told Compass. As they were being put out on the street today with their 15-month-old son Suleyman, the couple said they had no place to store their household effects, and they did not know where they would find a place to stay.
The heavy-handed evictions were the latest government reprisals since late November against Piriyev and his small Protestant house church congregation, which cannot obtain legal registration under Turkmenistan's repressive religious laws.
Together with Babamurat Gaebov, an unmarried member of their church, Piriyev, Nurov and Koshkarov were all implicated in the discovery of "contraband" Christian videos in the Turkmen language. The multiple copies of the documentary Jesus film were found in a wrecked car Nurov had been driving on November 21. The Protestant men were subjected to brutal physical torture and threats during three days of intense interrogation after the car accident.
One of the officers torturing the Christians reportedly told them at one point, "We do not need people like you in our country. You should be crushed and thrown out." The men were beaten, given electric shocks and suffocated until they passed out.
For the past month, the KNB has subjected the men and their families to ongoing intimidation, fulfilling their threat to mete out "harsher treatment in the future."
"They keep a psychological warfare going against us," one of the Turkmen converts noted in December, after being hauled in again for KNB questioning. "I am learning to live with hope for only one day at a time. We need to live this day and hope we can manage it. Then we will take the next day when it comes."
"We don't know what to do, where to go," Piriyev told Compass. "Our situation is getting very difficult."
Copyright © 2000 Compass Direct.
Related Elsewhere
Read more about the four men who were arrested in early December in Christianity Today's "Turkmenistan Police Torture Four Christians."
Previous Christianity Today stories about religious persecution in Turkmenistan include:
Turkmenistan Refuses To Register Bible Society | Government confiscating Turkmen, Russian Scriptures. (March 16, 2000)
Turkmen Secret Police Deports Baptist Couple | More expulsions expected as efforts continue to stop 'illegal' religious activity. (March 15, 2000)
Turkmen Baptist Pastor Threatened with Prison | Two church members in Turkmenabad fired from jobs
Turkmenistan Deports Two Baptist Pastors | Christians arrested last week sent to Ukraine (Dec. 29, 1999)
Two Baptist Pastors Arrested by Secret Police in Turkmenistan | Crackdown on Unregistered Minority Communities Continues (Dec. 28, 1999)
Pastor Faces Thursday Trial In Turkmenistan | Baptist minister accused of teaching children religion without parental consent. (Dec. 10, 1999)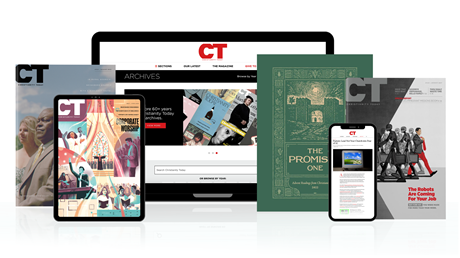 Subscribe to Christianity Today and get access to this article plus 65+ years of archives.
Home delivery of CT magazine
Complete access to articles on ChristianityToday.com
Over 120 years of magazine archives plus full access to all of CT's online archives
Subscribe Now
Turkmenistan Police Evict Christians
Turkmenistan Police Evict Christians