In a renewed round of pre-Christmas violence, Hindu extremists in India assaulted priests and nuns and ransacked Christian churches and schools. Christian leaders fear the worst is yet to come amid the country's growing atmosphere of intolerance and communalism.
Christian organizations have repeatedly sought protection from the authorities in the largely Hindu country, but to no avail. Fanatical Hindu organizations such as the Rashtiriya Swayamsevak Sangh (RSS), the Sangh Parivar (SP), and the Vishwa Hindu Parishad (VHP) receive support from the ruling Hindu nationalist Bharatiya Janata Party (BJP).
In November about 400 VHP activists desecrated and forcibly took over a church belonging to the Evangelical Church of India in Surat District, Gujarat state. The church's cross was removed from the altar and replaced by Hindu idols. In addition, a saffron flag, symbolizing that the church was now a place of Hindu worship, was hoisted.
A five-member fact-finding team headed by John Dayal, secretary general of the All-India Christian Council (AICC), alleged that Hindu fundamentalist organizations were trying to convert the church into a temple. The matter, now a national controversy, is pending in court.
In the incident, about 80 Christian families, some 200 tribal Christians in all, were driven out of the village, taking refuge in a nearby forest. VHP activists have warned that the Christians will only be allowed back if they embrace Hinduism. Area Christians blame the district police for aiding the VHP.
"The situation in Gujarat has deteriorated," stated Joseph D'Souza, president of the AICC. "We feel that the government is conniving with the Sangh Parivar outfits. We take very strong objection [to] the government's claim that the church land is disputed–and [to] the forcible takeover of the church."
Dayal says, "We have ample proof that the government is conniving with the Hindu fundamentalists and is putting pressure on the police and judiciary."
In Gwalior, several men forced their way into the home of a 64-year-old priest, C. Alphonse. They beat him with sticks and iron rods, leaving him with a head injury and fractured arms, legs, and teeth in the 1 a.m. attack. Meanwhile, thugs with the radical Bajrang Dal group and the VHP assaulted a pastor, Amulya Pegu, in Majuli, Assam, apparently to curtail the growing Christian influence in the area.
In Uttar Pradesh state, armed men held captive nuns of St. Mary's Convent in Haridwar District while looting cash and other valuables. In Kolar District of Karnataka state, a mob of about 100 threw stones at Christians and a church, alleging that conversionist pamphlets and books were being distributed.
In in Bokaro village, near Ranchi, in Bihar state, more than a dozen armed men assaulted the St. Anna High School's principal and three nuns. After raping the cook, they fled with cash and other valuables. School officials accuse local authorities of failure to take action against the culprits.
In northeastern Manipur state, gunmen abducted and murdered a 32-year-old priest, Shajan Jacob Chittinapilly. He was taken to a field and shot in the forehead, at point-blank range.
Condemning the attacks, the AICC has urged Prime Minster A.B. Vajpayee to take action. The United Christian Forum for Human Rights (UCFHR), meanwhile, has urged the government to act firmly against the continuing violence and is seeking protection for Christian workers in northeastern Indian states.
"Churches and Christians have become more and more vulnerable, particularly in the states where the Sang Parivar has strong influence," D'Souza notes. "Minority bashing is going on as the [government refuses] to enforce the rule of law. I am sure the situation is going to deteriorate further [since] the VHP is conniving with the authorities."
"We are broadening our campaign against violence and seeking the support of other communities, [such as] Buddhists and even moderate Muslims," D'Souza adds." In solidarity with even secular Hindus and civil society, we will continue to put moral and political pressure on the government."
Meanwhile, Richard Howell, general secretary of the Evangelical Fellowship of India, sees the pre-Christmas violence, particularly in Gujarat, as part of a continuing three- to four-year trend." It is part of the Hindu fundamentalists' communal strategy," Howell says. "Hatred and humiliation of minorities is their agenda. The violence against Christians has long been there, but now it is backed up by communal forces, unashamedly. And the silence of the government is a new dimension."
Delhi's archbishop, Vincent Michael Concessao, views the renewed violence in the light of a rightist propaganda campaign against evangelism. "The literature ascribing wrong motives over conversions and Christianity is being spread, now even in the remote villages," Concessao says. "And the authorities are unable to catch the culprits."
The archbishop says the violence is linked to Christian efforts to serve the downtrodden in India, such as the Dalits (formerly known as untouchables).
"I am not a prophet, but I am sure that things are going to worsen," Concessao says. "The more we work for the poor and Dalits, and the more they are going to demand their rights, the [more the] violence will escalate. But that's the price we have to pay to fight for equality and justice. And we should be prepared to face this."
Ronald J. Sider is president of Evangelicals for Social Action.
Related Elsewhere
Read more about how you can pray for India from Operation World.
Previous Christianity Today articles about religious tensions in India include:
Indian Christian Youth Form Protection Group | Non-violent group aims to counter attacks on Christians through peaceful solidarity. (Nov. 12, 2000)
A Chinese Model for India's Churches? | No thank you, say Indian Christians to Hindu proposal for government church regulation. (Oct. 12, 2000)
Study of Indian Clergy Exposes Inequalities in Church Leadership | Many low-caste and rural Indians are Christians, but few have positions of influence within the church. (Oct. 9, 2000)
U.S. Religious Freedom Commission Criticized | Indian churches reject U.S. inquiry, but Pakistani Christians welcome it. (Oct. 3, 2000)
Plans to Resolve India's Interfaith Tensions Face Delays and Accusations | Did India's National Commission for Minorities plan a meeting to discredit Christians? (July 20, 2000)
India's First Dalit Archbishop Holds 'No Grudge' Over Predecessor's Attack | Once "untouchable" Dalits make up bulk of country's Christians. (May 11, 2000)
India's Christians Resist Move to Register Conversions | State's legislation unconstitutional, says leaders. (May 2, 2000)
Build Bridges, but Fight Fanaticism, India's Churches Told | National Council of churches in India will work against strengthening of caste system. (Mar. 9, 2000)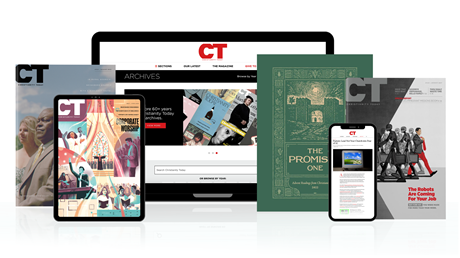 Subscribe to Christianity Today and get access to this article plus 65+ years of archives.
Home delivery of CT magazine
Complete access to articles on ChristianityToday.com
Over 120 years of magazine archives plus full access to all of CT's online archives
Subscribe Now
Christians Hammered by Pre-Christmas Violence
Christians Hammered by Pre-Christmas Violence