The religious right comes into the presidential election year with unusual new opportunities for national influence, yet also finds itself weakened by internal setbacks and shifting strategies. In Iowa, however, Christian conservatives still have a political stronghold that could influence national politics as the process of nominating presidential candidates kicks off this month."The conservative religious groups have control of the GOP in Iowa," Dave Yepsen of The Des Moines Register told Christianity Today. The evangelical vote is particularly important in states such as Iowa because "evangelicals really believe in voting and they do it," says Christian Smith, author of American Evangelicalism: Embattled and Thriving.
More Talk of Faith
In the presidential race, talk of faith and family values has rarely been so unambiguous. But beyond endorsing heartfelt testimonials, Christian conservatives have not been fully successful in focusing their influence on new policy proposals or unifying around a candidate. Some political analysts say the Religious Right's leaders have frittered away their power on "second tier" presidential candidates (Gary Bauer, Pat Buchanan, Steve Forbes, and Alan Keyes) or put all their eggs in one basket: the campaign of GOP frontrunner George W. Bush.
Christian Coalition members, for example, have spread their support among five Republican candidates, including Bush. But while former Christian Coalition leaders have landed key jobs in the Bush campaign, religious conservatives cannot cite any issue they have added to Bush's presidential agenda.According to the Pew Research Center, about one third of Republicans nationwide identify themselves as religious conservatives. In Iowa and South Carolina, where voters will express their views on presidential politics early on, the Religious Right is even stronger.
Bush Soars, Bauer Falters
The Iowa campaign of Gary Bauer, former head of the Family Research Council, has never moved beyond the single digits in voter opinion polls, although Christian conservatives have performed well there in the past. Bauer's debate and TV appearances are generally regarded as polished, but during the Christmas and New Year holidays he stalked nearly empty meeting halls like the ghost of Christmas past.The Bauer campaign started unraveling when fundraising fell below goals and his initial approach, which focused primarily on his strong pro-life stance, failed to gain traction among potential supporters.
Last fall, about half of Bauer's campaign staff left after accusing Bauer of inappropriate behavior with a 27-year-old female staff member, a strongly disputed charge (CT, Nov. 15, 1999, p. 15). Since then, Bauer has expanded his campaign themes to include anti-terrorism and opposition to gay marriages as well as legalized gambling.
In the meantime, the Bush campaign has anticipated the concerns of religious conservatives by his preemptive support of some Religious Right issues in Texas and his imprecise promises of future responsiveness once he is in the White House.
Political strategist Ralph Reed led an influx of Christian Coalition supporters into the Bush campaign. Reed, an adviser to Bush, cites Bush's overwhelming lead as a pragmatic reason for the Religious Right to join the bandwagon. "I have no doubt that Governor Bush will be the nominee of the party. None."
Reed's statement reflected Bush's late campaign strategy of releasing flurries of endorsements with declarations of invincibility. In Iowa, the Bush campaign rolled out a January salvo of endorsements by local leaders of the Religious Right, including Ione Dilley, head of the Iowa Christian Coalition.
"As governor of Texas he has actually reduced the number of abortions, and he is the only candidate who can say that," Dilley says in a backhanded slap at Bauer's pro-life criticisms of Bush.According to the Iowa Poll, 62 percent of likely GOP caucus voters believe abortion should be illegal.
Steve Schiffler, former head of the Iowa Christian Coalition, says the national organization favors Bush but many local leaders "rebel against direction being given from above."
With the growing perception that Bush's nomination is a foregone conclusion, James Dobson's Focus on the Family organization has turned its attention to issue politics such as California's Protection of Marriage Initiative. Proposition 22 asks Californians to reject same-sex marriages when they vote on March 7 (see "States Discuss Marriage Laws," p. 21).
Some say that Religious Right activists will devote over $8 million to the Prop 22 campaign in California rather than pour it into presidential primaries.
"Bush's inability to speak clearly on the issues" concerns Focus, says Tom Minnery, the organization's vice president of legislative affairs.
Political operative Charles Jarvis, who has his own reasons for being sour on politics after his experience leading the Bauer campaign, says some Christian conservatives do not practice the art of politics with finesse.
"Moral Majority was an example of emergency-focused politics," Jarvis says. "They fell into the trap of having to ever increase the shrillness of their fundraising. Then they started creating panic politics. Now, you don't just talk loudly, but you have to scream. No wonder they are exasperated with politics."
Jarvis now leads a center to train leaders within a biblical framework. "What is happening in Congress is that there is a growing frustration of young members with the politics of compromise and winnability." But winnability is precisely why so many conservatives have joined Bush: They think he can win.
"Let's win this year!" Christian Coalition Chairman Pat Robertson said in 1999 about the nascent presidential race."When a lot of us look at the alternatives, Mr. Bush begins to look like the white knight," says Marlin Maddoux, president of USA Radio Network.
Anyone but Clinton
One reason for Bush's commanding lead is the long-standing Republican distaste for the Clinton administration, says Andrew Kohut of the Pew Research Center.
"These are people who think Bush can win and will replace Clinton," Jarvis says. "You have this monstrously immoral president who has so stained this country and embarrassed masses of Americans. There is this pragmatic desire to get anyone besides him."
Religious conservatives are opening their wallets this year, but also hedging their bets for a win. For example, Bauer's campaign officials say more than 60,000 people have donated to their campaign.
BUSH'S REMARKS ON HIS FAITH HAVE THRILLED ACTIVISTS.
But some of Bauer's most generous donors when he was head of the Family Research Council, such as Richard DeVos of Amway, have turned off their spigots for his presidential bid. Instead, many well-known evangelical donors have joined the 160,000 contributors to the Bush campaign.
Bush has met with evangelical donors across the country and given his testimony, leading to a flood of political contributions. Some generous donors like Charles Stetson have split their contributions between Bauer and Bush. But will Christian conservatives win with enough agenda to make it worthwhile? Focus on the Family's Minnery admits that the Religious Right's voice is "fragmented, obviously." But, he argues, it's a "mark of success that so many candidates are now talking about social conservative issues."
Indeed, Religious Right support serves as Bush's firewall against rising support for McCain, according to Bush insiders. McCain's best run against Bush is in New Hampshire, where the Religious Right is relatively weak.
A Need for a Hero?
It is in South Carolina, McCain says, that he "must win." But South Carolina is where Bush supporters have the upper hand. Reed says that pro-life constituents made up 40-45 percent of the vote in South Carolina's Republican primary in 1996.
"It is going to have a huge impact. If you are losing that constituency, it is very difficult to win that primary," Reed says.In early January, South Carolina polls showed Bush leading McCain 62 percent to 15 percent. Reed says McCain's "secular style" doesn't put him "high on the Christmas-card list of evangelicals."
"In the end McCain still hits a brick wall because his candidacy is based on changing the rules of politics, rather than addressing the issues of the heart and soul."
McCain spokesman Howard Opinsky dismissed Reed's talk of a firewall. "Bush's firewall keeps sliding further and further back. Soon, it may be in Texas."
Still, McCain's support is more likely to come from outside the Religious Right's network of organizations. Marshall Wittmann of the Heritage Foundation, a conservative think tank, is an example. A former Christian Coalition staffer and aide to candidate Keyes, Wittman now waxes eloquent on behalf of McCain: "There is a real need for an American hero. McCain captures the imagination and is pro-life."
Yet from the beginning of his run for the White House, Bush and his political strategist Karl Rove put together a fat plan with extensive attention on how to woo the Religious Right.
Even Bush's pledge of tax cuts was wrapped in evangelical-friendly terms. "This is not only no new taxes," Bush said during a New Hampshire debate. "This is tax cuts, so help me God."
Bush's dramatic, prime-time declaration of his faith in Jesus Christ excited many Religious Right leaders in December. Richard Land, head of the Southern Baptist Convention's Ethics and Religious Liberty Commission, said that when his family heard Bush's statement, "They stopped what they were doing, looked at me and said, Wow!" Bush went on to declare that his "personal faith is my strength. It's my foundation."
Most Christian conservatives hope Bush's boldness about his Christian convictions will translate into equally bold policy initiatives that support American families and religious freedom.
Related Elsewhere
For more on the 2000 presidential campaign, see Yahoo!'s full coverage, ABCNews, CNN's AllPolitics, C-SPAN, and myriad other places online.
See also our recent political coverage: Is the Religious Right Finished? (Sept. 9, 1999)Conservatives Voice Support for Bauer (Nov. 15, 1999)States Consider Laws on Same-Sex Unions | California to vote on 'limit on marriage' in March (Jan. 11, 2000)
Have something to add about this? See something we missed? Share your feedback here.
Our digital archives are a work in progress. Let us know if corrections need to be made.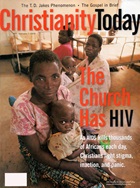 This article is from the February 7 2000 issue.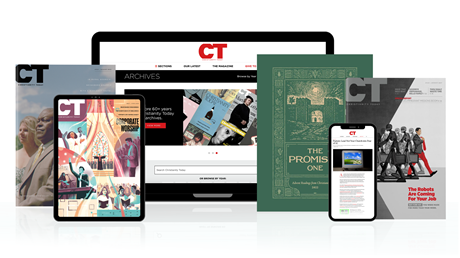 Annual & Monthly subscriptions available.
Print & Digital Issues of CT magazine
Complete access to every article on ChristianityToday.com
Unlimited access to 65+ years of CT's online archives
Member-only special issues
Subscribe
Might for Right?
Might for Right?