As Southern Baptist conversion efforts have faded from the headlines in recent weeks, the Dallas Morning News reports how a 12-year-old Jewish boy became a Christian at a Baptist church's youth event—and how angry his parents are. ""I felt like this was child abuse," the boy's mother tells the paper. "It's about like drugging somebody. They seduce you with the food and the music, and all your friends are there." Though the boy is unnamed, the story puts a human face on the seemingly growing sentiments against evangelism.
More on the Episcopal rift
APittsburgh Post-Gazette article examines how the consecration of Anglican "missionary bishops" to combat liberalism in The Episcopal Church mirrors similar splits in the United Methodist Church and Presbyterian Church (USA). Meanwhile, the Canadian Anglican Primate is issuing some of the harshest words against the "irregular ordinations," calling them "an act of aggression" and "an open and premeditated assault on Anglican tradition, Catholic order and Christian charity." Bishops, he says, "are not intercontinental ballistic missiles, manufactured on one continent and fired into another as an act of aggression."
Faced with a lawsuit against a 15-foot Jesus statue in one of the town's parks, Marshfield, Wisconsin, sold the statue and the surrounding parcel of land to a private group. They still lost, as the the Seventh U.S. Circuit Court of Appeals ruled Friday that "the presence of the statue would create the perception of government endorsement in a reasonable observer." The court's proposed solution? "Construct some defining structure, such as a permanent gated fence or wall, to separate City property from [the statue], accompanied by a clearly visible disclaimer, on City property." And all this time you thought the "wall between church and state" was just a figure of speech. …
"Though the conservative campus is a popular stopping-off point for GOP contenders, the symbolism is wrong for a leader who wants to be president of all Americans," says the paper in an unsigned editorial. It notes that all the remaining Republican candidates, including African-American Alan Keyes, are planning to speak at the school, which bans interracial dating.
More than 200 protesters will join in a "For the Sake of Our Children" next Saturday, reports the Evening Standard. The protesters, especially upset about the homosexual drama "Queer As Folk," intend to deliver a message to British Home Secretary Jack Straw and Culture Secretary Chris Smith.
The Massachusetts Department of Correction says they probably are—if the beads are of different colors. It's forbidding inmate Peter Kane from keeping his black-and-white rosary. Just last week, the Boston Globe reported a resurgence in rosary use among Massachusetts Catholics.
Atheist Robert Oliver of Ozark, Missouri, thinks so, and refuses to sign a Christian County tax form with those words on it. A circuit court judge ruled January 27 that Oliver is out of luck: the words so help me God "do not establish any religion or require the person swearing or affirming to express any belief in God." Not mentioned in the Associated Press article is whether Oliver's next crusade will be to change the name of his county.
Related Elsewhere
See our past Weblogs: February 7 February 3 | 2 | 1 | January 31 January 28 | 27 | 26 | 25 | 24 January 21 | 20 | 18 | 17 January 14 | 13 | 12 | 11 | 10 January 7 | 6 | 5 | 4 | 3 December 30 | 29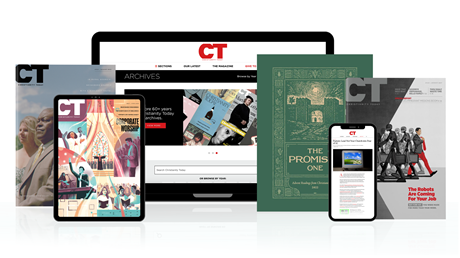 Annual & Monthly subscriptions available.
Print & Digital Issues of CT magazine
Complete access to every article on ChristianityToday.com
Unlimited access to 65+ years of CT's online archives
Member-only special issues
Subscribe
12-Year-Old Caught in Fight Between Jews and Baptists
12-Year-Old Caught in Fight Between Jews and Baptists