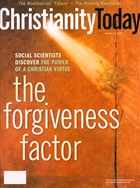 This article is from the January 10 2000 issue. Subscribers can read all of CT's digital archives.
Just a little over a year ago the U.S. House of Representatives voted to impeach a president for only the second time in American history. Two months later, after a five-week trial in the Senate, President Clinton was acquitted of two articles of impeachment, one on perjury, the other on obstruction of justice.At the time, of course, many claimed that the impeachment of President Clinton was a watershed. No history of the Clinton years would be written without prominently featuring the Lewinsky scandal and the impeachment. Beyond this, however, there was little agreement. One year later, is it possible to consider the lessons of the impeachment and acquittal of President Clinton with fairness and a measure of objectivity? With some distance, what are we to make of the tumultuous events of those days? To make a statement that every Christian reader will agree with is impossible, but that is not my goal. I offer instead one Christian's reflections.
LESSON 1.
POLITICS IS A VICIOUS CONTEST FOR POWER—HANDLE WITH CARE. In some societies that contest takes place through the barrel of a gun. Thankfully, here in this country we use the ballot box. Yet so much that occurs at the highest level of our politics is sordid, vicious, devious, and brutal.President Clinton provided considerable opportunity for his enemies to destroy him. But that he had enemies who wanted to destroy him and were working hard to do so is by now quite clear. Once people like Lucianne Goldberg (the literary agent who urged Linda Tripp to turn her tapes over to Kenneth Starr) had Clinton in their sights, they were determined to bring him down. Likewise the president was determined to evade the fatal blow and made use of every means available to elude his foes.We are often naïve about what actually goes on in the centers of political power, which makes us easily leveraged by those who play the game full time and for keeps. For most of the church's history a strand of Christian thought has tried to keep the Christian faith clear of power-based entanglements. That perspective had not been very visible in recent years. Since the Lewinsky scandal, however, it has surfaced again.The impeachment drama has reminded all of us that those Christians who are called to national politics face an excruciatingly demanding vocation. The moral compromises that tempt the Christian politician would stagger most of the ...
1
Our digital archives are a work in progress. Let us know if corrections need to be made.
Forgive and Remember

This slideshow is only available for subscribers.
Please log in or subscribe to view the slideshow.