"Those in the know confide that [Timothy] O'Brien, a theological liberal [recommended as the new chaplain of the U.S. House, but rejected by House leaders], bombed in his interview with the leadership," writes Rod Dreher. "Armey and Hastert were reportedly prepared to support O'Brien's candidacy, sources say, but he struck them as more of a worldly wheeler-dealer than a capable pastor." Dreher, a "Catholic convert from Protestantism," says the Congress should bring in Chuck Colson and Richard John Neuhaus to patch things up. See a related story in today's Dallas Morning News, which summarizes the controversy in a front-page story.
The arrests, which suggest state security forces were behind the murder of Roman Catholic bishop Juan Gerardi, are part of a promise made by President Alfonso Portillo during his induction ceremony two weeks ago. (See other coverage in the Chicago Tribune and CNN.)
The 157-year-old denomination faces schism stemming from years of fighting over Donald Macleod a liberal theologian accused of heresy and sexual misconduct. Thirty-one conservative ministers of the church, forming a group called "Free Church Defence Association," left the Free Church of Scotland Friday to form their own denomination. The Free Church of Scotland claims 16,000 members. (See also articles in the Irish Independent and BBC.)
Christians from around Orissa gathered at the leprosy home where Graham Staines worked before his death last year, reports the Times of India. A related article notes that the government beefed up security for the memorial service, and a letter to the editor laments a lack of closure.
Though some of the pieces in "Faith: The Impact of Judeo-Christian Religion on Art at the Millennium," an exhibit at the Aldrich Museum of Contemporary Art in Ridgefield, Connecticut, critique religion, most celebrate it, reports The New York Times. "Even though many artists deal openly with issues of race, gender, class and sexuality, repeatedly we heard, 'No one's ever asked me about religion before.'" says the museum's director.
The ex-wife of ex-televangelist Jim Bakker, last seen on "The Drew Carey Show," is the subject of a new documentary, The Eyes of Tammy Faye. "The film is receiving the kind of buzz on Park City streets that makes for Grand Jury Prizes," reports CNN. See related articles in the Toronto Star, and the Chicago Sun-Times's Roger Ebert column.
Today's Washington Times parades a number of NCC critics who "accuse the organization of being an apologist for Cuba and Marxist dictatorships for more than 30 years."
Homeschooling parents are fighing a bill introduced by Illinois State Rep. Mary Lou Cowlishaw allowing homeschoolers to play on public school sports teams, reports the Chicago Tribune. "I'm sure she thought she was helping out home schoolers, but it falls into the category of 'God save us from our friends,' a curriculum provider tells the newspaper. He says it's another case of being " separated from other non-public schools for sweetheart treatment." Cowlishaw is amending the bill.
Shari'a law in Kano still requires governor's signature. Shari'a in the city may be harder to implement than in the two rural Nigerian states that previously adopted the Islamic law. Meanwhile, Tempo, a Nigerian paper based in Lagos, ran a fascinating article describing the implementation of shari'a in Niger State.
"Thousands of commuters likely passed Elaine J. Stephens each day at bus and train stations, paying scant attention to her message about God's saving grace as they rushed to work," writes staff writer Maura Kelly in an article about Stephens's death. "But that never deterred Mrs. Stephens, who for 40 years believed so strongly in the salvation of people that she regularly endured biting cold or pouring rain to distribute religious pamphlets."
Michael Silver, a secular Jew, says of going to church with Saint Louis Rams quarterback Kurt Warner and his wife, "It felt sincere, and it felt right." He looks forward to attending again.
Related Elsewhere
See our past Weblogs: January 21 | 20 | 18 | 17

January 14 | 13 | 12 | 11 | 10

January 7 | 6 | 5 | 4 | 3

December 30 | 29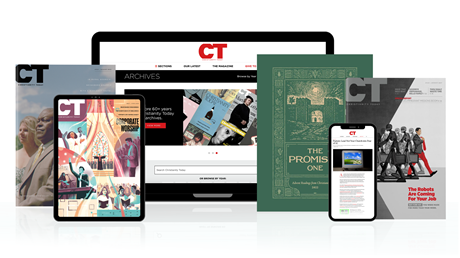 Annual & Monthly subscriptions available.
Print & Digital Issues of CT magazine
Complete access to every article on ChristianityToday.com
Unlimited access to 65+ years of CT's online archives
Member-only special issues
Subscribe
Tammy Faye Stages a Comeback and Other Stories
Tammy Faye Stages a Comeback and Other Stories