My lists reflects accurately the two themes that captured my imagination this year: history and spirituality. In no particular order, my ten favorite books of 1999:
The New Millennium Manual: A Once and Future Guide by Robert G. Clouse, Robert N. Hosack, and Richard V. Pierard (Baker, 222 pages, $12.99, paperback)
Historians Clouse and Pierard teamed up with editor Hosack and gave us the most informative—and entertaining—pre-Y2K book on the end times (and this year, that says something). Combining church history, theology, cultural analysis, and a dash of humor, they debunk millennial hype in the hopes of introducing readers to "the meaning of the coming millennial change."
The Way of Repentance by Irma Zaleski (Continuum, 70 pages, $9.95, paperback)
Zeleski wins the-most-insight-in-the-least-number-of-pages award. She discusses guilt, self-esteem, forgiving oneself, and other therapeutic concerns in the rich context of the Eastern Orthodox spiritual tradition. While acknowledging the rightful place of modern psychology, she insists, "Repentance is a uniquely Christian path of liberation from self."
Eusebius: The Church History: A New Translation with Commentary by Paul Maier (Kregel, 412 pages, $24.99)
Eusebius of Caesarea (c.260-c.340) was the first historian to pull together (and edit) the first three centuries of the church's history into some coherent narrative. Without The Church History, our knowledge of these centuries would be paltry. Maier, professor of ancient history at Western Michigan University, has translated, and to some degree edited, Eusebius into readable, engaging prose. I love primary source material, and some passages, especially the accounts of persecution and martyrdom, still make for gripping reading.
The Holy Longing: The Search for Christian Spirituality by Ronald Rolheiser (Doubleday, 257 pages, $21.95)
A profoundly Catholic, that is, incarnational, discussion of spirituality. Canadian Rolheiser (of the Missionary Oblates of Mary Immaculate) suggests that all our very human longings are ultimately spiritual, which, he argues, is not such an ethereal reality after all. Spiritual fulfillment (and continued frustration, this side of the kingdom anyway) will be found in the very concrete worlds of community, Eucharist, sex (!), and serving the poor.
Glory Land: A Memoir of a Lifetime in Church by Lyn Cryderman (Zondervan, 175 pages, $14.99)
The only unfortunate part of this book is the title: it barely hints at Cryderman's humor, insights, and poignant reflections of growing up in a Free Methodist, fundamentalist world. Cryderman, formerly an editor with Christianity Today and now associate publisher at Zondervan, does one better than most such writers: he appreciates the past, some of which, in fact, he's moved away from. And he wonders candidly about what's happened to him in the moving.
Provocations: Spiritual Writings of Kierkegaard edited Charles E. Moore (Plough, 428 pages, $14)
The witty and devout Kierkegaard (d. 1855) is sometimes difficult to spot in his "thick" philosophical writings. With Charles Moore's judicious sifting, though, we now have a readable and spiritually vibrant selection of the brooding Dane's religious writings. How can you not read selections with titles like "Kill the Commentators"? Kierkegaard remains a delightful, probing, and relevant essayist nearly 150 years after his death.
The Unknown God: Searching for Spiritual Fulfillment by Alister McGrath (Eerdmans, 123 pages, $18)
Theologian McGrath (Oxford University) has written the freshest evangelical apologetic in decades. Instead of arguing historical proofs for the Resurrection or the reasonableness of the Christian faith, he invites readers to consider their most profound experiences. These, he says, point us to the most profound and fulfilling reality: God.
At the Corner of East and Now: A Modern Life in Ancient Christian Orthodoxy by Frederica Mathewes-Green (Tarcher/Putnam, 279 pages, $22.95)
Although I flirted with Eastern Orthodoxy for a time, I've remained evangelically chaste. Still, when I read Mathewes-Green, I begin to commit mental adultery. She has a way with words, and a way of talking about Eastern Orthodoxy that makes it seem like the most comprehensive and attractive tradition around. If she doesn't finally tempt me to follow through on my denominational wanderlust, she does at least help me think more deeply about my own tradition.
For the Time Being by Annie Dillard (Knopf, 205 pages, $22)
In some ways this book is irritatingly familiar. Dillard pulls us in, as she does in many of her books, with an eloquent examination of the absurdity of life and the horrible mystery of suffering. But just as she's dragged the reader into an abyss of despair, she always manages to pull a number of disparate threads together and, along the way, rescue hope. In this volume, hope comes by way of a look at the writings and life of Teilhard de Chardin—so much so, I was eager to read the French paleontologist, and amateur philosopher of religion, for the first time.
The Visitation by Frank Peretti (Word, 519 pages, $24.95)
This year I've spent more than a few hours exploring the "thriller" genre (Clancy, Jenkins/LaHaye, Crichton), and Peretti comes out on top for pure page-turning appeal. About the most serious thing he accomplishes is to respectfully but critically explore the day-to-day oddities of the American Pentecostal subculture—something few fiction writers do. But mostly it's a fast, fun read.
Mark Galli is Book review editor of Christianity Today and Editor ofChristian History
Related Elsewhere
For a second opinion, read today's other article on 1999's top books, by Books & Culture editor John Wilson.

This list isn't meant to compete with the CT Book Awards, which are awarded every spring.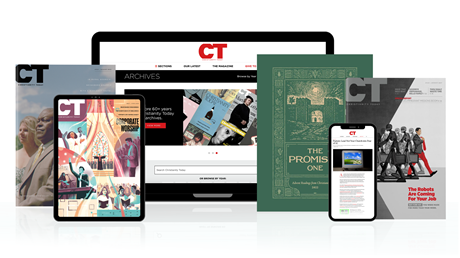 Subscribe to Christianity Today and get access to this article plus 65+ years of archives.
Home delivery of CT magazine
Complete access to articles on ChristianityToday.com
Over 120 years of magazine archives plus full access to all of CT's online archives
Subscribe Now
The Best Books of 1999
The Best Books of 1999