The Lord is my shepherd, I shall not want.
He makes me lie down in green pastures;
he leads me beside still waters;
he restores my soul.
He leads me in right paths for his name's sake.
Even though I walk through the darkest valley,
I fear no evil; for you are with me;
your rod and your staff—they comfort me.
You prepare a table before me
in the presence of my enemies;
you anoint my head with oil;
my cup overflows.
Surely goodness and mercy shall follow
me all the days of my life,
and I shall dwell in the house of the Lord
my whole life long.

Young Semoine was only 12 when he had to confront a lion. He was in the company of six boys who were grazing a herd of 300 cows in the Maasai Mara game reserve. The other boys scuttled away when the lion surprised them, but Semoine hesitated. The lion was about to strike Reoyi, the cow Semoine had milked that morning, and he was not going to see it die! He threw his spear and stabbed the lion in the chest. The wounded beast turned on the boy and struck his right leg, breaking it instantly before mauling his head. Then it limped away without touching the cattle.
The boy might have died, but an emergency flying doctor's service airlifted him to a hospital in Nairobi, where he spent nearly two months receiving medical treatment. From his hospital bed, Semoine declared he would challenge lions again if they attacked his father's herd.
In rural Africa, people take good care of their domestic animals at great expense to themselves. Shepherds move for miles with their animals in search of lush pasture, salt licks, and watering holes. These are the same items of survival sought after by the grazers among the wild animals such as zebras, buffaloes, and gazelles. Unfortunately, marauders and predators such as lions, leopards, and hyenas, out of necessity for food, do their hunting in the same localities. Often herdsmen have a hard time keeping marauders from attacking them as well as their herds and flocks.
In places where inhabited areas border game reserves, real conflicts develop between humans and game reserve animals. The latter have government protection. The natural tendency is for people to track down the marauding animal that has snatched a sheep or goat and to kill it. In Kenya the government often has to intervene because herdsmen will stop at nothing when their flocks and herds are in danger from wild animals.
Even deep in the inhabited areas, hyenas, leopards, and pythons are known to take their loot from a herd or a flock. Chege, an old man of 83, recently fought a leopard that had menaced his herd of goats. He determined that before he died that leopard must die. So he set up a trap that caught the leopard by a foreleg. Armed with a club, Chege moved too near, and the leopard caught his leg below the knee. In spite of the searing pain, he concentrated on hitting the leopard's head until the animal died. Chege was later to declare,
"I'm not proud of what I did. I just destroyed an enemy. & amp;#hellip; The animal having wiped out all my goats, I did not care whether I lived or died in the process of fighting it."
In this psalm, the psalmist declares his confidence in God's protection even though he is surrounded by adversity (see also Psalm 11:1 ; 27:1-6 ; 62:1-8). Boldly he can testify that no good thing will be withheld from him (Psalm 23:6).
Shepherd is a very appealing metaphor, conveying God's devoted care for the well-being of the sheep (23:1-3). The individual sheep in the flock is cared for personally with rich pasture and a place to rest before taking the journey through the dangerous pass ahead. God may ensure the national welfare of Israel, his flock (Psalm 79:13 , 80:1 ; 95:7 ; Isaiah 49:10), but the individual also can be confident of God's personal attention and concern, as illustrated by the Lord's parable of the shepherd who seeks the one lost sheep even though there are 99 others in the fold. The shepherd is the guardian of the flock who recognizes each sheep individually (John 10:3-5, 14).
The shepherd ensures provision for material needs (pasture, water, rest, and shelter) so that the sheep is satisfied, refreshed, and revived. He also guides the sheep in paths that lead to life and well-being. With his staff, he keeps it from straying into wrong paths or into pathless bush:
"And when you turn to the right or when you turn to the left, your ears shall hear a word behind you saying, 'This is the way; walk in it' "
(Isaiah 30:21). The sheep follow the shepherd because they know his voice (John 10:4).
In this hazardous life's journey, even in the narrow pass where marauders may be lurking, the sheep need not fear because the shepherd's rod is a weapon of defense and offense, even as the staff is a tool of guidance. These two symbols-- combat power and gentle guidance—dispel all fear.
The Lord who leads and protects plays host at the journey's end (Psalm 23:5-6). Enemies may be threatening outside, but they are powerless as they watch the Lord provide hospitality complete with anointed head and overflowing cup. The enemy knows frustration because God's beloved is out of reach.
The trusting child of God has known nothing but God's goodness and mercy. There can be no doubt that these graces will continue in the life of the one who chooses to dwell in the presence of the Lord, both in this life and the next.
Psalm 23 is popular in Africa. The metaphor of the shepherd is vivid and appealing to a people in close touch with their domestic animals—both traditional pastoralists and farmers in rural communities. The shepherd metaphor is a comfort in the face of current insecurity in Africa. Insecurity has many faces. There is food insecurity due to natural and sociopolitical factors. Individuals and communities are under constant threat of war due to political turmoil. The precarious national and regional situations that have created the refugee phenomenon have made individuals appreciate how very vulnerable everybody is. Individuals are displaced by the power of the gun from the only spot they could call home. The cry of many is "Where are you, Lord?" Yet there is much evidence of people's trust in God. Every time people emerge from a national crisis, they cannot help acknowledging that God has intervened on their behalf.
There is no doubt that prayer has assumed a new significance in Africa in these days of insecurity. And to see how often normal life is maintained in the midst of much calamity shows the confidence people have in a God who promises not a bed of roses but his presence and protection from the ultimate defeat by evil.
"Even though I walk through the valley of the shadow of death, I will fear no evil, for you are with me."
Christ's presence with his suffering people is more reassuring and comforting than anything else.
In I Love Idi Amin, Festo J. Kivengere gives a moving account of the life of the church during Amin's despotic rule in Uganda. On one occasion, a busload of Christians was pounced upon by security forces just before starting a journey to Tanzania for a Christian revival convention. Some security adviser had intimated that the group's traveling to an "enemy" country, as Tanzania was then regarded, indicated that their mission was clandestine. The Christians were led to a prison yard, where they could expect anything to happen in Amin's reign of terror.
But they were each quietly praying and soon one of them started singing the familiar East African Revival song, Tukutendereza Yesu, in a subdued tone:
Tukutendereza Yesu


(We praise you Jesus),
Yesu Omwana gw'endiga


(Jesus lamb of God).
Omusaigwo gunaziza


(Your blood cleanses me);
Nkwebaza, Omulokozi


(I praise you, Savior).
Within no time, the whole prison yard was alive with the resounding song. Prison wardens and soldiers came to watch in amazement as the prisoners sang joyfully and openly repented of the fear that had initially gripped them. Soldiers forgot their military etiquette, running to buy food and soft drinks for their prisoners.
My mother was an adult when she converted to the Christian faith, but her testimony of God's care for her stretches back to her early childhood. She was too young to rescue her mother, who had set their house on fire so they would both die, but something compelled her to jump out and spend the night in the bush. On another occasion, her young mind reasoned that the safest section of the river to draw water from was where the river was quiet and the water seemed calm. She was wrong, and a voice from the river called out to her to turn back! As a teenage orphan, she contemplated suicide and again a voice compelled her not to drown herself but to seek refuge among some distant relatives. She left the river that might have swallowed her, singing a happy song. My mother's favorite song since becoming a Christian has been Psalm 23. In my own childhood, mother taught me, "take hold of God's hand and don't let it go"--an instruction she continued to give me every time I left home as a vulnerable teenager on long bus and train journeys to boarding schools in distant places.
Yes, one cannot reflect on this psalm without being personal, for the Lord is my shepherd. This is the shepherd who leaves the other 99 sheep that are safe in the sheepfold and runs after the one lone, lost sheep, the shepherd who stretches out the staff and pulls out of the mire the one sheep that needs him most, the shepherd who lays down his life for the sheep.
God's word through the prophet Ezekiel, in which the leaders of Israel are depicted as wicked shepherds who defraud and destroy the sheep (Ezekiel 34), is so graphically true of leadership in Africa today that the people have to say,
"Yes, the Lord is my shepherd, nobody else."
With such leadership—political, civic, and even ecclesiastical—the ordinary person is at the receiving end of a lot of injustices. As the mighty preoccupy themselves with feathering their nests at enormous costs to the citizenry, every overworked, overtaxed, abused common person would like to take Ezekiel's words to heart:
"He that keeps Israel will neither sleep nor slumber."
Ezekiel's promise keeps hope alive in spite of the never-ending streams of refugees crisscrossing borders, traversing miles on foot, with no material possessions, food, or shelter. That hope keeps alive in spite of the many political assassinations, intimidations, and strong-arm styles of dealing with those who claim their rights as human beings. That hope persists in spite of a society in which "man eats man." Many can say with the psalmist that the Lord is my shepherd because in the face of so many odds, in the presence of so many marauders, God has led, fed, given the peace that passes understanding and gives cause to laugh and be merry.
Every person in a dangerous and vulnerable situation can testify that God "fulfills himself as we need, not as we expect." By crying to God in desperation or by simply trusting God to find a way out of danger, they have found God faithful. God has a way of spreading a table in the presence of one's enemies. When faith is tested in so many life-and- death instances, and the individual can see how God has dared the enemy to touch God's dear one, then one can boldly declare with the psalmist that "Goodness and mercy shall follow me all the days of my life, and I shall dwell in the house of the Lord forever." In God we put our trust as we push forward on our life's journey.
Hannah W. Kinoti, a Methodist lay preacher, is associate professor of religious studies at the University of Nairobi, Kenya.
"An African Perspective on Psalm 23" by Hannah W. Kinoti. Reproduced from Return to Babel: Global Perspectives on the Bible, edited by John R. Levison and Priscilla Pope-Levison. & amp;copy; 1999 Westminster John Knox Press. Used by permission of Westminster John Knox Press.
Related Elsewhere
A large collection of sermons, articles, and commentaries on Psalm 23 can be found at The Text This Week.
The Department of Biblical Studies at the University of Sheffield has a variety of online resources related to the translation of Psalm 23 and a number of other Psalms.
A parallel Latin/English translation and the Middle English versions of Psalm 23 are also available online.
Return to Babel: Global Perspectives on the Bible is available from the Christianity Online bookstore. A Shepherd Looks at Psalm 23, by Philip Keller, is also available.
Histories of Christianity in Egypt, Roman Africa, Western North Africa, Sub-Saharan Africa, and South Africa are available on the Web, as is a history of Orthodox missions in tropical Africa. Adherents.com offers current statistics on the Christian population in Africa. A recent Books & Culture article was titled " Failure and Hope: Church and state in South Africa." A collection of articles and links from Dr. Ian Ritchie examine the relationship between Christianity and African culture.
Past CT reporting on Christianity in Africa includes:
Let Africans Honor Ancestors with Blood Libations in Mass, Says Bishop | 'Is there a way to integrate this custom with their Christian belief as a step towards meaningful inculturation?' (April 13, 2000)
Help Us Develop Our Souls, Mandela Tells World Religious Leaders | Former South Africa president awarded by Parliament of the World's Religions (Dec. 8, 1999)
Toppling Tradition? | Christian teachings conflict with tribal customs, national laws. (Sept. 6, 1999)
Kenya | "Africa is a land of great potential, a sleeping spiritual giant." (Nov. 16, 1998)
After Terrorist Bombings, Christians Aid Victims | Muslim-Christian tensions remain high. (Oct. 5, 1998)
Have something to add about this? See something we missed? Share your feedback here.
Our digital archives are a work in progress. Let us know if corrections need to be made.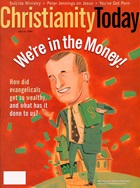 This article is from the June 12 2000 issue.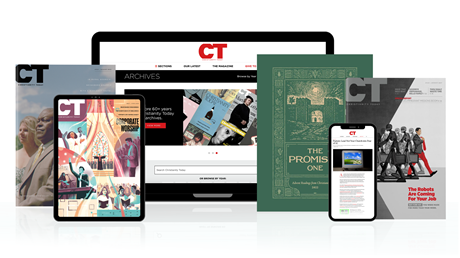 Subscribe to Christianity Today and get access to this article plus 65+ years of archives.
Home delivery of CT magazine
Complete access to articles on ChristianityToday.com
Over 120 years of magazine archives plus full access to all of CT's online archives
Subscribe Now
In the Word: In the Valley of the Shadow of Idi Amin
In the Word: In the Valley of the Shadow of Idi Amin