The Family Friendly Programming Forum, a group of advertisers led by Johnson & Johnson and Procter & Gamble, is changing television in a way Donald Wildmon's American Family Association never could, reports Inside.com. Because of the group, CBS is airing more family-oriented movies and a family award show. And this fall, the WB will air Gilmore Girls, a show the group commissioned."The purpose of this is to try to affect the networks that have the mass audience viewing in 98 percent of the homes and generate a potentially big rating," says Bill Cella, a Family Friendly Programming Forum board member."Family programming has become family networks, like Fox Family and Pax. But if you want to stand out in a crowd and you want to be pronounced you want to have it on a network where there isn't a lot of family programming."
As the Southern Baptist Convention gears up for its annual meeting next week in Orlando, Florida, New York Times religion reporter Gustav Niebuhr looks at what appears to be a growing fragmentation in the denomination. But if it's fragmenting, don't look for it to break up. Paige Patterson, president of the Southern Baptist Convention, tells The New York Times that 1,500 or more of the SBC's 40,000 congregations might leave the convention in the coming years, but that they wouldn't be missed: the SBC planted 1,479 new churches last year and attracted newcomers like Jerry Falwell's Thomas Road Baptist Church.
In the Times's"Lessons" column, Richard Rothstein writes,"We should adopt the creationists' approach [to teach evolution as theory, not fact]. Indeed, if we dismiss claims that evolution is only theory, it shows how poorly we learned science in school." Rothstein believes that evolution is the simplest explanation of the evidence."Adults do not need to know details about evolution, like whether Australopithecus preceded Homo habilis. But with good science education, all would appreciate that evolutionary theory is based on gathering evidence, recording, categorizing and summarizing data."
Related Elsewhere
See our past Weblogs: June 7 | 6 | 5 June 2 | 1 | May 30 May 26 | 25 | 24 | 23 | 22 May 19 | 18 | 17 | 16 | 15 May 12 | 11 | 10 | 9 | 8 May 5 | 4 | 3 | 2 | 1 April 28 | 27 | 26 | 25 | 24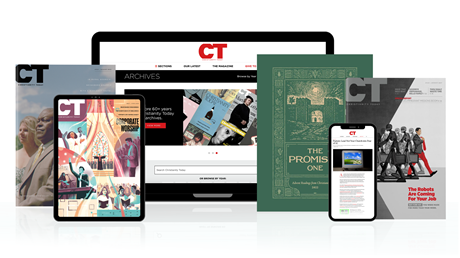 Subscribe to Christianity Today and get access to this article plus 65+ years of archives.
Home delivery of CT magazine
Complete access to articles on ChristianityToday.com
Over 120 years of magazine archives plus full access to all of CT's online archives
Subscribe Now
Read These Next
Trending

Died: Pat Robertson, Broadcast Pioneer Who Brought Christian TV to the Mainstream

With CBN, "The 700 Club," Regent, the Christian Coalition, and a run for president, he changed evangelicals' place in public life.

FrançaisIndonesianрусскийУкраїнська

From the Magazine

When Politics Saved 25 Million Lives

Twenty years ago, Republicans, Democrats, evangelicals, gay activists, and African leaders joined forces to combat AIDS. Will their legacy survive today's partisanship?

Editor's Pick

PCA's 50th Anniversary Comes During a Season of Grief

Presbyterians expect less fight and more fatigue as they gather following the Covenant shooting and the deaths of Harry Reeder and Tim Keller.
When It Comes to Influencing the Media Money Talks
When It Comes to Influencing the Media Money Talks