The Belleville [Michigan] Church of God youth group is "desperately trying" to find a wife for its pastor, Doug George. "I'm definitely lonely," says the 32-year-old George, who's grateful for the efforts. "She could be any race, nationality and even have children. As long as she's a good Christian, it doesn't bother me. I'm tired of the dating game, and I just want to meet somebody I can be with." Well, with lines like that, it's a wonder he's still available.
The Christian Defense Coalition says its freedom is violated by rules prohibiting signs larger than 4 feet by 4 feet. "It is an unconstitutional regulation against free speech on what should be the most hallowed sidewalk in the nation," says Patrick Mahoney, the organization's leader. Supreme Court Police say huge signs are dangerous because they block officers' vision, and could be used as weapons. What do you suppose the chances are of winning a case against the Supreme Court?
This time gunning for controversy and the inevitable fame that comes with it is actor and director Steven Berkoff, whose "Messiah" plays at the Edinburgh Fringe Festival in August. Berkoff's Jesus is a womanizer who sleeps around while preaching revolution. "When you do an analysis of world leaders, dictators, revolutionaries, radicals, religious leaders, all have been womanizers, all of them—Che Guevara, Fidel Castro, Martin Luther King," Berkoff explains. "He probably had women in every town." And the resurrection, he says, was supposed to be a trick: "He doesn't want to die, he wants to be crucified, he wants to pull off the act – and then be taken down and recover."
The very aggressive denomination (which believes it is the lone "faithful remnant" church and rebaptizes Christians from other denominations) has run afoul of colleges and universities in the U.S. Now it's being strongly criticized for its same tactics in British schools. See Christianity Today's 1997 article about the ICC here.
"The words 'sermon' and 'dull' have come to mean the same thing and yet Scotland once had a proud tradition of excellent preaching," says Andrew McLellan, the new Moderator of the General Assembly of the Church of Scotland. "They were known for their rich content and merry approach and I want to replace that great national strength."
"The church must continue to press this image of family as two parents loving each other and as a result of that love bearing children," said William Walsh, the Roman Catholic Bishop of Killaloe, at a Catholic Marriage Care Services conference. "That is the ideal and will continue to be the ideal. The reality of life, however, is that families come in all shapes and sizes. … I do believe that the manner in which we have treated some people in the past has been less than Christian—and for this I ask for your forgiveness."
"Congress is currently considering no fewer than 10 bills that would channel more federal money to faith-based groups to fight everything from homelessness and youth violence to teen pregnancy and cocaine addiction," reports the front page of The Christian Science Monitor. But charitable choice will be tricky, the article says. Getting the faith-based organizations and government officials to understand what's OK and what's off limits has nightmarish potential. "You have got to walk on egg shells, because it could change the mission of what your organization is trying to do," says Robert Polito, who runs a drug recovery program funded by faith-based groups and government bodies.
Audio Adrenaline, Bleach, and other Christian rock bands have launched from the diminutive school of 564 students. Now the school is attracting other wannabe rock stars. "They come here because of the reputation the school has," says a Kentucky Christian College senior who, yes, plays guitar in a Christian rock band. "Guitar players, bass players and drummers are a dime a dozen around here." (See ChristianityToday.com's earlier article on Greenville College's Contemporary Christian Music major.)
John Roger Capelli, pastor of Faith Fellowship Church in Deltona, Florida, is doing (in the words of The Orlando Sentinel), "his best to beat the hell out of somebody." He's one of the contestants in a Toughman boxing contest. "For the people who might not otherwise listen to a preacher, I can get their attention. Once you get that, you give them the message." Apparently he's very, very good. Still, it doesn't sound as strange as the "Tough Guy Christ" contest earlier this year in England.
"After hibernating for several years, [the notion that unborn babies deserve the same legal protections as children] is creeping back into view across the country, with a rash of women being charged criminally, or having their babies taken away from them, because they took drugs while pregnant," writes Vince Beiser of Mother Jones. "The trend is deeply alarming to women's rights advocates and health-care workers, who warn that such a heavy-handed approach will only deter drug-addicted mothers-to-be from seeking out prenatal care. Moreover, many warn, such tactics may be paving the way for abortion—the ultimate violation of 'fetal rights'—to legally be declared murder."
See our past Weblogs: June 22 | 21 | 20 | 19 June 15 | 14 | 13 June 9 | 8 | 7 | 6 | 5 June 2 | 1 | May 30 May 26 | 25 | 24 | 23 | 22 May 19 | 18 | 17 | 16 | 15 May 12 | 11 | 10 | 9 | 8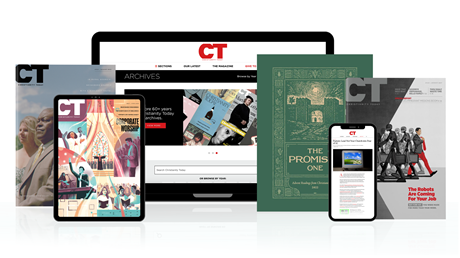 Subscribe to Christianity Today and get access to this article plus 65+ years of archives.
Home delivery of CT magazine
Complete access to articles on ChristianityToday.com
Over 120 years of magazine archives plus full access to all of CT's online archives
Subscribe Now
Single White Christian Youth Group Seeks Wife
Single White Christian Youth Group Seeks Wife