Yesterday: How Muslims See Christianity | Many Muslims don't understand Christianity—especially the idea of salvation by grace through faith.
Tuesday: Islamic Fundamentals | Christians have a responsibility to understand our Muslim neighbors and their beliefs
Monday: Islam, U.S.A. | Are Christians prepared for Muslims in the mainstream?
God-fearing Muslims from every corner of the earth are moving into American neighborhoods. Are we ready to welcome them and tell them the truth about Jesus? This week at ChristianityToday.com, we take a look at the basics of Islam, how Muslims view Christianity, helpful models for relating to Muslims, and how to engage our Muslim neighbors boldly and lovingly.The South Asian Friendship Center is a bookstore in the heart of a Muslim business district in Chicago. (More than 400,000 Muslims live in Chicago.) The shelves are lined with books in Urdu (the language of Pakistan), Arabic, and English with author names like J. I. Packer and John Stott. The center makes no apologies for its overt Christian beliefs.

SAFC, a multidenominational effort of many area churches, opened in September 1997 and carries out a fourfold vision.First, SAFC's bookstore is a legitimate business. A "mini-Borders" for Asians, it is a haven where people can read and relax on a couch or other chairs, nibbling on free cookies and sipping
chai
(Indian tea). SAFC sells Christian literature, books, videos, and cassettes at reasonable prices—and often gives these items away.Second, SAFC strives to serve the community by offering tutoring in English as a second language; after-school homework help; classes in Hindu and Urdu; help with immigration issues; legal counsel; home visitation; and medical help.The third aspect of SAFC's vision is what staff members call passive evangelism: "People come to us and we pray with people unashamedly in the name of Jesus," says Roy Oksnevad, director of training and development. He describes how one Muslim man desperately needed a job. SAFC workers asked if they could pray for him in Jesus' name. "I really like this place," the man said before he left. "You are our friends."Fourth, SAFC trains students, missionaries, and churches that want to develop similar ministries. The SAFC sponsors weekend "vision trips" for people to learn about the center and visit a mosque or Hindu temple to expose them to the need. The SAFC also will send staff members to speak in churches."In this country, I'm not worried about what Muslims are doing," says SAFC director Sam Naaman. "I know what they are doing. They are active—far more active than we Christians are."That's why we started the center. We have to be out on the street. These people who are passing by and see the Scripture portions from the door, they cannot say when the Lord comes, 'I didn't know about Christianity.' "Naaman is worried, however, about what Muslims are doing in his home country, Pakistan. When his father was actively distributing Christian literature and evangelizing, people threatened to harm his family or to kill him if he did not stop. "My father was [once] a fundamentalist Muslim who fought for Islam. It was not easy for him to get scared by these threats," Naaman says. "But I think he underestimated the threat."Muslims killed his brother Obed, 26, in 1990. "It was very unexpected. He was a devout born-again Christian who wanted to serve the Lord in our country." The death of his brother plays a major role in Naaman's motivation to minister to Muslims today. "When the best thing you have is taken from you—you ask yourself,
What else is there to give up for the Lord?
A brother is like your arms. His sacrifice will never be in vain. Once you have given up everything for the Lord, I don't think anything can stop you."The SAFC incarnates key principles that apply to any Western Christian attempting to befriend Muslims.
These include:
Take the initiative. "If you want to encounter Islam, you have to go where they are. That's where we are going to face Islam—not in our churches, but on the street," Naaman says."My dream is to have a center like this in every city in the U.S." (SAFC has opened another center in New York and is working on one for Toronto.)
Be bold, yet loving, about our faith in Jesus. "Let's not be too humble. Let's not apologize for believing in Christ," Naaman says. "Let's stand very strongly on our faith and practice what we preach. With all due respect, the Western church is very naïve. You talk about contextualizing and befriending Muslims—and I have no problem with that—but I also know that Islam is a religion of power. You have to become strong—confront them in love—but be very strict that this is our faith and that Jesus is the only way. If that doesn't happen, we just make fun of ourselves."
Encourage Christian women to get involved. "Women will play a major role" in affecting Islamic cultures, Naaman says. "As a woman, you can go and enter the inner section of the house. You can have a cup of tea or you can cook with her. You can make conversation with her and she will open up to you." There is "a wall of genders in Islam," he says, which means that sometimes a Muslim woman can relate more closely to a Christian woman than to her husband. "Once the husband knows that you really care for his wife and that, as a Christian, you don't like the sin in American society then—boom—the bond is there. Once the bond is there, once he knows that you really take time, you will see—they will break down in tears and cry. You will get more dishes from her side than you can keep up with."The SAFC also serves as a new model for missions: using the gifts and talents of trained and seasoned missionaries here in the U.S. Some who serve at SAFC are former or retired missionaries who know the language of the community and understand the culture.David Echols, a former missionary to Pakistan, has joined with Sam Naaman to create an environment in which visitors feel comfortable. Echols is fluent in Urdu and understands the Asian culture. Naaman commands the respect of his fellow Asians and removes any sense of Western paternalism. But before all else, all attempts to engage our Muslim neighbors must begin with prayer."With the power of prayer, action should come," Naaman says. "Prayer will take us to the next level."
SMALL STEPS
Americans have their own cultural baggage to overcome. "We are going to have to confront our individualism and space issues," Naaman says. "For people who are going to reach Muslims, those are the things they are going to have to battle." We will also have to battle discouragement. "The only way they're going to find the truth is through individual relationships with Christians who take the time to care—and it's going to take a lot of time," says Kaye, the missionary. "I have heard it said that Muslims have to hear the gospel over 100 times before the truth of it sinks in. And they have to hear it from different angles, in bits and pieces, until all of a sudden the pieces start falling together. You have to wait for the chances to give them the gospel." Another temptation is to defend the gospel through discussion or argument alone. This frequently does not work with Muslims and often backfires. "They have to defend the honor of Islam," Naaman says.Kaye adds: "When you get into a conversation with a Muslim, you're better off not getting into an argument. They will win every time because Islam 'has all the answers.' It brags that it does. There's an answer for what to do in any situation."Effective evangelism among Muslims means incarnating the love of Jesus through friendship, patience, humility, and tenacity. "It comes down to our relationship with Jesus Christ," Kaye says. "That's the only thing they don't have."Where do we begin?"It is very easy for you to bake a tray of cookies," Naaman says. "Or take her to Wal-Mart. You will spend maybe a dollar on gas. Americans are very gracious. Once they know that this is the way, they will do it.""Muslim women don't want to sit in their homes and watch TV all day," Kaye says. "Many are lonely and homesick. The women are probably at home and might have trouble with English. They would probably be grateful for a Christian friendship."I came to realize that if I wanted to establish communication with my neighbor Hafsa, it was going to have to come from me. I would have preferred to stay in my house to pray about it, but the weight of conviction bore down on me. I put a gold ribbon on a coffee cake I had baked, walked up her front steps, and knocked on the door. Her son answered, but she was close behind. I introduced myself and handed her the coffee cake. "It's my grandmother's recipe," I said. She seemed pleased and surprised and apologized for not calling me.Hafsa told me how glad she was that my son was talking to Mousa about religion—given what teenagers could be talking about. She showed me a 3-D picture of Jesus and Mary she had hanging on her wall. "I believe in all of the Prophets of God. They are all from God," she said.We chatted about when she came to the U.S. from India, and how she once took a part-time job without her husband knowing it. "He speaks several languages—Arabic, Swahili, Zulu, Polish, and he's learning Spanish," she said.She gave me a book about Islam to read and I told her I would read it and get it back to her. She said she would like to have my husband and me over sometime for a meal, or for tea. I told her I would like that.It was a small step. But the small steps are going to make the difference.
Tomorrow:
How Islam is Winning Black America: An interview with apologist Carl Ellis.
Wendy Murray Zoba is Associate Editor of Christianity Today.
Related Elsewhere
Zoba earlier profiled Brother Andrew and his mission to Muslims. The article, " Brother Andrew's Boldest Mission Yet: 'Smuggling' Jesus into Muslim Hearts" and Brother Andrew's related article, " The Muslim Challenge," appeared in the October 5, 1998 issue of Christianity Today.The South Asian Friendship Center's Web site offers the basics: information about the center, a catalog for its bookstore, an article on Christianity in America, and a few local resources. Answering Islam is mainly a site designed to explain Christianity to Muslims. There's also a " For Christians" section that offers papers, books, and other free resources that help Christians share their faith with Muslims. Be sure to also check out the site's page of links to other Christian sites about Islam.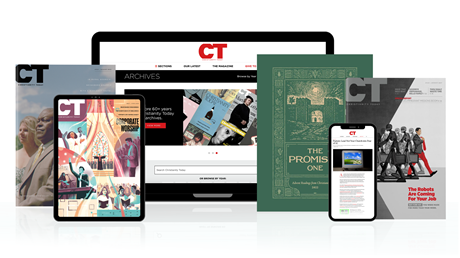 Annual & Monthly subscriptions available.
Print & Digital Issues of CT magazine
Complete access to every article on ChristianityToday.com
Unlimited access to 65+ years of CT's online archives
Member-only special issues
Subscribe
Engaging Our Muslim Neighbors
Engaging Our Muslim Neighbors