Media analysts have uncovered a new culprit in the growing culture of violence among American youth: professional wrestling. Long considered boorish and pretentious, televised wrestling is now regularly full of vulgarity, obscenity, and sexual innuendo. Critics say professional wrestling reinforces sexual and ethnic stereotypes and communicates to young people that violent, vengeful acts are morally acceptable. Also, commentators allege that televised professional wrestling has matched feature films and network television in arousing violent behavior in children, especially preadolescent boys. As professional wrestling has become a Goliath of mass-market entertainment, Christian groups have turned a critical eye on the industry, calling for advertiser boycotts, among other things. But new criticism has emerged from within the wrestling community itself. Two former professional wrestlers, both now Christians and active in sports ministry, have gone public with complaints about their former profession.
Not Proud of Wrestling
Heavy steroid use helped enhance the physique of "Superstar Billy Graham" en route to bodybuilding titles and then the World Wrestling Federation (WWF) championship in 1977. A 56-inch chest and 23-inch arms helped Graham, whose given name is Wayne Coleman, become WWF heavyweight champion, as he rode a flamboyant and arrogant persona to become one of the most despised "heels" in the business. (A heel is a wrestler who assumes a hateful personality in the ring.) But steroids took a toll, including the need for both hips to be replaced and Graham losing three inches from his 6-foot-4 frame because of degenerated disks in his back. Graham now refuses to watch WWF or its competitor, World Championship Wrestling (WCW), on TV.
"I stopped watching wrestling on Thanksgiving because they pushed the envelope too far," says Graham, now 56. "The shows are very degrading to women, there's foul language and gestures, and there's real strong sexual overtones. I decided I didn't want this stuff coming into my house, my eyes, or my mind. It made me physically ill to my stomach."
By the time he retired in 1989, Graham had lost his wealth, health, and zest for life. He contemplated suicide before rededicating his life to Christ in 1994, through the help of Christian friends. Today, Graham is active at Phoenix First Assembly of God's Athletes International Minis tries, an outreach to pro and college athletes and coaches.
Ted DiBiase, another former wrestler, first shared his testimony four years ago at an Athletes International conference. In his autobiography Every Man Has His Price: The True Story of Wrestling's Million-Dollar Man (Multnomah, 1997) DiBiase, 46, recounts how his ring identity as a heel affected his personal life. In 1992, with his marriage on the rocks, he cried out to God in desperation and repented. He now heads Heart of David Ministries in Clinton, Mississippi, and speaks to church youth groups, men's meetings, and prisoners about machismo and materialism.
DiBiase, who earlier managed "Stone Cold" Steve Austin, bemoans Austin's standard performances of guzzling beer, bellowing profanity, and flashing obscene gestures upon entering the ring. Austin also initiated "the gospel of Austin 3:16" after defeating a Christian wrestler who spoke about his faith in the Bible. "Austin 3:16 is blasphemy any way you look at it," says DiBiase, who notes that 6 million Austin 3:16 T-shirts have been sold in this country.
In talks at churches, DiBiase asks youths how many watch pro wrestling on TV. Dozens of hands go up. Cheers rise when he mentions that he managed Austin. But DiBiase sets them straight. "I'm not proud of wrestling," says DiBiase, who refuses to allow his sons to watch WWF shows. "It has taken the low road. There are no more heroes."
Lethal Consequences
There is tragic evidence that when young people imitate the antics of professional wrestlers, the consequences can be lethal.
Last year alone, a 12-year-old Florida boy was charged with murder in the death of a 6-year-old neighbor girl who was thrown into an iron stairway railing, a move he had seen on television. A 3-year-old Texas boy died after his 7-year-old brother put a so-called "running clothesline" move across his throat. And a 12-year-old boy in the state of Washington was convicted of second-degree felony murder after repeatedly body-slamming his 18-month-old cousin on a couch.
Steve Danish, sports psychology professor at Virginia Commonwealth University in Richmond, says children under 8 are unable to distinguish reality from fantasy when it comes to wrestling violence. "If they watch a movie on HBO they understand more quickly that that isn't real," Danish says. "But this is a 'sport,' and they probably don't see that this isn't real."
In the last ten years, professional wrestling on TV has moved from being low-budget and underproduced to being slickly produced and aggressively marketed. The result has been an enormous financial windfall for wrestlers and promoters alike.
The two rival leagues are in a prolonged period of one-upmanship. Media titan Ted Turner's organization operates WCW, while Vince McMahon Jr. and family, who have been involved in professional wrestling for three generations, run WWF. Americans with cable TV can watch wrestling five nights a week. Wrestling programs are often in the top ten of cable television ratings each week. Most carry a warning that the content is not appropriate for viewers younger than 14 because of violence, coarse language, and sexually suggestive dialogue.
UPN is the sole broadcast-only network to carry wrestling, and WWF Smackdown! is its most popular program. The two-hour Smackdown! began last August on Thursdays and now regularly draws more than 7 million viewers each week. Overall ratings have risen nearly 40 percent from last season.
CBS and Fox have shown interest in adding wrestling programs in the fall. NBC has formed a partnership with WWF to show games of McMahon's proposed XFL football league, scheduled to kick off next year.
The industry's flair for the theatrical backfired last May when Owen Hart, 34, plummeted 78 feet to his death when a cable lowering him for a grand entrance in the ring malfunctioned before 17,000 fans in Kemper Arena in Kansas City, Missouri. Matches resumed 15 minutes later after Hart's body had been removed and his blood was cleaned up. The WWF did not want to refund money because the event was part of a live pay-per-view broadcast, which regularly draws an audience of half a million at $30 apiece. Hart's widow Martha has filed a wrongful death lawsuit against the WWF.
Ten WCW or WWF wrestlers, ages 27 to 41, have died in the past seven years. Abuse of steroids and painkillers is reportedly widespread in professional wrestling.
Wrestlers Become Role Models
Gerald Durley, pastor of the 1,000-member Providence Baptist Church in Atlanta, home of Turner's wrestling empire, believes the images seen on TV wrestling can have a latent effect that lasts for years. "The violence is glamorized, whether it's a man taking a chair and breaking it over somebody in the ring, or he's running out beating up his girlfriend who has just paraded around the ring outside," Durley says. "Many times it's sublimated into the psyche. Children don't always see that's it different from playing war and using guns."
In his 13 years as pastor at Providence, Durley has been a community activist waging campaigns against everything from pornography to rap music because of their effects on young people. He sees a similar correlation with wrestling. "The dress patterns change, talking patterns change, relationship patterns change," Durley says. "Churches have a role of clarifying. Parents need to monitor what their children are watching."
Brent Bozell III, founder of the Los Angeles-based Parents Television Council, says Smackdown! attracts 1.2 million children under age 12. Youths exposed to such brutal and obscene fare week after week become desensitized, Bozell says. Educators have noticed more rude gestures, nasty talk, and wrestling moves that have harmed other students. Bozell believes such programming contributes to the culture of violence that has spawned shootings at several public schools in the past two years. "The overwhelming majority of parents have no clue just how offensive wrestling has become," he says. "These programs are going after impressionable youngsters with hormones." Danish says pro wrestling has a special appeal to young boys: "It reaches into their fantasies about being able to put someone down and have that person be begging or hurt."
Not Watching Is Not Enough
Tim Wildmon, vice president of the Tupelo, Mississippi-based American Family Association, says professional wrestling has never been a legitimate sport and it appeals to humanity's basic nature. "To cheer when one man hits another over the head with a metal chair is barbarism," Wildmon says.
New research backs Wildmon's views. A yearlong study conducted by University of Indiana telecommunications professor Walter Gantz of 50 WWF Raw episodes found 1,658 incidents of wrestlers grabbing or pointing to their crotch, 157 counts of an obscene hand gesture, 128 occasions of simulated sexual activity, 47 incidents of satanic activity, and 20 appearances of a character portraying a prostitute. Wrestling also reinforces stereotypes against African Americans. For instance, "The Godfather," who is black, dresses as a pimp surrounded by prostitutes, which he calls his "Ho Train." If he is defeated, his opponent supposedly takes the women from him for the night.
Durley, an African American, agrees that wrestling perpetuates ethnic and racial stereotypes. "Before the pimp images came out, they had one guy several years ago that was the African Zulu chief and the whole stereotype in terms of lips, in terms of bugging his eyes when he got ready to knock somebody down," Durley says. "Now they've shifted to an urban stereotype, with the drug-dealing, the gold chains around the neck, and particularly the white women that are around him."
Commercials about pay-per-view events, animated games, action figures, magazines, and videos are a big part of TV wrestling. Gantz found that the two-hour WWF Raw contained an average of only 36 minutes of wrestling. "Much of the time is spent developing the story line& amp;mdash;getting viewers to like or dislike the characters," Gantz tells CT. "Vince McMahon has done a marvelous job of marketing."
Thus, while the outcome of matches has been predetermined, the acting is no longer confined to the ring. The WCW hired two scriptwriters away from the WWF who admit they watch Jerry Springer's talk show for inspiration. The scriptwriters write lines for wrestlers to recite in the ring, in backstage dressing-room banter, even in car chases. Running story lines of feuds between the wrestlers and their women followers have included attempted rape. Threats of killing are common in the prematch rhetoric. Real wrestling is secondary and participants are not so much athletes as actors. "The images that pro wrestling projects are part of a larger cultural system of meaning regarding masculinity and femininity," says William D. Romanowski, professor of communication arts and sciences at Calvin College. "In this system men are supposed to be aggressive, dominant and in control. Women are portrayed as sexual objects under the control of men."
Romanowski, author of Pop Culture Wars: Religion & the Role of Entertainment in American Life, sees a link between steroid-enhanced wrestlers and the stronger levels of violence. "In professional wrestling, dominance and power links being a man with being abusive and violent," he says. "The increase in size, strength and muscularity that we've seen in pro wrestlers' bodies over the past three decades parallels other trends in American culture associating these physical traits with masculinity."
The one power that could derail wrestling's success is loss of sponsors and customers. The Parents Television Council led a campaign to pressure sponsors to quit advertising on Smackdown! By December, Coca-Cola, AT& T, the Army, Mars Candy, and Domino's Pizza had all withdrawn as advertisers. While Smackdown! is still violent, much of its sensuality and obscenity have been toned down. At least for the moment, the show carries a PG rather than a tv-14 warning.
Complaining consumers also motivated Wal-Mart to pull an action figure of wrestler Al Snow, complete with a severed head of a woman that reads "Help Me!" across the forehead. Snow carries a life-size mannequin's head into the ring as part of his act.
Sports psychologist Danish says the answer is not for parents to merely try to hide pro wrestling from their children, because they may watch it at the homes of friends. He advises parents to sit with their children and explain what is happening on the screen: that choking other people and hitting them over the head with foreign objects is wrong.
Danish says that while watching wrestling will not in itself desensitize people to violence, the programs uphold violence as an acceptable response. He says the programs also may reinforce "what may be happening elsewhere in that child's life," which might include chronic exposure to violence or discrimination at home or school.
Photography by Jeff Noble Studios
Related Elsewhere
The World Wrestling Federation (WWF) and rival World Championship Wrestling (WCW) both have homes in cyberspace. Earlier this year, Newsweekpublished an extensive report on the WWF.
Slam! Sports reports on the Christian faith of many pro wrestlers, commenting that "many wrestlers are religious and open about their faith." They also have a revealing interview with former wrestler Ted 'Million Dollar Man' DiBiase about his book, Every Man Has His Price, and his Christian faith. DiBiase's home on the Web is, of course, MillionDollarMan.com, which also has information on Heart of David Ministries.
A sermon posted on the Web site of a Pennsylvania church suggests that Jacob was the first professional wrestler.
Sports psychologist Steve Danish is featured in a recent Newsweek article about the dangers of pro wrestling for children. The Dallas Morning News reported on the death of a 3-year-boy from a wrestling move last year. Also last year, 20/20 looked at the increasing popularity and dangers of backyard wrestling. Critical assessments of pro wrestling can be found, for example, at ABCNEWS.com and FamilyEducation.com. Writing in New York Post, WWF head Vince McMahon called criticisms of pro wrestling "narrow-minded."
The Center for Media and Public Affairs sponsored a talk last fall titled "Violence in Popular Culture," which focused television violence, including violence on pro wrestling programs. Christian Parenting Today looks at how you can help your kids turn off trashy TV.
For a history of "real" wrestling, see the helpful article at Britannica.com.
Our digital archives are a work in progress. Let us know if corrections need to be made.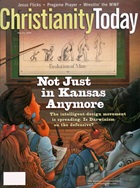 This article is from the May 22 2000 issue.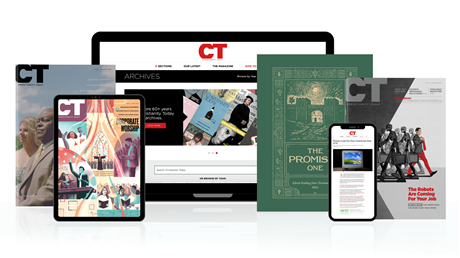 Find hope and historical insight. For a limited time, explore 60+ years of CT archives for free!
Daily devotions from Timothy Dalrymple during this pandemic.
Hundreds of theology and spiritual formation classics from Philip Yancey, Elisabeth Elliot, John Stott, and more.
Home delivery of new issues in print with access to all past issues online.
Join now and get print issues access to archive PDFs.
Redeemed Bad Boys of the WWF
Redeemed Bad Boys of the WWF