"We've never had as many people call or as many returns in the 22 years I've worked here," says the United States Postal Service's Cecile Sasso. He's talking about the 400,000 videos Campus Crusade for Christ mailed out to Palm Beach County residents over Holy Week. Some residents taped them to bricks and marked them "return to sender" so Campus Crusade would have to pay extra shipping costs.
The IRS was justified in revoking the tax-exempt status of a church that took out full-page newspaper ads in 1992 urging Christians not to vote for Bill Clinton, a federal appeals court ruled Friday. There are avenues for Christians—and even churches—to act politically, the court ruled (such as forming non-tax-exempt agencies), but directly participating in political campaigns violates churches' tax exemption. Branch Ministries was the first church to lose its tax-exempt status for political activity.
Though CBS banned iBelieve.com from advertising during Jesus: The Epic Miniseries (see our earlier ChristianityToday.com Weblog), local CBS affiliates (which control much of the advertising slots) have approved the Web site's spots for the Wednesday-night conclusion of the show.
"To see Jeremy [Sisto, who plays Jesus] up there, it doesn't matter what religion you are, it was absolutely devastating," says Debra Messing, who plays Mary Magdalene in Jesus: The Epic Miniseries and one of the leads in the NBC series Will & Grace. "We cried for three days." Three days, eh?
"Gimmicks sell. Remember the pet rock," writes Denis Hamill on the "Born Again Virgins" movement. "Like the Jimmy Swaggarts and Jim Bakkers, who cashed in on the Born Again Christian movement, the Born Again Virgins are zippering up the moneybags."
More than 33 million people received lodging, food and help from the Salvation Army last year—1.4 million people more than in 1998. "Amid the atmosphere of this robust economy, there are still millions of Americans in need," says John Busby, the Salvation Army's national commander. "Our greatest challenge is to continue to develop relevant programs and services that address the emerging spiritual, social and economic needs of our communities."
One of Scotland's earliest Christian artifacts is back in the country after up to 16 centuries of lying at the bottom of the North Sea. But even after being dredged from the ocean floor, the font wasn't recognized as the treasure it is: its previous owner was reportedly using it as a paperclip holder.
71-year-old Cardinal Giacomo Biffi says those who worry about the Vatican's wealth are suffering from misplaced bourgeois guilt: "That is a class that knows how to keep its own wealth and has all the best furniture in its homes but, to placate its guilt, proposes that the church should be more austere. Ordinary people are not attracted by this ideology. It's a bourgeois thing."
The United Methodist Church's General Conference approved a report saying that the Church of Jesus Christ of Latter-day Saints "is not a part of the historic, apostolic tradition of Christian faith." Mormon converts to Methodism, the report says, should be rebaptized.
Israel wants the Greek Orthodox Church to discipline archimandrate Atallah Hanna for asking Orthodox pilgrims to "support our Palestinian national struggle in its national aspirations." "He can express his own views," says a Greek Orthodox official.
Dan Savage, the gay sex columnist for Salon.com who "hatched a plan to infect the candidate [Gary Bauer] himself," pleaded not guilty to voter fraud Tuesday. He goes on trial July 24.
Related Elsewhere
See our past Weblogs: May 12 | 11 | 10 | 9 | 8 May 5 | 4 | 3 | 2 | 1 April 28 | 27 | 26 | 25 | 24 April 19 | 18 | 17 April 13 | 12 | 11 | 10 April 6 | 5 | 4 | 3 March 31 | 30 | 29 | 28 | 27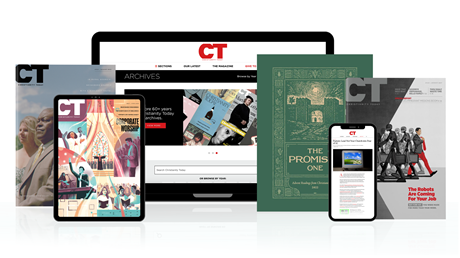 Annual & Monthly subscriptions available.
Print & Digital Issues of CT magazine
Complete access to every article on ChristianityToday.com
Unlimited access to 65+ years of CT's online archives
Member-only special issues
Subscribe
Jesus Returns in Florida
Jesus Returns in Florida