Dr Harry Goodhew, Anglican Archbishop of Sydney, head of Australia's most populous and powerful diocese, has accused the newly-elected primate of the Anglican Church of Australia, Dr Peter Carnley, of breaching church doctrine and betraying the church's belief in the significance of the resurrection and of Jesus Christ himself.At the same time, some clergy in Sydney, a conservative diocese with a strong evangelical influence, have called for a boycott of the installation of Dr Carnley as primate next Sunday, April 30. Dr Carnley is a leading liberal theologian who angered conservatives in 1992 when he ordained Australia's first women priests.In a statement published on his diocesan Web site this week, Dr Goodhew wrote: ''I take no pleasure in publicly stating my disagreement, but I consider that Peter [Carnley]'s treatment of material from the New Testament book of the Acts of the Apostles is unhelpful and misleading.'' He was referring to an Easter article published last week in a national magazine, The Bulletin, in which Dr Carnley rejected the suggestion that Christ was the sole path to salvation.However, in an open letter to Sydney clergy published April 26, Dr Goodhew said that he was "not planning to boycott next Sunday's service of recognition." Boycotting the ceremony would be tantamount to severing relations with the rest of the church, Dr Goodhew said, adding that "that is not something I wish to do at this point in time."Ironically, however, it is in Dr Goodhew's diocese—at St Andrew's cathedral in the heart of Sydney—that Dr Carnley will be installed, in the presence of clergy and laity from around Australia and abroad, including Anglican primates from the Asia-Pacific region and the United States. Dr Goodhew pointed out in yesterday's letter that the cathedral had been chosen for the service "well before it was known who would be the person elected to that office."He added: "We recognize that it may indeed be necessary at times to call the teachers of the church to account for what they teach and do, or do not do. If that is needed there are appropriate places for this to be done. In my judgment the service to recognize the person elected to be primate by due process is not that place."The row between conservatives and liberals in the Australian church, which has been raging for years, has been inflamed by the publication on his diocese's Web site of Archbishop Goodhew's views on Dr Carnley's Easter article.Dr Carnley, who is also Archbishop of Perth, said the call for boycott was ''a deliberate ploy by a politically-minded group of conservative Christians''.''They are trying to suggest their way of thinking is the only way of thinking, when in fact there is a huge diversity of views within the church,'' Archbishop Carnley told Australian Associated Press. ''I don't think we need to be dictated to by one group alone."Conservatives are particularly annoyed with the article that Archbishop Carnley published in The Bulletin. They claim that his views undermine the Christian faith. A letter being circulated among Sydney's clergy describes him as ''neither a shepherd of God's people, nor a defender of the faith''.''His election as primate is a matter of great sadness and deep concern,'' the letter says.One of those calling for the boycott, clergyman Deryck Howell, assistant minister at St Matthias's church in the Sydney suburb of Centennial Park, told reporters he had sent out 20 letters so far to fellow clergy.The rector at St Matthias's, Phillip Jensen, told the Sydney Morning Herald newspaper that Dr Carnley appeared to be offering ''a new religion, or a different religion … I won't be in Australia for the installation, but even if I were here I would not go.''In the magazine article, Dr Carnley admits that in the New Testament (Acts 4: 12) St Luke quotes the Apostle Peter saying that Christ is the only path to salvation. But, the archbishop adds: " … alas, when St Luke wrote that there is salvation in no one else, save Jesus Christ alone, he was not comparing Jesus with other alternative religious leaders and rival religious systems. Indeed, if he had a vague idea of the existence of India at the fringes of his world, he probably had no idea of the existence of China at all, let alone of the teachings of the Buddha or Confucius. Mohammed was, of course, yet unborn. The modern question of 'other religions' was for Luke miles away, centuries off."This prompted the Sydney diocese's media office, in a news release on its website, to accuse Archbishop Carnley of "saying that Buddha and Mohammed offer equally valid paths to salvation as Christ."In an article, published in The Age newspaper in Melbourne under the headline ''Where my brother bishop is wrong'', Dr Goodhew said Dr Carnley's views ''could be construed as flying in the face of the doctrine expressed in Article 18 of the Thirty-Nine Articles of Religion'', the basis of Anglicanism.''I want to commend Bishop Peter,'' Dr Goodhew said, ''for the emphasis he places on the role of forgiveness and for the many good things he says. I must, however, take issue with what I perceive, and I think many Christians will perceive, to be an apparent diminution of the uniqueness of Christ as Saviour of all humankind … ''I can understand how the Christian claim for exclusivity is galling to many. However, I do not accept my brother bishop's inference that those who hold that there is ultimately only one way to God, and that that God is the One who called Abraham and said he would bless the world through him, thereby isolate themselves from dealings with people of other faith communities. That is just not true.''This latest spat between liberal and conservative Anglicans highlights the deep rift in the Australian church.Dr Muriel Porter, a liberal Anglican academic who is also a member of the church's general synod, dismissed the row as a regrettable storm in an ecclesiastical teacup. ''The new primate's attackers are in the ascendancy in Sydney,'' she wrote in The Age. ''They promote a sect-like version of Anglicanism. Supported by their fundamentalist interpretation of the Bible, they peddle a narrow moralism and an exclusivist attitude to church membership.''But, she said, they were a minority in the Australian church.But James Murray, an Anglican priest who writes about religion for a national daily newspaper, The Australian, said Dr Carnley's primacy ''was never likely to gain universal acceptance … Those devoted to the integrity of the Bible texts have always seen him as a liberal threat.''From the moment of his election [as primate], evangelicals began targeting him on such subjects as homosexuality, gay relationships, drug reform and doctrinal daring," said Murray, referring to Archbishop Carnley's progressive views.''Australian Anglicans have never had a more controversial primate … What is certain is that neither side of the present debate will give up easily, if at all.''Copyright © 2000 ENI.
Related Elsewhere
See more coverage of the controversy in the Sydney Morning Herald, The Australian, and The Age.The Sydney diocese's Web site has Goodhew's response, a letter to the clergy in his diocese on the matter, and " A background news article for overseas visitors" that will be very helpful for American readers.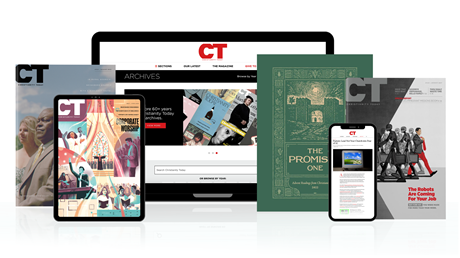 Annual & Monthly subscriptions available.
Print & Digital Issues of CT magazine
Complete access to every article on ChristianityToday.com
Unlimited access to 65+ years of CT's online archives
Member-only special issues
Subscribe
Australian Archbishops in Public Row over Christ's Role
Australian Archbishops in Public Row over Christ's Role