John Shelby Spong, the retired Episcopal (Anglican) bishop whose name has become synonymous with "controversy" because of his radical views, is to write a column on religion and sexuality for a new Web site—theposition.com—which is now under construction and due to be launched June 5. Bishop Spong, whom one New York tabloid newspaper has already dubbed "the Bishop of Cybersex," will argue in his first column that the Ten Commandments were written, in part at least, to sexually repress women. The Web site magazine is "about sexuality, but it is not pornographic," according to a letter signed by the Web site's editor-in-chief, Jack Heidenry (a former editor at Penthouse and Maxim magazines), and emailed to Episcopal dioceses. "Our goal is to discuss all aspects of sexuality—political, cultural, artistic—in an intelligent, objective manner, in the same way that other magazines devote their contents to the discussion of politics, the arts, religion, and so on." The site will be owned by the forthcoming Museum of Sex. Bishop Spong will join a line-up of prominent public figures, such as American Civil Liberties Union president Nadine Strossen and Pulitzer Prize-winner Richard Rhodes, contributing to the Web site. Now a guest lecturer at Harvard University, Bishop Spong told Associated Press that his column was designed to seriously address issues of religion and sex. "I'm a little bit concerned that some people are treating this as some sort of salacious thing," he said. "It's an attempt to discuss sexuality in a serious way."On May 21, 60 Minutes, a popular television news program, devoted a 15-minute segment to Bishop Spong, who retired as Bishop of Newark, New Jersey, in January after 24 years, but continues to stir debate with almost every word he says in public.The segment featured Bishop Spong's role as an iconoclast well known for criticizing views sacred to traditional Episcopalians and many other Christians.Raised a fundamentalist in North Carolina at a time when the Bible was quoted to justify segregation of the races and opposition to America's civil rights movement, Spong once said that he had grown up a racist, chauvinistic, homophobic, anti-Semite. But eventually he came to believe that "an inerrant, literal view of the Bible obscures truth and destroys faith."As a radical prelate he has challenged traditional church doctrine on human sexuality, the Virgin birth, and the physical nature of Christ's resurrection. While many of the views he has held for decades are now acceptable to mainstream Christians—he defended African-American rights in the 1960s, and pushed for the ordination of women as Episcopal priests in the 1970s—some of his pet causes are still regarded by many as unacceptable. In 1987 he urged his church to recognize gay marriages, and in 1989 he shocked many Episcopalians by ordaining an openly gay priest, Robert Williams, who embarrassed Bishop Spong a few months later by disavowing monogamy. In the 1990s Spong condoned euthanasia.Bishop Spong told 60 Minutes that his former diocese now had 35 "out-of-the-closet gay and lesbian priests."David Gibson, religion reporter for the Newark Star-Ledger, a newspaper which has often reported on Spong's views, told ENI that the bishop's decision to write for an internet site was fitting with his nature and his self-defined ministry to reform his entire denomination."Spong is a controversialist, and he is open about that," Gibson said. "He wants to upend pre-conceived notions and start developing a new way of viewing Christianity. He also wants to reach people who don't come to church on Sunday. Hence, the Internet. So this really fits into what he has been preaching and doing all along."Gibson added: "He will undoubtedly be writing many of the things he has said before about the sanctity of pre-marital sex, homosexual relationships, the chauvinism of the Scriptures, and the like. But it is the context for his writings this time—a Web site that could be taken as pornography—that surprises me. He is a liberal, no doubt, and depending on what direction theposition.com takes, it may be interesting to see how his feminist allies react."Bishop Spong has written more than 15 books. Best sellers include Why Christianity Must Change or Die, and Rescuing the Bible from Fundamentalists.Critics have called him "hyper-liberal," "immoral," and "a heretical genius selling the wrong product."Bishop Spong could not be contacted by ENI for further comment.Copyright © 2000 ENI.
Related Elsewhere
More coverage of Spong's move to ThePosition.com is available from the Associated Press, the New York Post, The Scotsman, and The Telegraph.Spong is already a columnist for Beliefnet.Books & Culture, a Christianity Today sister publication, published an article titled "Why I Feel Sorry for Bishop Spong" in its January/February 1997 issue [print only].Jack Heidenry's letter to Episcopalian bishops is available online. It's a response to an e-mail by David Virtue describing Spong's new position at ThePosition.com.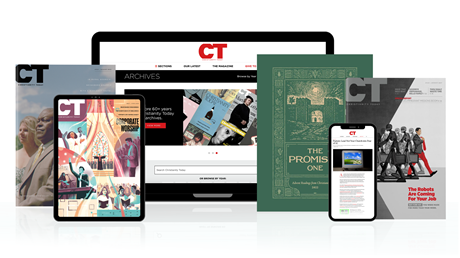 Annual & Monthly subscriptions available.
Print & Digital Issues of CT magazine
Complete access to every article on ChristianityToday.com
Unlimited access to 65+ years of CT's online archives
Member-only special issues
Subscribe
From Episcopalian Bishop to Cybersex Columnist
From Episcopalian Bishop to Cybersex Columnist