Jill Stanek was working the night shift in the labor and delivery ward at Christ Hospital in Oak Lawn, Illinois, when she happened upon another nurse hurrying to the ward's soiled utility room. The nurse was carrying a tiny, preterm baby boy diagnosed with Down syndrome. The boy had just been aborted during a not uncommon procedure known as "induced-labor abortion," or "live-birth abortion," in which labor is induced and a prematurely born baby is left to die. According to Stanek, the infant was about 22 weeks old, 10 inches long, and weighed only half a pound.
According to hospital policy, infants who survive abortions are supposed to receive the "comfort care" of being wrapped in a blanket and either held or placed in a warmer for the remainder of their short lives.
In this case, however, the parents did not want to hold the child, and the nurse told Stanek she was too busy to care for him.
Unable to bear the thought of the baby dying alone in the utility room alongside dirty instruments, trash, and soiled laundry, Stanek held the child and rocked him until he died 45 minutes later.
According to Stanek, such live-birth abortions, which the hospital refers to as "medically indicated pregnancy terminations," are most often used when a developing baby has been diagnosed with lethal abnormalities or a nonfatal but debilitating condition such as Down syndrome or spina bifida. During the procedure, a drug is used to dilate a pregnant woman's cervix, leading to the delivery of a preterm baby.
Stanek says her boss told her the hospital uses this method of abortion because it is "more humane" than other midterm abortion procedures, which involve dismembering the fetus.
But because the majority of the babies born during live-birth abortions do not possess sufficiently developed lungs, most suffocate, on occasion clinging to life for hours, she says.
Such cases have led to a bill before Congress designed to protect infants who are born alive or who survive abortion. Proponents say the legislation is necessary in light of court decisions this year that have taken a woman's right to abortion dangerously close to infanticide.
Stanek's story is not an isolated case. During a hearing held by the House Judiciary's Constitution subcommittee on July 20, Allison Baker, one of Stanek's coworkers, told of entering a utility room and finding a tiny infant lying naked on a metal counter. The 22-week-old preterm baby was "ex posed and breathing, moving [his] arms and legs." According to Baker's testimony, the baby was "visibly alive, and was gasping for breath."
After seeking out the baby's nurse, who told Baker she did not have time to care for the infant, Baker wrapped the baby and put him in a warmer, where he maintained a heartbeat for two and a half hours before he died.
Stanek tells of another member of the hospital's staff who found the body of a newborn in a garbage can inside a utility room. Also a victim of an induced-labor abortion, the infant had been wrapped in a paper towel and accidentally discarded. The tiny corpse fell out of the towel and onto the floor when hospital personnel were going through the trash.
Born nonpersons?
Stanek and Baker were among those who testified in support of the Born Alive Infants Protection Act (hr4292), which would establish that an infant "who is born alive at any stage of development" is a person for purposes of federal law.
The bill, passed by the House on September 26, defines "born alive" to mean that the baby has been completely expelled or extracted from the mother and shows such signs of life as breathing, a beating heart, and voluntary movement.
The definition would apply to any live, born baby, regardless of whether the baby is considered viable and regardless of whether the child survived an abortion.
"The point is, a child's status should not be affected by whether the mother wanted the child or not," says bill sponsor Rep. Charles T. Canady, a Florida Republican.
Recent court decisions prompted the legislation. In June, the Supreme Court struck down Nebraska's partial-birth abortion ban, essentially invalidating 30 other states' laws. A month later, a three-judge panel of the Third Circuit Court of Appeals struck down New Jersey's partial-birth ban, ruling that an infant who is killed during a partial-birth abortion is not entitled to legal protections because "[a] woman seeking an abortion is plainly not seeking to give birth."
"What was described in Roe v. Wade as a right to abort 'unborn children' has now been extended by the Court to include the violent destruction of partially born children just inches from birth," Canady told the Judiciary Committee July 26.
"If the right to abortion entails the right to kill without regard to whether the child remains in the mother's womb, it would seem to follow that infants who are marked for abortion but somehow survive have no legal right to appropriate medical care or to any care at all," Canady said.
While the bill would not mandate medical intervention or change the standard of medical care for nonviable infants, it would require that they receive basic comfort care. "Regardless of their stage of development, any child born alive is worthy of receiving care and comfort," Canady says. "No child should be placed in a metal sink or in the trash" and left to die.
But abortion supporters say the bill is really a deceptive political tactic, designed to erode abortion rights established in the Supreme Court's decision in Roe.
"It's a political move," says Marjorie Signer, a spokeswoman for The Religious Coalition for Reproductive Choice. The group, whose goal is to "ensure reproductive choice on religious and moral grounds," encompasses prochoice advocates from mainline Christian denominations and other religions.
Signer says that while she would "never argue that a [born] baby should be left to die," she believes the bill's underlying motivation is really to restrict abortions and redefine when life actually begins.
"This is why we have to oppose this kind of legislation," Signer says. "It's not about saving babies."
The measure has also drawn the ire of the National Abortion and Reproductive Rights Action League, which calls hr4292 an unconstitutional effort to "grant legal personhood to a previable fetus"—something the bill's supporters do not deny.
"If the 'fetus' is outside the mother and is breathing and has a heartbeat, then yes it does [have viability]," says Douglas Johnson, legislative director of the National Right to Life Committee. While the bill does not specifically address viability, Johnson says, its passage could mean that a specialist would need to assess some of the babies who survive abortions to see if they are in fact viable.
The infanticide caucus
Stanek says she knows of at least one case at Christ Hospital in which a premature baby who was healthy and showed signs of thriving was allowed to die.
"What's so upsetting is that no one specialized in neonatal care is being called in to evaluate them," she says.
Most of the time, she says, doctors aren't present for such abortions and the procedure is performed by an obstetrical resident. While most of the babies who survive these abortions die within three hours, Stanek says in some cases they have lived much longer. One premature infant maintained a heartbeat for nearly eight hours. Another was born weighing almost two pounds, much larger than expected. Stanek believes that if more babies were evaluated for viability, there would be a good chance that at least some could survive.
Despite the bill's overwhelming 380 to 15 House passage, it is unclear whether there will be enough momentum to pass the bill in the Senate, where abortion-related measures typically encounter more resistance. While Senate Majority Leader Trent Lott (R-Miss.) has indicated that he will give the bill priority status, it is likely the measure will suffer the same fate as other currently stalled prolife bills.
Indeed, several senators have made clear that they are willing to extend abortion rights to include the elimination of already born infants. Referred to by Newsweek columnist George Will as the "Infanticide Caucus," this group includes Sens. Russ Feingold (D-Wis.), Frank Lautenberg, (D-N.J.), and Barbara Boxer (D-Calif.). During Senate debate on partial-birth abortion, Boxer would not definitively agree that a born child is protected by the Constitution and cannot be killed.
According to constitutional scholar Robert P. George, who teaches political philosophy at Princeton University, the intellectual groundwork justifying infanticide is already in place. In his testimony before the Constitution subcommittee, George quoted his Princeton colleague Professor Peter Singer and American University Professor Jeffrey Reiman, both of whom have claimed that newborn infants do not qualify as "persons" with constitutional protections.
Reiman claims that newborns do not "possess in their own right a property that makes it wrong to kill them," and predicts that "there will be permissible exceptions to the rule against killing infants that will not apply to the rule against killing adults and children."
Silence in the OR
But the legal and philosophical arguments for and against the personhood of infants often pale against the experience of bringing to term a child whose life expectancy is measured in minutes. Even a short life is a precious one that deserves protection and care.
Two years ago, Elaine Canaan found out that the baby she was carrying had a rare genetic deformity. Called thanatophoric dysplasias, the condition is a form of dwarfism that causes a baby's limbs to be abnormally short. The condition is fatal because the rib cage does not grow to accommodate the lungs.
At the time of the diagnosis, Canaan was 17 weeks pregnant, still under the cutoff for legal abortion under Georgia law, which allows abortions through the second trimester. Canaan says that after discussing the details of an induced-labor abortion with her doctor, she decided to make an appointment.
"We were very angry at this point—angry at God, angry at everyone," she says. "We just couldn't believe it."
The oldest of her two sons, Austin, had earlier been diagnosed with Type 1 diabetes and is insulin-dependent. "We felt like we had taken our lumps in life," Canaan says.
But after she decided to have the abortion, Canaan says, "slowly but surely, the Holy Spirit started pounding on us." Obstacles kept arising, she says, that made her wonder if she was doing the right thing. Her choices were bleak—"carrying a baby to term knowing I would have to have a C-section, and she was going to die, or having an abortion and having to deal with it."
Canaan's father encouraged her to make a list of pros and cons, she says. "I sat down on the steps on the front porch and started writing the list. As I was going through the list, the pros of keeping the pregnancy kept getting longer and longer, and by time I got to end of the list, I was sobbing. I knew what I had to do, and I didn't want to do it. I thought of Jesus in the Garden of Gethsemane, when he asked three times for God to take it from him." That night, when Canaan's husband came home from work, he told her he didn't feel they should go through with the abortion.
"We cried, because we had both come to the same place at the same time," Canaan says. The pregnancy was full of difficult moments, but Canaan says the hardest part came when her daughter was actually born.
"After they pulled her out, the OR was completely silent," Canaan says. "There was no sound. They didn't know what to say. She did not cry, and all you could hear was me, weeping. The neonatologist handed her to Tom, who held her up to me, and I just kept sobbing and saying, 'I'm so sorry.' She opened her eyes once, and Tom got to see her open her eyes."
The baby was placed on Canaan's chest. With her baby "all swaddled up, you couldn't tell anything was wrong," Canaan says. There the baby stayed until she died 90 minutes later.
During the time their baby was alive, Canaan and her husband baptized her and took a few pictures. After she died, they dressed her in a pink smock dress and said goodbye.
"Looking back, I'm very glad I didn't go through with the abortion," Canaan says. "Even though my heart is heavy from missing her, I have no guilt. I know I did everything I could for her, and now she's at peace in heaven."
Canaan says that despite her little girl's affliction and short life, "We always treated her as if she was a person. In fact, we sent out announcements."
The announcements read:
"Elaine and Tom sadly announce the birth and death of their daughter, Mary Katherine, March 17, 1999, 6 lbs., 11 oz. and 16 inches. Austin and Andrew will miss their little sister, but we will all hold her in our hearts forever."
Sheryl Henderson Blunt is a journalist in Alexandria, Virginia.
Related Elsewhere
Visit the Advocate Christ Hospital and Medical Center homepage.
The hospital was recognized two years in a row as one of the Top 100 hospitals in the nation by HCIA, a Baltimore-based health care information company, and The Health Network, an Internet and media company focused on health information. The awards were given in 1998 and 1999 before the live-abortion debate at the hospital came into focus.
Concerned Women For America ran an article about Christ Hospital in 1999.
Read "Live birth during abortion process inflames passions" from The Cincinatti Post.
Previous articles about abortion from Christianity Today include:
RU-486 Uncovers a Lie—And It's Not Just About Abortion | Think the abortion pill is indicative of postmodernity? You're wrong. (Oct. 2, 2000)
The Abortion Debate Is Over | Pro-lifers overestimated the average American's allegiance to logic. (Dec. 28, 1999)
Abortion Advocacy Overseas Restricted for First Time since 1993 | Only $15 million of $385 million family-planning budget to go to organizations supporting abortion (Dec. 15, 1999)
Partial-birth Abortion Ban May Go to Supreme Court | Differing appeals court rulings increases chances of forthcoming decision. (Dec. 11, 1999)
Abortion Is Not a "Necessary Evil" | Why Americans oppose abortion but want to keep it legal. (May 24, 1999)
Abortion's Untold Story | How journalist Cynthia Gorney has helped both sides of the abortion debate to view the other side honestly. (April 27, 1998)
Have something to add about this? See something we missed? Share your feedback here.
Our digital archives are a work in progress. Let us know if corrections need to be made.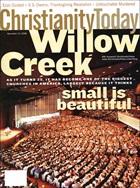 This article is from the November 13 2000 issue.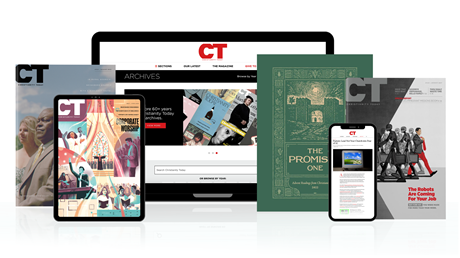 Annual & Monthly subscriptions available.
Print & Digital Issues of CT magazine
Complete access to every article on ChristianityToday.com
Unlimited access to 65+ years of CT's online archives
Member-only special issues
Subscribe
Read These Next
Trending

American Christians Should Stand with Israel under Attack

While we pray for peace, we need moral clarity about this war.

From the Magazine

Frozen Embryos Are the New Orphan Crisis

More than a million unused IVF embryos are in cryostorage. Are they the next pro-life frontier?

Português

Editor's Pick

Don't Miss These African Christmas Hits

Jam out this season to highlife, Afrobeats, jazz, a cappella, R & B, rap, dance, and hip-hop artists from Nigeria, South Africa, and more.
Lives Measured in Minutes
Lives Measured in Minutes