Dutch parliament approves euthanasia
A bill legalizing mercy killing and doctor-assisted suicide overwhelmingly passed through the Dutch parliament yesterday, by a vote of 104-40. The New York Times notes that both are "already widely accepted" throughout the country: 2,216 patients were reported as killed by their doctors in assisted suicide cases last year, but because the procedure was officially illegal, many went unreported. The New York Times says the actual number is around 5,000. The BBC adds another statistic: more than half of Dutch doctors have performed a "mercy killing." Though there are many stipulations in the bill—the doctor must know the patient well, must be convinced the request is voluntary, etc.—the patient doesn't have to be terminally ill to be killed. And children as young as 16 may request assisted suicide without their parents' knowledge. (An original draft of the bill put the age of consent at 12.) The International Herald Tribune, BBC, and others note that the only opposition to the bill came from Christian political parties and the Roman Catholic Church. "Only God can decide when life ends," Calvinist Party leader Menno de Bruijn told his colleagues in Parliament. "Already many old and lonely people are made to feel there is no point in living, now those suffering from dementia will be at increased risk of having others decide on whether they live or die." Following the vote, the Vatican immediately released a statement. "It is a very sad record for the Netherlands to become the first to want to approve a law that goes against human dignity," said spokesman Joaquin Navarro-Valls. See more news links at Yahoo's full coverage area.
Tufts students protest decision not to ban Christian group
About two dozen students at Tufts University "beat pots and pans and thumped on drums … chanted against the president and hung heart-shaped signs" in the college's undergraduate admissions office yesterday, according to The Boston Globe. The members of Tufts Students Against Discrimination (TSAD) are upset that the school's student judiciary ruled that Tufts Christian Fellowship, a chapter of InterVarsity Christian Fellowship, should remain recognized and funded by the school. The students, apparently still in the building, said they aren't leaving until the school issues regulations barring funds and recognition of any group that violates the school's discrimination policy (the judiciary ruled that Tufts Christian Fellowship did, in fact, violate the policy, and placed it on probation). This lengthy article in The Boston Phoenix, an alternative weekly, rounds up the history of the controversy. "It's a complicated case, and trying to understand it can seem like peeling an onion," the article begins. "One side has the Constitution behind it, specifically the First Amendments's right to the free exercise of religion and freedom of speech. The other is bolstered by local nondiscrimination laws. Yet the conflict between the two is so intricate that some gay-rights advocates have come out in support of evangelical Christians who disavow homosexuality. At the same time, religious leaders at Tufts … have thrown their support behind gay and lesbian students." The article does a fine job at discussing the issues at stake, but be sure to read Christianity Today's coverage here and here. (Expect to see more on the protest later today at the Tufts Daily site.)
Related Elsewhere
See our past Weblog updates:
November 28 | 27
November 22 | 21 | 20
November 17 | 16 | 15 | 14 | 13
November 10 | 9 | 8 | 7 | 6
November | 3 | 2 | 1 October 31 | 30
October 27 | 26 | 25 | 24 | 23
October 20 | 19 | 18 | 17 | 16
October 13 | 12 | 11 | 10 | 9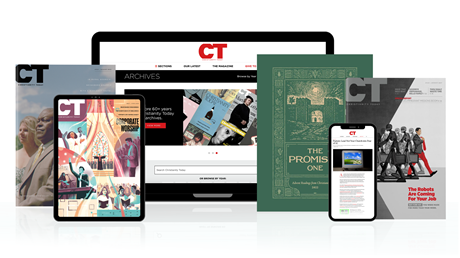 Subscribe to Christianity Today and get access to this article plus 65+ years of archives.
Home delivery of CT magazine
Complete access to articles on ChristianityToday.com
Over 120 years of magazine archives plus full access to all of CT's online archives
Subscribe Now
Netherlands Will Be First Country to Okay Physician-Assisted Suicide
Netherlands Will Be First Country to Okay ...