Six Turks and two expatriates have been charged by a Turkish court with opening a Christian training institute without legal permission. If convicted, they face a potential jail sentence of 18 months to three years.
The case was opened in response to a police raid last May in Istanbul's Avcilar district, where the eight Christians were arrested during a regular weeknight Bible study in their rented facilities registered as a place of worship. Those arrested and brought to trial included Australian Ian McLure and an American colleague.
According to the charges filed June 2 by State Prosecutor Hamit Atansay, the accused had violated articles 677 and 2911 of the civil administrative code, which require official permission to open any type of training institute.
As leader of the small Christian congregation, McLure was accused of renting a hall "to teach the other defendants the Christian religion and gather them on designated days of the week for religious worship."
All eight defendants were required by an official summons to attend the initial trial hearing held on September 9 at the Kucukcekmece Criminal Court of First Instance. After the first seven had corroborated their written testimony recorded during their May arrest, McLure was called before the judge.
"We were reading the Bible, praying and singing in our meetings," McLure testified, as recorded in the court minutes. "We were not involved in any other activities whatever. Nor did I open any kind of training institute."
When asked by the judge why he had failed to obtain permission for these religious meetings, as charged by the prosecution, McLure replied, "I gave official notice to the authorities, as required."
Under Turkish law, religious groups are required to inform local authorities of premises designated for religious worship, listing the days and times of regular meetings. McLure had sent this formal notification to the Avcilar Provincial District offices on January 16, 1998, and posted a copy of the document in the rented facility.
At the close of the September hearing, the judge ordered an investigation to confirm whether McLure's notification had been duly filed with the proper authorities. The next hearing was set for April 12 of next year, delaying a verdict on the case for another seven months.
According to Atilla Tanman, the lawyer representing McLure and his fellow defendants, his clients are not required to appear at the April hearing, which he expects to conclude the case.
Meanwhile, a separate court in Istanbul's Eyup district ruled on September 8 to dismiss charges filed by McLure against "misuse of authority" by the team of security police who disrupted their Bible study and arrested the participants. McLure accused the police of ongoing harassment and obstruction of the free practice of religious activities. Judge Ali Asker Kaza dismissed the case for lack of evidence.
McClure has also filed a separate case against the security police chief who had subjected him to physical and verbal abuse during the May arrest. A hearing on these alleged violations of Article 245 of the Turkish Penal Code is set for December 18.
In his official complaint submitted June 5, McLure noted that Security Police Chief Ahmet Erkut had struck him several times in the face until his lip bled, and cursed him repeatedly during more than an hour of questioning. An official doctor's examination corroborated McLure's injury.
According to defense lawyer Tanman, the police chief had also threatened that McClure would "never be allowed to carry out these worship meetings in such a way again."
Erkut had clashed with McLure a year earlier, when he ordered the Australian arrested along with a Turkish Christian for organizing a Christian book table at a local fair. Although the Australian was detained for two days, charges against him were dropped a week later. An English-language teacher from Sydney, McLure has lived in Turkey for the past 13 years.
"It seems that we are being subjected to persistent harassment, despite having done all we can to be open and legal about our activities," the American wrote in a letter about the case to U.S. Consulate officials in Istanbul.
Their defense lawyer agrees. "Mr. McLure had his freedom curtailed by the police because of actions that are not a crime under Turkish law," Tanman declared in a written statement after the May 24 arrest. "As a lawyer, I am very distressed to see the law ground under foot."
"In effect," McLure told Compass after the September hearing, "they have with these long legal delays denied us the use of our place of worship for nearly a full year." In addition, the authorities refuse to return the computer and boxes of Christian books and literature which were confiscated from the premises until the case has been resolved.
After making two representations to Turkish authorities about the case, the Australian government sent an officer from its Istanbul Consulate to observe the September court proceedings, also attended by a U.S. Consulate representative.
Australian Ambassador to Turkey Ian Forsyth made a third formal representation on the case to the Turkish Ministry of Foreign Affairs in Ankara on October 26. According to a letter from the Chief of Staff of Australia's Foreign Minister Alexander Downer dated November 1, the Australian government remains "concerned about Mr. McLure's allegations of brutality and ongoing harassment."
Copyright © 2000 Compass Direct
Related Elsewhere
Read Baker's story on McLure's previous run-in with the police chief.
Other Christianity Today stories on Turkey include:
Turkey Releases Jailed Christians After 30 Days | Witnesses admit gendarmarie pressured them to sign complaints (April 15, 2000)
Two Turkish Christians Jailed | Judge refuses bail during 'religious slander' investigation (March 13, 2000)
70 Christians Arrested While at Church (Nov. 15, 1999)
The U.S. State Department's Annual Report on Religious Freedom in Turkey gives more background on religious liberty in the country.
Recent media coverage of Turkey includes:
Turkish spy chief says he opposes hanging Kurdish rebel leader Ocalan—CNN (Nov. 28, 2000)
Turkish court acquits 15 torture victims of leftist propaganda—CNN (Nov. 28, 2000)
Turkey May Allow Kurdish Broadcasts—World News (Nov. 28, 2000)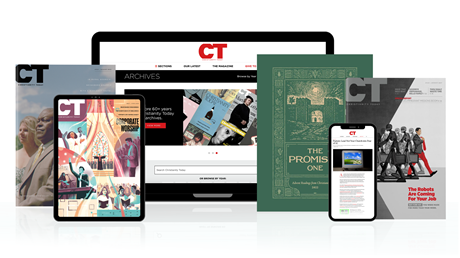 Subscribe to Christianity Today and get access to this article plus 65+ years of archives.
Home delivery of CT magazine
Complete access to articles on ChristianityToday.com
Over 120 years of magazine archives plus full access to all of CT's online archives
Subscribe Now
Turkish Christians Accused of Illegal Meetings
Turkish Christians Accused of Illegal Meetings