Sorry we called you a Nazi, Father
The story as it appears on The [Spokane, Washington] Spokesman-Review's Web site now seems pretty innocuous: "Jesuit priest promotes his book." But that's not the headline that ran over the 100-word story on Wednesday. Then it was "Nazi priest promotes his new book." The following day the newspaper apologized to the priest, Robert Spitzer, who is also president of Gonzaga University. (His book, Healing the Culture: A Commonsense Philosophy of Happiness, Freedom and the Life Issues, has nothing to do with Nazis, in case you were wondering.) The headline writer, a 24-year-old recent graduate of Gonzaga who had wrestled with Spitzer during her tenure, was asked to resign. (See a related article from the Associated Press.)
A dotted line in the sand
The Greek Orthodox Church has for months been fighting the removal of religious affiliation information on the country's identity cards. In the latest volley, Church officials are urging members to add the initials X.O. (for Christian Orthodox) after their name on the signature line. The chairman of Greece's Authority for the Protection of Personal Data called the plan absurd and says he has made clear to the ministry that regulates the cards that religious identification is not a valid part of a signature.
Norwegian missionary arrested in Nepal
Trond Berg, 36, faces up to six years in jail for attempting to convert a Hindu to Christianity. He denies offering the Hindu the equivalent of $535 to convert, but he was apparently carrying religious tracts. The Norwegian Foreign Office has hired a Nepalese lawyer to assist Berg. (See our earlier coverage of Christianity in Nepal and the U.S. State Department's report on religious freedom in Nepal.)
Just wait until there's a Pope John XXX
The Abbey Church of The Blessed Virgin Mary and Saint Sexburgha on the Isle of Sheppey in Kent, England, has decided not to play up its name on its Web site. Online it's now simply going to call itself Minster Abbey. The reason? Too many people might hit the site during searches for porn. "We are the only church dedicated to Sexburgha and we are proud of it, but we did not want her name to cause problems," says Canon Gilbert Spencer. Pardon one obvious question: Why wouldn't the church want to attract people searching for porn?
Arts & Letters Daily's most controversial link
Those readers who enjoy the Christianity Today Weblog would probably also enjoy Arts & Letters Daily, one of the most popular Weblogs on the Internet. The site's editor, Denis Dutton, was recently interviewed by Salon.com and asked, "What has been the most controversial piece you've linked to?" His reply? "A couple of times when we had some pieces that were excellent, sober, scholarly articles from the magazine Christianity Today, these seemed to get up some readers' noses. People who wouldn't think twice about something out of Commentary were objecting that we were publishing out of Christianity Today. They seemed to think we were somehow forcing religion down people's throats."
Related Elsewhere
See our past Weblog updates:
November 9 | 8 | 7 | 6
November | 3 | 2 | 1 October 31 | 30
October 27 | 26 | 25 | 24 | 23
October 20 | 19 | 18 | 17 | 16
October 13 | 12 | 11 | 10 | 9
October 6 | 5 | 4 | 3 | 2
September 29 | 28 | 27 | 26 | 25
September 21 | 20 | 19 | 18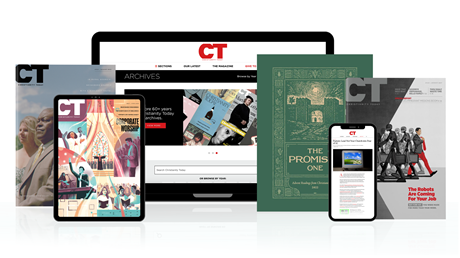 Subscribe to Christianity Today and get access to this article plus 65+ years of archives.
Home delivery of CT magazine
Complete access to articles on ChristianityToday.com
Over 120 years of magazine archives plus full access to all of CT's online archives
Subscribe Now
How to Get Fired In One Easy Step
How to Get Fired In One Easy Step