Dear Sisters and Brothers in Christ,
Salaam and grace to you from a troubled Jerusalem / Palestine in the name of our Lord and Savior Jesus Christ. Through your good persons, I want to greet all your churches/constituencies with God's blessings. Please do share this letter with them in order that you all together can act upon it. I herewith would like to update you about the recent occurrences/ developments as regards to the difficult crisis we are currently passing through.
The recent Arab Leaders' Summit came up with moderate decisions for the continuation of the peace process, but, at the same time, warning the Israeli government for its excessive use of force against the Palestinian civilians. In this regard, some practical measures have been taken as regards to the relationship of some Arab states with the State of Israel. These measures, however, might escalate, if the Israeli government continues to escalate the situation. They have also mentioned that peace must have substance, and must be built on justice. They reiterated the UN-resolutions pertaining to the Israeli - Palestinian conflict.
In fact, the Israeli government opposed these measures and answered with harsher measures against the Palestinian areas:
The closure is still clamped over the Palestinian areas. The Israeli authorities closed off the Gaza International Airport, and the borders to Jordan and Egypt.
The freedom of movement of people and goods is still restricted between the Palestinian cities. Many kinds of foodstuff are becoming rare on the markets. At the same time, the Israeli authorities are allowing only Israeli products to be sold in the Palestinian market.
The Palestinian industrial and agricultural products are not allowed to be transported anywhere.
Palestinian farmers are not allowed to reach their fields (mostly located in areas B & C which are under full Israeli security sovereignty) in order to pick their olive trees, where we have the best harvest since many years.
In the Bethlehem region, as well as in other Palestinian areas the hotels are totally empty - no tourists and pilgrims. It is worth-mentioning that the Bethlehem region is living mainly from tourism. Factories are also working in a 15% capacity.
Hospitals are lacking medical materials and equipment.
High unemployment is prevailing now.
The Christian schools are depending on tuition fees they cannot collect them at the moment. In consequence, they will not be able to pay the salaries of the teachers for some months, for example: the ELCJ schools will be in a serious economic situation to pay the salaries of our teachers for the next three months at least. This is very typical for all the Christian schools.
During the past days, Israeli army forces shelled with tanks, helicopters and automatic weapon residential areas in the town of Beit Jala, a Christian town, west of Bethlehem from Gilo, an Israeli settlement built on the lands belonging to Beit Jala inhabitants, causing injuries and huge damage in properties. Just yesterday, Israel's Jerusalem Mayor Ehud Olmert stated in the voice of Israel's morning radio-news journal that the night-time raid was a "proportional Israeli response" to the Palestinian shooting. It was according to Olmert, an insufficient response, because only a "disproportional Israeli response" could reach the aim of silencing the Palestinian uprising.
The shelling on Bethlehem area, especially in Beit Jala and Beit Sahouris paralyzing the life of Palestinian Christian towns. It is creating horror and terror in the hearts of the families. Our Church has a boarding section accommodating social cases. We had to transport foodstuff from Jerusalem, so that they can be fed and cared for. In addition, we have to treat the children psychologically. Our fear is that al these undue measures will force the Christians to emigrate due to the lack of vision for the future.
It seems that the present Israeli government is becoming more rightist and radical than anybody thought of. Or I can say, it is dealing with the present situation with a military, security perspective rather than apolitical security perspective. This is a frightful issue that leads our region to undue war, and to a growth of religious and political extremists, fanaticism, and fundamentalism. It seems that in these measures, Israel will be in isolation and the Palestinians under siege. Will then just peace ever be possible in such a formula?
This situation is causing psychological trauma that has effects on Palestinian children. During last Sunday school at our Beit Jala congregation, the Sunday school teacher told that children used to break crayons, reflecting their nervousness in class. On Monday, after the shelling of Beit Jala, the children suffered from headaches, diarrhea, dizziness, bedwetting, and other disturbed psychological behavior. For this reason we need now to start special psychological treatment for our traumatic children. We are crying as the Macedonian did: "come and help us". For this reason, I appeal to you:
To use your good offices to seek protection for us unarmed people. We call for international protection for the Palestinian people
To use your offices that all this spiral violence may immediately cease, and that negotiations between the two parties will soon start to find substantial solutions and implementation of the agreement signed and according to the international legitimacy, based on the UN resolutions.
To intensively pray for the Christian Churches in Jerusalem and their prophetic role for a lasting, comprehensive, just peace and reconciliation in our area.
To work with the all churches around the world that the rights of the Christian churches in the Holy Land will be secured and legislated in the constitutions of both Palestine and Israel.
To support the mission of the Church in education, diaconia, dialogue, and reconciliation. Our Christian schools are the haven to mold the Christian Palestinian identity, to teach equitable coexistence with the religions and nations and to promote peace education.
To do your utmost that neither the church schools, nor its institutions can be stopped or closed for any political situation or financial deficiencies, because the witness and the mission of the Church are very much needed, especially at this stage of history.
To form a delegation that will come and visit us and be in solidarity with us in such a terrible crisis, that we have never witnessed before.
As the Lutheran Bishop in Jerusalem, I appeal to you, as sisters and brothers in Christ: DO NOT LEAVE US ALONE. I call upon you to move from writing statements to incarnate your good ideas on the ground. The Christian Church in Jerusalem needs you, your solidarity and immediate actions at this special time for the continuation of God's mission in the land of resurrection. Please continue to pray for us.
Bishop Munib A. Younan,
The Lutheran Bishop in Jerusalem
Related Elsewhere
Recent media coverage of conflict in Israel and Palestine includes:
Clinton Meets With Yasser Arafat—Associated Press (Nov. 9, 2000)
Palestinians say state declaration not imminent—Gulf News (Nov. 9, 2000)
Arab boy haunts army from grave—The Guardian (Nov. 9, 2000)
Songs of Arab heroism reverberate in Mideast—CNN (Nov. 9, 2000)
The Palestinians' little bombers—The National Post (Nov. 9, 2000)
Barak dangles carrot of 'Palestinian state'—The Irish Independent (Nov. 9, 2000)
Mideast violence flares on eve of Clinton meeting—USA Today (Nov. 9, 2000)
Previous Christianity Today stories include:
Latin Patriarch tells Israel to Surrender Lands to Palestinians | Catholic leader says Israel will never have peace unless it "converts all of its neighbors to friends." (Nov. 1, 2000)
West Bank Squeezed by Warring Majorities | (Nov. 16, 1998)
Temple Mount on Shaky Ground? | (April 6, 1998)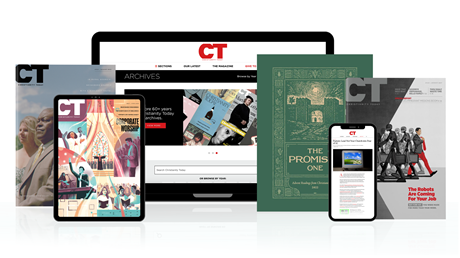 Annual & Monthly subscriptions available.
Print & Digital Issues of CT magazine
Complete access to every article on ChristianityToday.com
Unlimited access to 65+ years of CT's online archives
Member-only special issues
Subscribe
Lutheran Bishop's Appeal from Jerusalem
Lutheran Bishop's Appeal from Jerusalem