Often in this space we report bad news. Fundamentally, though, Christians are bearers of good news, to a degree that earned Nietzsche's contempt, so foolish did it seem to him, as it does to many today: shamelessly impotent in the face of the Real Truth, which is, we are assured, bleak indeed. Undaunted, we continue to hope for that grand restoration of all things promised again and again in the Bible.
Two splendid reminders of that hope came last week. The first was the launch of Brazos Press, marked by the arrival of review copies of the first three books to be published by this new house, a division of Baker Book House in Grand Rapids, Michigan. Brazos is a bold new venture, with ambitions suggested by its slogan, "The Tradition Alive." Here "tradition" means nothing less than the Church itself, engaged in a conversation that cuts "across the old lines of Protestant and Catholic, 'liberal' and 'conservative,' and mainline and evangelical." By "alive," we are to understand that Brazos is not interested in Christian antiquarianism that prides itself on its isolation from whatever is happening now, as "tradition" sometimes translates.
Baker is an evangelical publisher, and both Don Stephenson, Brazos's director of publications, and editorial director Rodney Clapp are alums of InterVarsity Press, but Brazos is pushing the evangelical envelope (as IVP itself has been doing with its Ancient Christian Commentary on Scripture).
The venture is not an exercise in flabby ecumenism such as was fashionable in the 1960s but rather an expression of the common hope that all confessing Christians share.
And then there was the wedding, on Saturday, October 28, of Ted Olsen, CT's online editor, and Alexis Beggs, whose work with Opportunity International has focused on microloans for women in the developing world.
The wedding was held at the Church of the Saviour, a United Methodist church in Cleveland Heights, Ohio, with the Rev. Marilyn Elise Coney, an African American woman, performing the ceremony. The service drew its elements from many streams of the Christian tradition: Church of Scotland, Episcopal, Roman Catholic, Evangelical Covenant, Church of South India, United Methodist, United Church of Christ, Canadian Anglican, Uniting Church in Australia, Lutheran, Moravian, Presbyterian.
But the effect was not eclecticism for eclecticism's sake; rather, a harmonious union of voices, richly textured. And isn't the union of man and woman in marriage very much like this, and don't both point to the union of Christ with his Church?
So we are back again to that discredited hope in which, as Christians, we stubbornly continue to invest, encouraged in our folly by such signs as these.
John Wilson is Editor of Books & Culture and Editor-at-Large for Christianity Today.
Related Elsewhere
Visit Books & Culture online at BooksandCulture.com or subscribe here.
Books & Culture Corner appears Mondays at ChristianityToday.com. Earlier Books & Culture Corners include:
Unintelligent Designs | Baylor's dismissal of Polyani Center director Dembski was not a smart move.(Oct. 23, 2000)
Books & Culture Corner: Crying About Wolfe | Is there a scandal of "The Opening of the Evangelical Mind"? (Oct. 16, 2000)
The Light Still Shines | A Harvard-sponsored conference looks at the future of religious colleges. (Oct. 9, 2000)
RU-486 Uncovers a Lie—And It's Not Just About Abortion | Think the abortion pill is indicative of postmodernity? You're wrong. (Oct. 2, 2000)
Pencils Down Part II | Think your vote matters? You poor, misguided fool. (Sept. 18, 2000)
Pencils Down, the Election's Over | According to political scientists, Al Gore has already won. (Sept. 11, 2000)
Humans and Other Animals | How much do we share with the birds of the air and the beasts of the field? (Aug. 28, 2000)
Cardinal Mahony's Baloney Sandwich | The public face of Catholic social teaching. (Aug. 21, 2000)
In Praise of Miscegenation | Racial categories don't mean what they used to. Hallelujah. (Aug. 14, 2000)
"Give 'Em Hell, Harry!" | Looking back at the 1948 presidential campaign. By Elizabeth Jacoway (Aug. 7, 2000)
Roaring Lambs | The Evangelical Culture of Euphemism, Part 3. (July 31, 2000)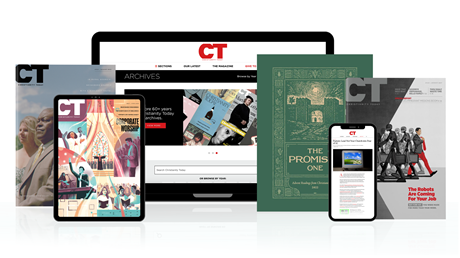 Annual & Monthly subscriptions available.
Print & Digital Issues of CT magazine
Complete access to every article on ChristianityToday.com
Unlimited access to 65+ years of CT's online archives
Member-only special issues
Subscribe
Three Books and a Wedding
Three Books and a Wedding