Concerned over continuing attacks on Christians and over the government's failure to take swift action to halt them, the heads of major churches in the Indian state of Orissa, where some of the worst attacks have occurred, have set up a group of young Christians "to peacefully confront attacks on the Christian community."
Church leaders in Orissa, in the east of India, stressed in interviews with ENI that the new Christian youth organization, Rashtriya Surakshya Vahini (RSV - National Safety Vehicle), will not be a vigilante group and will not resort to violence.
The establishment of the RSV was announced on October 22 by Roman Catholic and Protestant church leaders at a press conference at the Catholic archbishop's residence in Bhubaneswar, capital of Orissa state.
"Churches and Christians continue to be attacked. But the government is doing nothing to stop it," Ranjit Pradhan, a Baptist leader who played a key role in setting up the RSV, later told ENI.
Pradhan, who is president of the All Orissa United Christian Forum (AOUCF), said that initially the RSV would have five units, each with 100 young Christians as members, based in the troubled Kandhmal district of north Orissa.
Pradhan, who lives in the town of Udaigiri in Kandhmal, said that since April a total of 22 attacks on Christians by Hindu fundamentalists had been recorded in the region. The aim of the RSV was "to counter the RSS and others through non-violence."
The RSS - Rashtriya Swayamsevak Sangh - is India's leading Hindu fundamentalist organization. Pradhan said that the name of the Christian youth group had been deliberately chosen to sound "similar to RSS."
Four church buildings in Kandhmal (two Baptist and two Catholic buildings) were damaged in the first week of October. In mid-October a Catholic priest and his cook were critically injured in Beticola village in Kandhmal district when they were attacked in a church compound.
According to observers, the high percentage of Christians in the tribal region is at the root of organized attacks on Christian targets by Hindu extremist groups.
Though Christians number only one percent of Orissa's population of 35 million, Kandhmal, a district of mainly indigenous tribal people, is home to the biggest Christian community in the state. Kandhmal has a million residents, more than 20 per cent of them Christian.
Last year, the tribal region in north Orissa witnessed two the most serious anti-Christian incidents of the past decade: the murder of Australian Baptist missionary Graham Stuart Staines and his two young sons, allegedly by Hindu fundamentalists; and the murder of Catholic priest Arul Doss.
Raphael Cheenath, the Catholic archbishop of Bhubaneswar, told ENI that the RSV had been set up because "we are left alone, unprotected by the government". The archbishop, who is also an adviser to the AOUCF, said that the RSV "will never use violence or take up arms" in defense of Christian rights. He added: "We need better communication and coordination [among] churches to prevent these attacks."
A press release issued by the church leaders during the RSV launch said that Christians were concerned that "the minorities in the state [of Orissa] have completely lost their faith in the local administration, and have serious doubts about their sincerity and integrity".
"Those responsible in the administration for providing safety and security to the minorities have ultimately turned out to be tactful partners with these divisive [Hindu] groups," said the Christian leaders.
The statement added that the government officials and police officers who prevented Christians from setting up schools, hospitals and orphanages for poor tribal communities "in the name of communal harmony" were turning a blind eye to the hate campaign depicting Christians as "anti-nationals, foreigners, and elements of national discord".
Christians in Kandhmal were, Archbishop Cheenath said, "totally helpless."
Copyright © 2000 ENI
Related Elsewhere
Other media coverage of Christian/Hindu tension in India includes:
RSS call politically motivated, say Christian leaders—The Economic Times (Oct. 11, 2000)
Christians resent RSS chief's remarks—The Times of India (Oct. 10, 2000)
Indian Christians asked to have Swadeshi churches—The Business Recorder (Oct. 9, 2000)
Set up Swadeshi church, RSS chief tells Christians—The Economic Times (Oct. 8, 2000)
Previous Christianity Today articles about religious tensions in India include:
A Chinese Model for India's Churches? | No thank you, say Indian Christians to Hindu proposal for government church regulation. (Oct. 12, 2000)
Study of Indian Clergy Exposes Inequalities in Church Leadership | Many low-caste and rural Indians are Christians, but few have positions of influence within the church. (Oct. 9, 2000)
U.S. Religious Freedom Commission Criticized | Indian churches reject U.S. inquiry, but Pakistani Christians welcome it. (Oct. 3, 2000)
Plans to Resolve India's Interfaith Tensions Face Delays and Accusations | Did India's National Commission for Minorities plan a meeting to discredit Christians? (July 20, 2000)
India's First Dalit Archbishop Holds 'No Grudge' Over Predecessor's Attack | Once "untouchable" Dalits make up bulk of country's Christians. (May 11, 2000)
India's Christians Resist Move to Register Conversions | State's legislation unconstitutional, says leaders. (May 2, 2000)
Build Bridges, but Fight Fanaticism, India's Churches Told | National Council of churches in India will work against strengthening of caste system. (Mar. 9, 2000)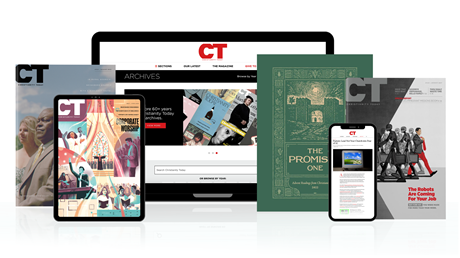 Annual & Monthly subscriptions available.
Print & Digital Issues of CT magazine
Complete access to every article on ChristianityToday.com
Unlimited access to 65+ years of CT's online archives
Member-only special issues
Subscribe
Indian Christian Youth Form Protection Group
Indian Christian Youth Form Protection Group