When Robin Haines Merrill visits the deserted streets of Ermita, the former site of Manila's notorious red-light district, she lingers over the shuttered bars, the closed storefronts where pimps and prostitutes used to stand, and the tiny park where once, not long ago, children could be rented for sex. The streets are virtually empty, the clients and the trade slowed to a bare minimum. For Merrill, the place holds many memories. Since her first glimpse of the Philippines in 1983, on a summer missions program, Merrill was drawn to Manila. "I could see that people had a great love of art, but there were also pressing spiritual and social problems," she says. After graduating from the California College of Arts and Crafts in Oakland, she determined to serve God in Manila as an artist. But a providential delay slowed her return.While on assignment as a photographer in Mexico City, Robin inexplicably developed an immune-deficiency illness. During a lengthy recuperation, she managed to pick up some Tagalog, the Philippines' official language, at Fuller Theological Seminary in Pasadena. Her zeal for missions in the Philippines was fueled by Fuller professor Tom Brewster, New Zealander Viv Grigg of Servants, and the Tottens of the Fellowship of Artists in Cultural Evangelism (FACE). Finally able to return to the Philippines, Robin—single at the time—stepped into the chaotic post-Marcos era. Robin recalls dodging bullets on the street. "I ran for my life," she says. "At one point I was hiding in a building behind some soldiers—and I didn't know which side the soldiers were on." Robin hid her camera, knowing that foreign journalists were prime targets. Later she put it to good use: the Ermita district became her subject."I drew upon my media training to document outreach work," Robin says about her work with Action International Ministries. "I found myself drawn deeper into the lives of some of these girls. I'd go into the beauty parlors to practice my Tagalog and build relationships." Posing as a photojournalist doing a sympathetic documentary on Ermita prostitutes, Robin struck up conversations with streetwalkers, gradually gaining their confidence. She quickly saw that the profession of these women was far from lucrative by Western standards, and much of what they earned went into the pockets of their pimps in ex change for board and lodging.Some of the women were Christians but trapped in their jobs. "I felt there were practical ways we could help these women leave their old lives behind," Robin says. Her initial conviction blossomed into the Christian Cultural Development Foundation (CCDF) and the Evangelical Coalition of Ministries among Prostitutes. "The Rosemary Fund," another CCDF-sponsored outreach, helps former prostitutes get education, train for a vocation, and discover ministry opportunities.One of Robin's earliest street contacts, Edith, is completing a biblical counseling course at the local seminary; she has already opened a halfway house for single mothers and their children. Robin, who met Edith over a decade ago on the streets of Ermita, supplies Edith's ministry with sewing machines, baby clothes, and assorted materials.Ermita's landscape changed radically in the early 1990s when a reform-minded mayor padlocked the bars and nightclubs. Joined by Youth With a Mission workers, Robin had prayed about the area. "We would have prayer walks, or 'Jericho Walks,' asking God to bring his light into that darkness and to tear down the strongholds," she says. "Through Mayor Lim's efforts, the very areas we prayed over were shut down; they remain closed to this day." Robin believes that Lim was not aware of Christian efforts in the city.
Providence again
By 1990 a second bout of typhoid fever sapped Robin's energies. Returning grudgingly to California to rest, she experienced another stroke of providence. Mark Merrill, a holographer and painter, featured her photography at First Presbyterian Church of Hollywood. Within a year of their first meeting, Mark and Robin married. Mark committed to Robin's overseas calling, and the two have been making art in Manila ever since, while raising their four-year-old son, David.To support Kanlungan Sa Erma, a shelter for Manila's street kids, and other projects, the Merrills sponsor cottage industries through CCDF's Mission Gifts branch. Six years ago, they hit on the idea of making a line of greeting cards using original work."The kids were taught to make paper from recycled newspapers by a government agency," she says. Mission Gifts markets the cards and a line of casual clothing manufactured by former prostitutes rescued by Robin and others.Mark and Robin frequently exhibit their art professionally. They witness covertly at their public exhibits, and the pieces they sell raise some funds for CCDF's ministry. Mark and Robin are active members of two secular arts organizations on the island, the Saturday Group and the Antipolo Thursday Artists' Group. Both groups host some of the Philippines' finest professional artists and mount major mixed-media events.In such contexts, they've witnessed some surprising conversions—like when a performer from Moscow's Bolshoi Ballet visited Manila. "Yuri [Vyskubenko] was hired by the Philippine Ballet Theater to teach for a year," Robin says. "During that time, someone in the 'biz'—a theater director, a woman he dearly respects—led him to Christ."The Merrills still need to dodge figurative bullets—like visa and work- permit crackdowns, floods, erupting volcanoes, intemperate landlords, and constant threats of robbery. Robin struggles with health problems aggravated by the area's toxic pollution.At times the Merrills are dismissed as "outsiders" by neighbors who link them to the island's colonial past. Sometimes it's Christians, some of whom fail to grasp the vitality the arts can inject into spiritual work."People ask me about 'using' the arts for ministry," Robin says. "I try to tell them I want the art to be art on its own terms, and then to let God use the art as art to open doors."For more about the Merrills' work as artists/missionaries, contact Artists in Christian Testimony, P.O. Box 385, Franklin, TN 37065; (615) 591-2598.
Related Elsewhere
E-mail Robin Haines Merrill , or contact Artists in Christian Testimony (ACT).The following Web sites offer a number of options for those seeking information about Christianity and the arts:Christians in the Visual Arts (CIVA) exists to explore and nurture the relationship between the visual arts and faith. Christian Realists is an online community of illustrators, writers, and musicians who believe in the integrity of art enacted through an honest commitment to Jesus Christ. The Spiritual Mind offers resources, projects and exhibitions for the Christian mind.Visit Crossing the Boundaries to experience a multidisciplinary art project with original poetry linked to visual assemblages. Image: A Journal of the Arts and Religion is a quarterly publication featuring short stories, essays, poetry, and art. Christianity and the Arts magazine recently won several awards from the Associated Church Press.Previous Christianity Today stories about the arts include:
He Made Stone Talk, March 6, 2000
Who Do Artists Say That I Am?, November 15, 1999
A Nation That Sang Itself Free, October 25, 1999
A Quaker at War with Himself, October 25, 1999
Constantine's Mother, August 9, 1999
Let's Get Physical, August 9, 1999
The Art of Being Christian, May 24, 1999
Gallery: Outside the Gate, April 5, 1999
Muddy Murals, February 8, 1999
The Calling of Elmer Yazzie, November 16, 1998
Unreached People Group: Classical Musicians, October 5, 1998
What the Hands Reveal, July 13, 1998
The Word Became Art, February 9, 1998
Arts Archives
Have something to add about this? See something we missed? Share your feedback here.
Our digital archives are a work in progress. Let us know if corrections need to be made.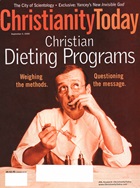 This article is from the September 4 2000 issue.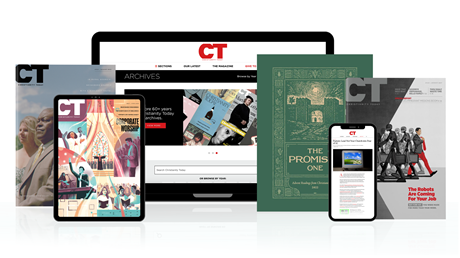 Annual & Monthly subscriptions available.
Print & Digital Issues of CT magazine
Complete access to every article on ChristianityToday.com
Unlimited access to 65+ years of CT's online archives
Member-only special issues
Subscribe
The Art of Dodging Bullets
The Art of Dodging Bullets